What to Expect: Indiana vs. Kennesaw State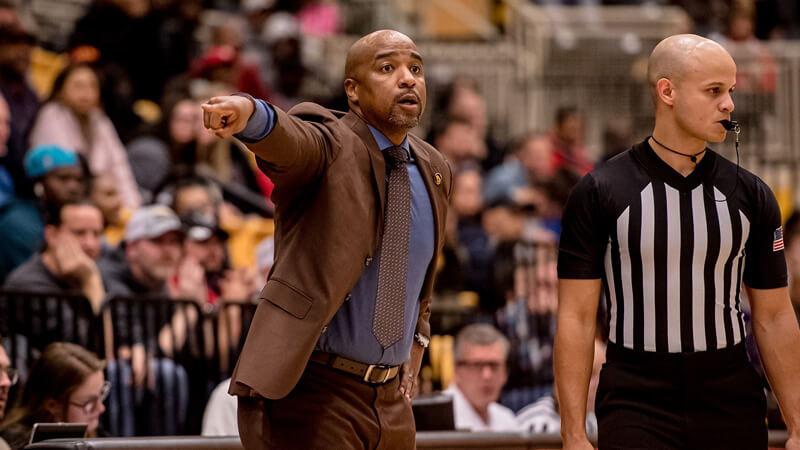 Indiana closes out non-conference play on Friday evening at Assembly Hall. The Hoosiers will host Kennesaw State, which is coming off a 65-56 win against USC Upstate. 
The Owls are 8-4 and 3-3 on the road with wins at Charleston Southern, Appalachian State and Mercer. Friday's game is set for a 7 p.m. ET tip on BTN:
Indiana has one final piece of business before a 13-day hiatus. The Hoosiers will take on Atlantic Sun foe Kennesaw State to close out non-conference play. The Owls are the highest-ranked non-power conference opponent on the IU schedule in the KenPom ratings.
Friday's game in Bloomington will be Kennesaw State's ninth non-conference game away from home. Kennesaw State is the former home of current IU president Pamela Whitten. The Owls return all five starters from a team that finished last season 13-18 and was picked to finish eighth in the ASUN.
MEET THE OWLS
Junior guard Chris Youngblood is Kennesaw State's leading scorer and the Tuscaloosa, Alabama native was named to the preseason all-conference team in the ASUN. The 6-foot-4 Youngblood is averaging 14.2 points on 50 percent shooting from the field. He's connected on a team-high 29 3-pointers and is shooting 45.3 percent from distance.
The Owls, like many non-power conference teams, will be undersized. Guards Terrell Burden, Brandon Stroud and Kasen Jennings are projected to start alongside Youngblood.
The 5-foot-10 Burden is the team's second-leading scorer at 11.3 points per game and its leading assist man. Burden has dished out a team-high 45 assists and 20 steals, but has struggled with turnovers. Burden's assist-to-turnover ratio is just 1.25-to-1.
Stroud is a 6-foot-6 wing from Atlanta who leads the Owls in rebounding at 6.8 per game. He's averaging 7.6 points on 44 percent shooting from the field.
Jennings is a 6-foot-3 guard who shoots just 39.3 percent from the field overall from the field, but 41 percent on 3s. He's fifth in the team in scoring at 6.6 points per game.
Senior forward Demond Robinson starts at the five, but is logging just over 20.5 minutes per game. Robinson is third on the team in scoring at 8.5 points per game and second in rebounding at 4.8 per game.
A few key reserves for the Owls include 6-foot-4 guard Spencer Rodgers, 6-foot-6 guard Quincy Ademokoya and 6-foot-9 forward Cole LaRue.
Rodgers is second on the team in minutes played, but is shooting a dreadful 26.5 percent from the field. Ademokoya is 13-for-37 on 3s for the season and LaRue gives coach Amir Abdur-Rahim some size to deploy in the frontcourt rotation.
TEMPO-FREE PREVIEW
All stats are current through Wednesday's games.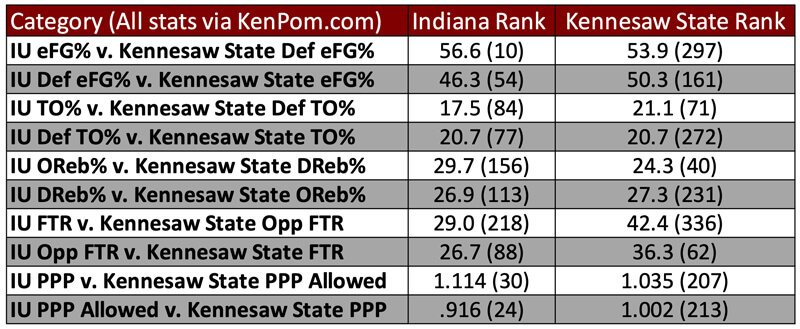 Kennesaw State is highly reliant on the 3-point shot to generate offense. Over 37 percent of its points come from 3-pointers and the Division I average was 31 as of Thursday morning. Fortunately for Kennesaw State, they've shot the ball very well from the perimeter. The Owls are connecting at a 39.5 percent clip from distance, which ranks in the top 15 nationally.
The other thing Kennesaw State does very well offensively is draw fouls. The Owls rank 62nd nationally in free throw rate (FTA/FGA).
Defensively, Kennesaw State is top 40 nationally in defensive rebounding percentage and top 75 nationally at turning its opponents over. Without a legit shot-blocking presence and limited size in the paint, opponents are shooting nearly 54 percent on 2s against the Owls.
WHAT IT COMES DOWN TO
The KenPom projection is Indiana by 19 with a 96 percent chance of victory for the Hoosiers, but that number doesn't account for the absence of Xavier Johnson. The status of Trayce Jackson-Davis also seems to be up in the air as Mike Woodson said Tuesday that he wasn't sure whether the preseason All-American would be available to play.
The Sagarin ratings like the Hoosiers by 21.
This should be a favorable matchup for Indiana, but Iowa's home loss to Eastern Illinois on Wednesday should be a reminder that anything can happen in college basketball. The Hawkeyes were an overwhelming favorite at home, but were down two key players and lost by nine to one of the worst teams in college basketball.
A win would propel Indiana to a 10-3 record ahead of a lengthy holiday break, which should provide an opportunity for a few banged-up contributors to get healthy and ready for conference play to resume.
But Indiana can't take this matchup for granted. Kennesaw State played Florida tough on the road early in the season and already has three true road wins, albeit against lesser competition.
Filed to: Kennesaw State Owls