Five takeaways from Indiana's loss to Arizona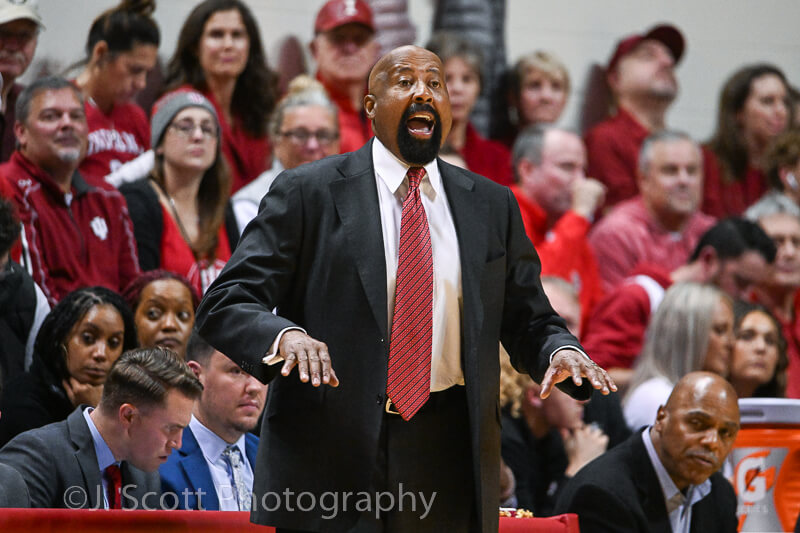 Indiana fell to 8-2 with an 89-75 loss against Arizona on Saturday at the MGM Grand Garden Arena in Las Vegas.
Here are five takeaways from the loss against the Wildcats:
Indiana wasn't good enough defensively
Indiana's defense had been stellar through its first nine games. Only one of its opponents – Xavier – had eclipsed the one-point per-possession mark before Saturday.
But Arizona, one of the nation's premier offensive teams, presented the stiffest challenge yet for the Hoosier defense. And Indiana's defense failed the test.
Indiana allowed Arizona to score 89 points, easily the season-high for an opponent so far this season. The Wildcats scored 1.28 points per possession, the highest mark for an opponent against a Mike Woodson-coached Indiana team.
From a defensive efficiency standpoint, Saturday was the worst defensive performance for an Indiana team since an 89-65 loss at Michigan on Feb. 16, 2020 at Michigan.
Arizona dominated Indiana in the paint, shooting 55.3 percent on 2s. The Wildcats also connected on 10 of 25 attempts from the perimeter.
"It's the first time we've given up this many points, and we just can't make that a habit," Mike Woodson said postgame. "We've got to be better in that area. Our goal is to try to hold teams to 60 and under, and we've been pretty good in that area this season, but tonight we let this one get away."
The porous defensive performance dropped the Hoosiers to 23rd nationally in adjusted defensive efficiency as of Monday morning, per KenPom.
Indiana continues to shoot well from the perimeter
The regular season is almost a third of the way over and Indiana's 3-point shooting is markedly improved.
After Saturday's 10-for-25 performance against Arizona, Indiana is now shooting 36.4 percent on 3s this season. That number ranks inside the top 100 nationally.
Miller Kopp and Tamar Bates deserve a lot of credit for their improvement.
Kopp shot just 36.1 percent last season but is connecting at a 48.9 percent clip through 10 games. Bates shot only 29.8 percent last season but is up to 41.2 percent as a sophomore through 10 games.
On Saturday, Race Thompson was able to recapture the touch he displayed late last season with a 4-for-7 performance on 3s. Entering Saturday's game, Thompson was just 3-for-18 from distance.
Arizona's frontcourt dominated Indiana's frontcourt
Indiana's frontcourt is one of the most experienced and talented in the country.
The combination of veterans Trayce Jackson-Davis, Race Thompson and Jordan Geronimo along with freshman Malik Reneau gives Woodson no shortage of options to attack opposing defenses.
On Saturday, Arizona was the far superior team in the frontcourt. The Wildcat duo of Oumar Bello and Azoulas Tubelis outplayed Indiana's frontcourt rotation.
The lefty Tubelis scored a game-high 21 points with seven rebounds and three blocked shots. He was on the attack all game and had Indiana's defense on its heels.
Bello's size bothered Indiana in that paint and was a major reason the Hoosiers shot only 43.2 percent on 2s, a season-low.
"They're good. There is a reason why they're averaging 19 and 20 a game between the two of them," Woodson explained. "We had to battle that, and I thought they got the better of our bigs tonight, I just do. We didn't have any answer for them."
Indiana needs Jalen Hood-Schifino back in the lineup
The absence of Jalen Hood-Schifino is an issue for Indiana. The Hoosiers have dropped two of three games without Hood-Schifino, battling a back injury, in the lineup.
Hood-Schifino may not have made the difference in either loss, but Indiana really only has one primary ball handler without him in the lineup.
Trey Galloway can bring the ball up the floor and initiate offense, but he's better utilized attacking off the wing in the halfcourt.
Without Hood-Schifino, much more has fallen on Xavier Johnson, who is in a rut offensively. Johnson had 11 assists on Saturday, but his shooting numbers over the last three games have cratered. Over the last three games, Johnson is 7-for-32 from the field.
Unfortunately for the Hoosiers, it's a waiting game to get Hood-Schifino back in the lineup.
Points in the paint, free throws and points off of turnovers were all in Arizona's favor
A quick glance at the box score reveals three key areas where Indiana came up short in Las Vegas.
The Wildcats outscored Indiana by 20 points in the paint, by 10 points at the free throw line and by 12 points on points off of turnovers.
"I thought the game was won in the paint," Woodson said. "And they were the better team tonight in the paint."
The turnovers, however, were also impactful. Both teams committed 10, but Arizona turned IU's miscues into 18 points compared to only six points off of turnovers for the Hoosiers.
The road doesn't get any easier for Indiana.
The Hoosiers now have this week off before traveling to Kansas on Saturday afternoon for a matinee matchup against the Jayhawks.
Filed to: Arizona Wildcats