Indiana shows resilience in loss to Arizona in Las Vegas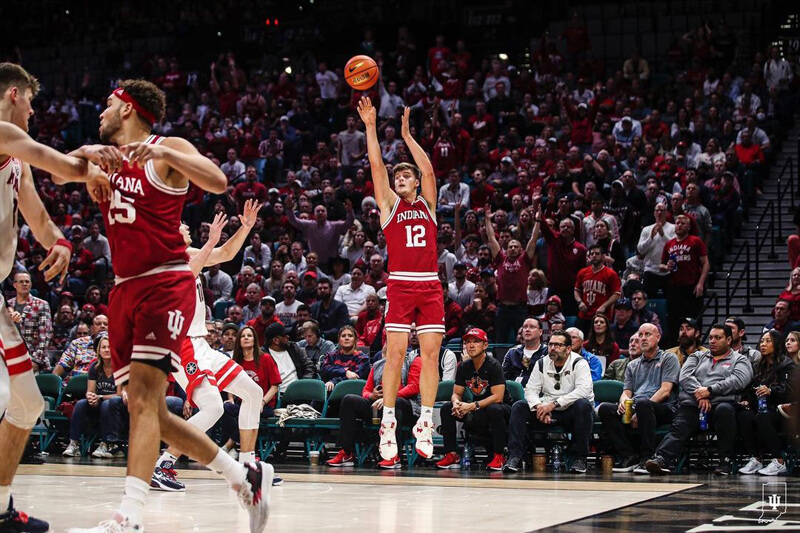 There were moments when Indiana looked like it was going to get run out of MGM Grand Garden Arena on Saturday night. And then there were moments when Indiana looked like it might win the game. That's just the kind of clash Indiana's 89-75 loss to Arizona was in Sin City.
Indiana had moments of adversity from the shaky opening 10 minutes where it fell behind by 19 points to the missed goaltending and questionable flop call in the second half. But those moments were handled. It would have been easy for the Hoosiers to roll over and wave the white flag in these moments, but they didn't.
The Hoosiers found a way to put themselves back into the picture. Whether it was three 3-pointers in a row from Race Thompson or Tamar Bates' surge in the second half, there were moments of hope. But Indiana never retook the lead after losing it just 2:39 into the game.
"We got down early and I thought we fought… I thought we gave good effort," Mike Woodson said postgame.
In Indiana's first loss of the season at Rutgers, toughness was the concern. That wasn't the case in Las Vegas. Indiana battled.
"One thing we can't complain about tonight was effort. Effort was there," Xavier Johnson said.
Tests like Saturdays against Arizona don't often come this early in the season. The neutral court environment gave off a March Madness vibe. Big swings, runs and momentum-changing calls sucked the energy out of part of the crowd while giving life to the other half of the arena. Indiana learned a lot about the team it is against the Wildcats. And that's a team that won't back down like the Hoosiers would at times last year, like in its season-ending loss to Saint Mary's in the NCAA tournament.
Yes, Indiana lost by 14 and there's no room for moral victories for a program with Big Ten title aspirations. But games like this can help this Indiana team grow.
In a way, Indiana was shown multiple aspects of toughness on Saturday. The Hoosiers proved they wouldn't go down easy, but they also got bullied in the post.
Arizona's combination down low of Azuolas Tubelis and Oumar Ballo combined for 36 points, 19 rebounds and four blocks. Indiana's Trayce Jackson-Davis and Thompson combined for eight fouls and got pushed around. Arizona outscored Indiana 42-22 in the paint.
"I thought the game was won in the paint and they were the better team tonight in the paint," Woodson said. "Their bigs are dominant bigs, I mean they're good… so we had to battle that. And I thought they got the better of our bigs tonight, I just do. I mean we didn't have any answer for them."
Almost every time a Wildcat touched the ball in the post, it seemed like they were in position to score. The Wildcats won the battle on the glass and they won in transition. The Wildcats snagged 16 offensive rebounds for 17 second-chance points and were fouled by the Hoosiers 19 times.
"They got big guys. They just beat us up on the glass," Thompson said. "I think if we win the backboard, rebounding game, I think it's a way better game and we have a better chance to win."
Indiana was truly bullied in the interior for the first time this season.
In what felt like a defining moment, Indiana had a fastbreak opportunity down 10 with 28 seconds to go in the first half after an Arizona turnover. Instead of holding for one last possession, Jordan Geronimo passed ahead to Thompson at the rim, who gathered his feet, pump faked and then was blocked from behind by Arizona's Pelle Larsson. Arizona ball. It was plays like that where Indiana just didn't have it in the interior on Saturday.
Maybe toughness is coming back from a 17-0 Arizona run to fight back in and cutting the lead to three. Or maybe it's rebounding and playing physical defense in the post. However it's defined, Indiana learned a lot about the kinda team it is against Arizona. It's resilient, but it's not perfect and those imperfections were exploited by Arizona.
(Photo credit: IU Athletics)
Filed to: Arizona Wildcats