Arizona's frontcourt wins the battle against Trayce Jackson-Davis in IU's loss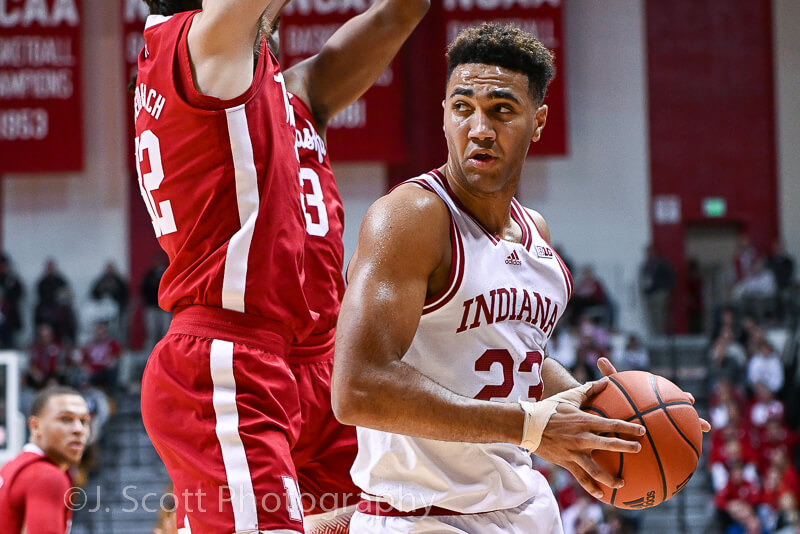 Trayce Jackson-Davis finished Saturday night's game against Arizona with a stat line of 11 points and five assists, and he currently sits at ninth on Indiana's all-time scoring list.
But that wasn't the story of the night.
Indiana's go-to big man fell short in the Hoosiers' 89-75 loss to the Wildcats in Las Vegas, unable to match up against defenders or find consistent scoring when he had the ball. In a game where very few things went right for Indiana, Jackson-Davis' lack of firepower was one of the biggest setbacks.
At first glance, his 4-for-10 shooting performance doesn't stand out as a negative. However, the lack of attempts for Jackson-Davis was troublesome.
In the second half, Jackson-Davis didn't even attempt a shot until four minutes and nine seconds remained on the clock. He went on to put up two dunks, but Arizona's lead stayed strong — and in double digits — and it was ultimately too little, too late.
Throughout most of the game, Jackson-Davis took on multiple Arizona big men, including Azuolas Tubelis and Oumar Ballo. At 6-foot-9, it's not every day Jackson-Davis meets multiple players taller than him. But Tubelis, at 6-foot-11, and Ballo, at 7 feet, showed up and showed out.
"Their bigs are dominant bigs," Mike Woodson said after the game. "There's a reason why they're averaging 19 and 20 per game between the two of them. We had to battle that, and I thought they got the better of our bigs tonight."
Matching up with those few players who have the height advantage has always been one of the things the All-American struggles with, and Saturday night proved to be no exception. Jackson-Davis frequently found himself overpowered on offense, double and triple-teamed by the dominant Wildcats.
Arizona was able to do what few teams could, pushing Jackson-Davis around and making him work harder for shots he usually makes with ease. The rim was equally as pernicious, as shots bounced and rolled just the wrong way, forcing the Hoosiers just to try and try again, hoping for a stroke of luck.
In a play that will be replayed countless times on social media, Ballo and Jackson-Davis were both under the basket midway halfway through the second half, with what looked like a shot attempt from Trey Galloway sailing toward the rim. But with the ball on its way down and about to drop into the basket, Ballo jumped up and grabbed the ball away, prompting an eruption of calls for goaltending by anyone wearing cream or crimson.
The referees, who had already caught the ire of both coaches and all fans, did not heed the calls and play continued. Ultimately, that no-call was one of the crucial moments in the second half where, if Indiana had the advantage, the final result may have been different.
Jackson-Davis, however, wasn't alone in his struggles.
As a team, Indiana struggled defensively, getting out-rebounded 44-34 and only putting up 22 points in the paint to Arizona's 42. Both teams finished with 10 turnovers apiece, but the Wildcats were able to score 18 points off turnovers while the Hoosiers only had six.
"I thought the game was won in the paint," Woodson said. "And they were the better team in the paint tonight."
Jackson-Davis only turned the ball over once in the game, but it came with two minutes left on the clock in a mess of players underneath the basket. While it wasn't the most egregious turnover of the night, it was the last thing Indiana needed at that point in the game, trailing by 11 on its last legs.
Foul calls plagued the Hoosiers from the get-go, and Jackson-Davis fouled out for the second time in his college career — and the second time this season — with less than a minute to go.
But at that point, it didn't matter, and the fact that it didn't was the perfect, unfortunate summation of Jackson-Davis' game.
On the whole, it wasn't a dreadful performance. He scored in double digits and played for 32 minutes. And yet, it speaks to his potential that his showing on Saturday wasn't close to a normal night for him.
There were a lot of reasons why Indiana lost to Arizona. But if Jackson-Davis had been able to work around the defense, be more dominant defensively and play more efficiently, the final score might have looked at least slightly different.
Filed to: Trayce Jackson-Davis