"The Wizard of Oz": Trayce Jackson-Davis' adds to his legacy with triple-double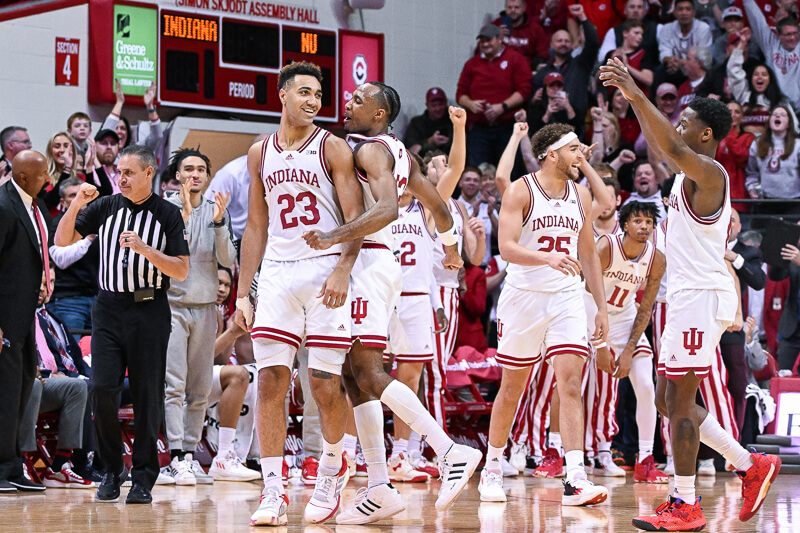 Trayce Jackson-Davis was searching for it.
With less than two minutes to go in Indiana's 81-65 win over Nebraska, Jackson-Davis was basically running the point. From the top of the key he fired passes to Trey Galloway and Xavier Johnson and after a couple of misses and an offensive rebound he found a cutting Galloway underneath the basket. Galloway set his feet, absorbed the contact and finished at the rim with a tough lay-in.
TJD left the floor to a standing ovation 15 seconds later.
There it was, Jackson-Davis' tenth assist, giving him a triple-double with 12 points, 11 rebounds, three blocks and three steals to go along with it.
There had only been two other triple-doubles in Indiana basketball history before Wednesday. Steve Downing had one on Feb. 23, 1971, with 28 points, 17 rebounds and 10 blocks. And most recently, Juwan Morgan on Dec. 22, 2018, with 10 points, 10 rebounds and 10 assists.
Triple-doubles are a rarity in college basketball. Only 11 other players have triple-doubles in all of college basketball this season. That's 11 players out of over 5,500 in NCAA Division 1.
So how did getting the third triple-double in Indiana basketball history feel for the preseason All-American?
"It just honestly just solidifies why I came back. I came back to do big things, not only individually but with the team, too," Jackson-Davis said postgame. "Just moments like that make it special to me, and just kind of is a reminder why I came back. Especially when the times are getting tough, especially in practice… when you're just down on yourself sometimes…then you get bright moments like this."
It was surely a bright moment for TJD, arguably the brightest of his career. There's always been a lot of talk around "legacy" when it comes to Jackson-Davis at IU. A big part of him coming back to Indiana for his senior year was "legacy". Jackson-Davis almost always selflessly answers this question with how he wants to win a Big Ten or national championship. Now, banner or not, Jackson-Davis won't be forgotten and will always carry a part of Indiana's history with him.
The efficiency stands out in Jackson-Davis' performance. When you think of a player searching for a triple-double you might think of NBA players like Russel Westbrook who own(ed) the show for his teams and shot almost 20 times a night. Jackson-Davis only shot the ball six times against the Cornhuskers, making four attempts.
Jackson-Davis' passing ability has been much improved this season. And with double teams coming at him on a nightly basis, it's been on display.
"I think each year he's just gotten better and better, but the biggest thing is his unselfishness and his willingness to pass," Galloway said. "Him just being able to pass out of the double and make plays for others has been really special for us and our group."
It will be up to the rest of the Hoosiers to keep scoring and shooting at a high level, but there's no denying that Jackson-Davis' playmaking continues to be impressive.
"He's skilled enough to do the things that he's doing on the floor, and the fact that he's been double- and triple-teamed, he's got to sacrifice the ball. There's nowhere to go with the ball but to get it out and try to find open shooter," Mike Woodson said postgame.
Indiana's shooters were making shots on Wednesday night. The Hoosiers shot 11-for-25 from beyond the arc and 53.3 percent from the field. With the offense running through Jackson-Davis, as it has the last three years, and guys making shots from the perimeter Indiana becomes dangerous offensively.
"My teammates were talking to me and telling me I was playing like a true wizard, like the Wizard of Oz almost," Jackson-Davis said courtesy of Miller Kopp's ongoing theme of giving his teammates a word or phrase to fit in the postgame press conferences.
TJD might not have magical powers, but to do what he does on a consistent nightly basis for the last three years deserves some comparison to a fictional character. The triple-double tops it off.
After the Wizard of Oz comparison, Jackson-Davis walked out of the press room with the game ball and a smile. As any basketball player would with a ball in their hands, he dribbled it between his legs as he walked down Assembly Hall's tunnels towards the Indiana locker room.
Filed to: Trayce Jackson-Davis