Galloway, Bates and Kopp bring 3-pointers, floaters and rebounds in win against Nebraska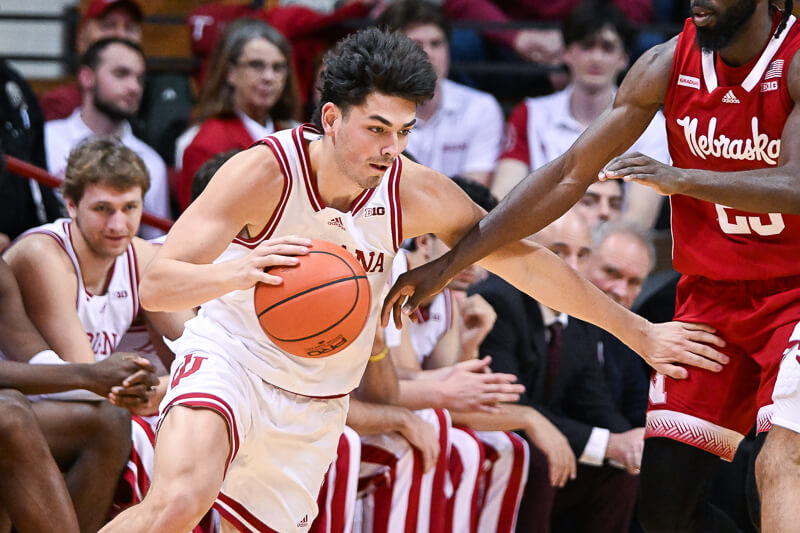 The poetry that is Indiana basketball keeps getting better.
Alliterations abounded Wednesday night, with a triple-double from Trayce Jackson-Davis and 3-pointers from Trey Galloway and Tamar Bates.
And because poetry can never be perfect, Indiana's traditional 3-point shooter deviated from the script, writing his own story and ending the alliteration to total 13 points with only one triple.
But regardless of his throwing off the theoretical "perfect story", Miller Kopp was undoubtedly one of the key pieces behind Indiana's 81-65 victory over Nebraska. Kopp, Jackson-Davis, Galloway and Bates made up the team's core scoring Wednesday night, all finishing in double figures and contributing heavily to Indiana's powerful defense.
Galloway led Indiana with a career-high 20 points on 4-for-6 shooting from beyond the arc and 7-for-10 overall. In the five games Galloway appeared in before Wednesday, he scored a combined 23 points.
"I have no problems with that kid," Mike Woodson said postgame. "He works his butt off on the floor. In practice, he gives you effort. It spills over into the game."
Galloway has been working hard to prove himself after being sidelined for a significant time in the 2021-22 season due to a groin injury. As his injury and rehab carried over into the summer, the practice he could do was limited.
He's come into his own recently, and has been able to practice full-out. But in one of the most efficient games of his career, that summer practice was evident.
"I couldn't really move much (this summer)," Galloway said. "A lot of it was just stationary shooting and just repetition… I think that alone really helped. Not changing much but just doing the things I needed to do to help my shot."
And while Galloway found success without changing his game, Miller Kopp seemingly took the opposite approach — with the same result.
Known for his ability to stand in the corner and shoot 3-pointers, Kopp decided to switch things up against Nebraska and become a force close to the basket. Out of his 13 points, 10 came from layups and jump shots. Only three points came from deep for Kopp.
Beyond simply making his 2-point shots, Kopp looked at ease handling the ball and driving between defenders. His presence created yet another problem for a Nebraska defense that already struggled to contain the Hoosiers.
And just like Galloway, Kopp's success results from his hard work in practice.
"Every day we do ball-handling drills, and we do drills where you've got to make plays off the bounce," Woodson said. "He's starting to get better at it, which is kind of nice to see. (It) means the work that he's put in is working for him and working for our ballclub."
Just about everything was working for Woodson's ballclub on Wednesday, including production off the bench. Tamar Bates entered the game early, substituting for Galloway, and the two seemed to emulate each other throughout the night.
Bates ended the game with 19 points while successfully making five out of eight 3-point attempts. He added on four rebounds and two assists, further cementing his position as a go-to bench player.
With the absence of Jalen Hood-Schifino, who remains day-to-day with a lower back injury, and a struggling Xavier Johnson, eyes turned to Bates and Galloway to take on greater roles in almost every area of play.
Whether it was bringing the ball down the court, facilitating plays or making baskets, the two guards brought some of the biggest sparks of the night. And both of their performances were much needed after Indiana's loss to Rutgers, where neither could make much of a positive impact.
"Coach Woodson was telling us before the game we've got to get tougher, so I think they took that to heart," Jackson-Davis said. "They played with a chip on their shoulder this game and played with a lot of confidence, and that's what we need from them."
The Hoosiers won't be playing with a chip on their shoulder when they take on No. 10 Arizona on Saturday, but they will still be looking for top-tier confidence and production from players like Kopp, Galloway and Bates to be successful.
Filed to: Miller Kopp, Tamar Bates, Trey Galloway