What to Expect: Indiana at Rutgers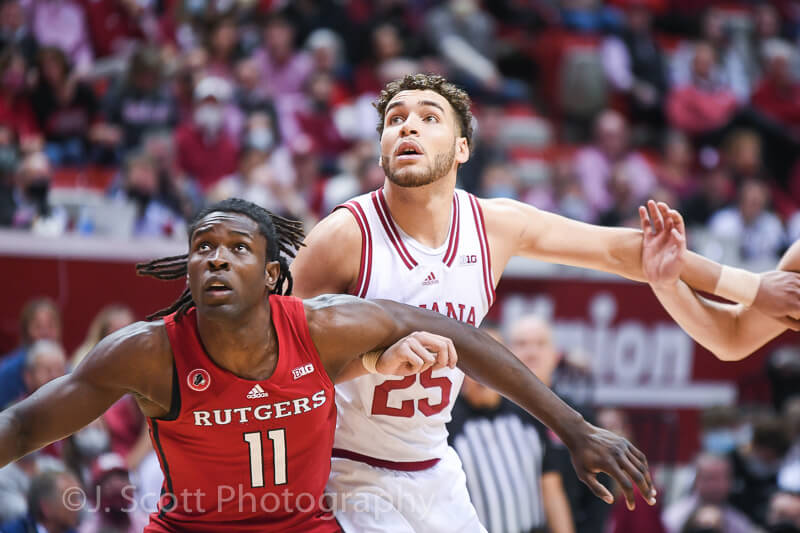 Indiana opens Big Ten play on Saturday against Rutgers at Jersey Mike's Arena in Piscataway. The Scarlet Knights are 5-2 and lost 68-61 at Miami on Wednesday in the Big Ten-ACC Challenge.
Saturday's game is set for a 4 p.m. ET tip on BTN:
Indiana has passed its first seven tests of the 2022-23 season. It now must attempt to conquer a Big Ten opponent that has been its kryptonite in recent seasons: Rutgers.
The Scarlet Knights have beaten Indiana in seven of their last eight meetings. Rutgers has won the last three meetings against the Hoosiers in Piscataway. The last win for Indiana at the "RAC" came back on Feb. 5, 2018, Archie Miller's first season in Bloomington. The all-time series between the two programs is tied 7-7.
These facts are not lost on Trayce Jackson-Davis, who acknowledged the program's struggles against Rutgers after the win over North Carolina.
"I haven't beat Rutgers since I've been here," Jackson-Davis said. "The RAC has always been a very hostile environment. They've had our number there."
Indiana isn't facing the best team Rutgers has had under Steve Pikiell, but the Scarlet Knights are fully capable of stopping the early season momentum the Hoosiers have built.
MEET THE SCARLET KNIGHTS
The returning "big three" for Rutgers is a battle-tested group with plenty of wins over elite teams. Unfortunately for Rutgers, they've yet to have all three players available in the same game this season.
Cliff Omoroyi, Caleb McConnell and Paul Mulcahy are one of the Big Ten's best trios, but only Omoruyi has appeared in each of the team's seven games.
The 6-foot-11, 240-pound junior is one of the nation's top frontcourt players. With the departures of Ron Harper Jr. and Geo Baker, the usage rate for Omoruyi has skyrocketed. He used 19.1 percent of Rutgers possessions last season, but is using 26 percent this season. His 16.7 points per game lead the Scarlet Knights and he's also averaging 9.9 rebounds in 30.7 minutes per game. Omoruyi is taking just over one 3-pointer per game and has knocked down two triples so far this season.
McConnell is one of the nation's best defenders who returned on Nov. 26 against Central Connecticut after missing the first five games with a knee injury. He carried a heavy load in Wednesday's loss at Miami, scoring 16 points with six rebounds, four assists, two steals and a blocked shot in 35 minutes. He also had five turnovers. McConnell, who is 6-foot-7, is a disruptive defender on the perimeter who can marginalize the opposing team's best guard with his length.
The 6-foot-7 Mulcahy suffered a shoulder injury in the season opener against Columbia and played in the first three games, but hasn't played since Nov. 12. Following Wednesday's loss at Miami, Steve Pikiell said Mulcahy has not been cleared for full contact.
"When his arm feels better, he'll be back on the floor, but right now, that's not where it is," Pikiell said, according to Brian Fonseca. "He has to practice full contact before he can do anything. He hasn't done that yet."
The injury has been described as a "stinger" or a pinched nerve. Without Mulcahy, Rutgers is without one of the best facilitators in the conference. Last season, Mulcahy was fifth in the Big Ten in assist rate at 34.8 percent.
Rutgers relied heavily on its starters at Miami, playing each of them 32 or more minutes. Joining Omoruyi and McConnell in the lineup were Cam Spencer, a transfer from Loyola Maryland, and returnees Mawot Mag and Aundre Hyatt.
Spencer, a 6-foot-4 guard, is the team's second-leading scorer at 15.3 points per game. Spencer is a career 39.7 percent 3-point shooter and is connecting at a 43.2 percent clip this season. He's 16-for-37 on 3s in seven games. Spencer is also an excellent free throw shooter. He's 21-for-22 from the stripe this season and 86.2 percent for his career.
Mag is a low-usage forward from Australia who averages 8.3 points and six rebounds in 25.3 minutes per game. And Hyatt, who transferred from LSU before last season, has watched his role grow significantly after Harper Jr. opted not to return for another season. Hyatt, a 6-foot-6 wing, is third on the team in scoring at 11.3 points per game but has been below average from an efficiency standpoint. In seven games, Hyatt shoots just 38.9 percent on 2s and 29 percent on 3s.
Four other Scarlet Knights to know are freshman guard Derek Simpson, sophomore guard Jalen Miller, freshman Antwone Woolfolk and junior big man Dean Reiber. The 6-foot-3 Simpson has started three games and is averaging a solid 8.4 points in 25 minutes per game. His minutes shrunk to only 10 at Miami with McConnell fully back into the rotation. Simpson is second on the team with 16 assists. Miller is playing 12.7 minutes per game off the bench, but has scored only 12 points over seven games. Reiber provides depth behind Omoruyi, but doesn't have a blocked shot all season. Woolfolk is a 6-foot-9, 240-pound forward who had football scholarship offers out of high school to play tight end and brings physicality to the Rutgers frontcourt rotation.
TEMPO-FREE PREVIEW
All national rankings current through Wednesday's games.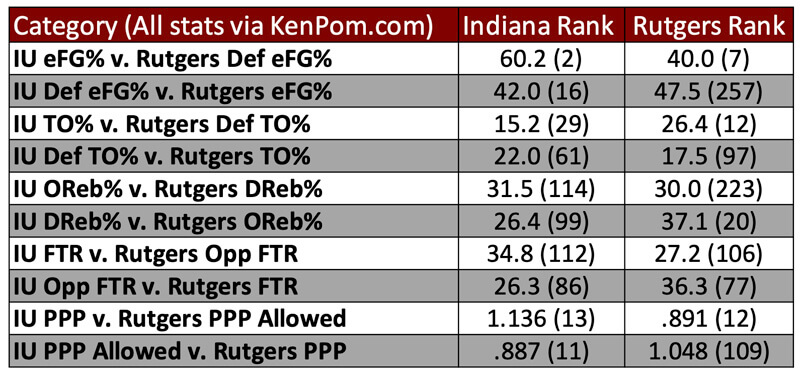 Pikiell has transformed Rutgers into a formidable Big Ten program with defense. This season has once again showed that Pikiell can build an elite defensive team.
The Scarlet Knights rank 12th nationally in adjusted defensive efficiency, per KenPom. Rutgers is 7th in effective field goal percentage defense, 12th in turnover percentage. and sixth in steal percentage.
A clear key for Indiana is to continue to take care of the ball like it has through the first seven games. The Hoosiers are 29th in the country in turnover percentage, which is one reason they've been so successful offensively thus far. Rutgers will pressure the ball relentlessly and the Indiana guards will be tasked with making good decisions.
Offensively, Rutgers is a below-average shooting team and its offense has struggled without Mulcahy in the lineup to facilitate for others. Late in the loss against Miami, the Scarlet Knights simply couldn't get the ball into Omoruyi and the Hurricanes overcame an 11-point deficit to win by seven.
WHAT IT COMES DOWN TO
The KenPom projection is Indiana by three with a 61 percent chance of a Hoosier victory. The Sagarin numbers favor Indiana by 3.5.
This game presents a significant test for Indiana. The Hoosiers have simply been bullied and out-hustled by Rutgers in recent seasons. The Scarlet Knights have been the hungrier and tougher team in their matchups.
Of Indiana's 10 Big Ten road games, this is the fourth-best opportunity percentage-wise for a win, per KenPom. If the Hoosiers can take care of the ball and win the battle in the paint, there's a very good chance to a 1-0 start in conference play.
Filed to: Rutgers Scarlet Knights