Indiana rises to No. 10 in latest Associated Press top 25 poll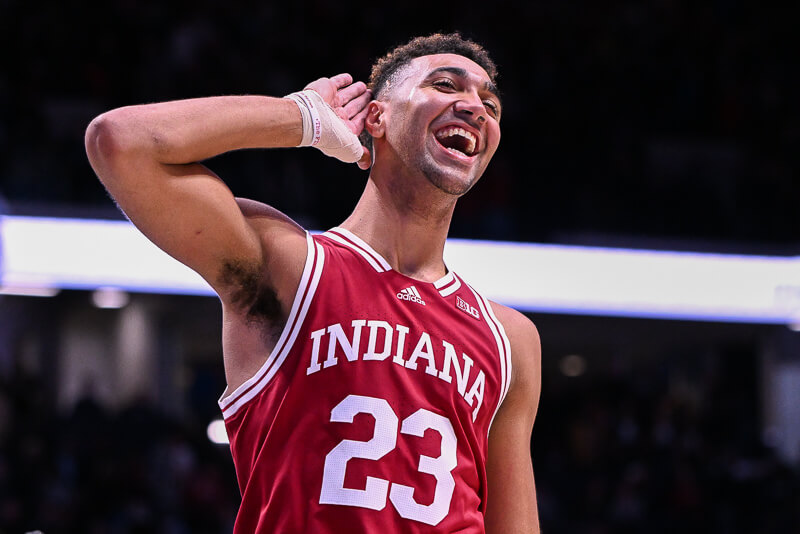 After wins against Little Rock and Jackson State last week, Indiana again moved up in the Associated Press top 25 poll.
The Hoosiers are No. 10 in the new AP poll released Monday afternoon, up from No. 11 last week.
It is the first time Indiana has been ranked in the top 10 of the AP poll since December 12, 2016.
Indiana, however, is no longer the highest-ranked Big Ten team in the poll. That distinction belongs to Purdue, which beat Gonzaga and Duke last week and has four wins over high-major opponents. The Boilermakers are ranked No. 5.
North Carolina, Indiana's opponent in Wednesday's Big Ten-ACC Challenge game, lost twice last week and fell from No. 1 to No. 18.
Arizona is now the highest-ranked non-conference opponent on IU's remaining schedule. The Wildcats are No. 4. Kansas, which fell to by 14 points to Tennessee in the Bahamas on Friday, dropped from No. 3 to No. 9.
Other Big Ten teams in this week's poll include Illinois at No. 16, Michigan State at No. 20, Maryland at No. 22 and Ohio State at No. 25.
Iowa, Michigan, and Wisconsin all received votes this week.
Here is the full AP top 25 poll for this week:
1. Houston
2. Texas
3. Virginia
4. Arizona
5. Purdue
6. Baylor
7. Creighton
8. UConn
9. Kansas
10. Indiana
11. Alabama
T-11. Arkansas
13. Tennessee
14. Gonzaga
15. Auburn
16. Illinois
17. Duke
18. North Carolina
19. Kentucky
20. Michigan State
21. UCLA
22. Maryland
23. Iowa State
24. San Diego State
25. Ohio State
Others receiving votes: TCU 45, Iowa 31, Charleston 20, West Virginia 14, Mississippi State 12, Texas Tech 11, Michigan 8, Wisconsin 6, Arizona State 6, UNLV 6, Miami (FL) 5, Missouri 2, Oklahoma 2, St. John's 1, Virginia Tech 1, New Mexico 1, Kansas State 1
Filed to: Associated Press poll