Tamar Bates' maturity and talent come together in win over Jackson State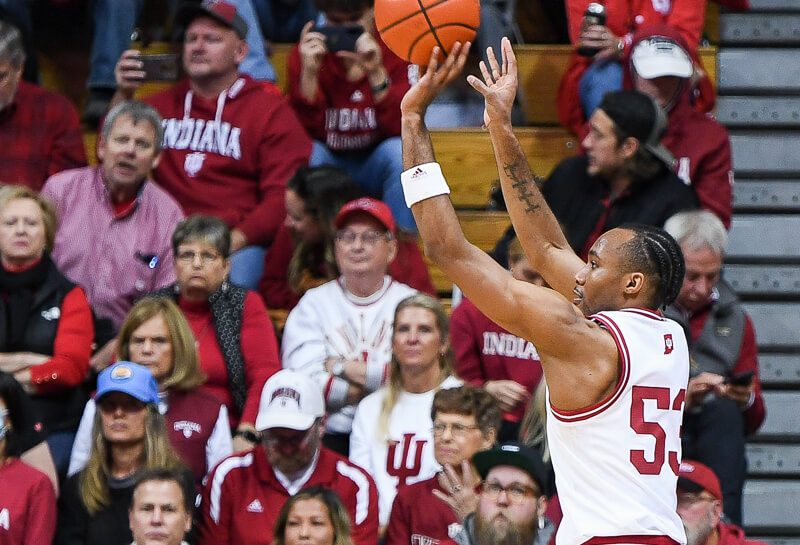 Tamar Bates sat at the podium in Indiana's press conference with his eight-month-old daughter after Indiana's 90-51 win over Jackson State.
Leilani Nicole Bates sat at the podium with her father, pacifier in mouth, and spent her first Thanksgiving in Bloomington and watched Tamar play for the first time this week.
"I'm really grateful that my family can be here. This was her first two games… I see she's excited too she's trying to play with the microphone," Bates said postgame, garnering a laugh.
It was an offseason of learning, growth and development for Bates. But that wasn't isolated to the court.
The sophomore welcomed his daughter Leilani to the world last March and his perspective on things instantly changed.
"As soon as I saw her, you know, it was kinda just like a flip switched," said Bates over the summer. "Cause it's like now, you know, everything that I'm doing, all of the work that I'm putting in, you know, it's not just for me anymore. You know, I'm trying to provide for her and my family. So, you know, it's just like, getting up on those early mornings, late nights, you know, doing everything that I have been doing, but just with a lot more focus, just because, you know, I have a new purpose, I would say."
The Kansas City product was highly praised by teammates and coaches heading into Indiana's 2022-23 season. Mike Woodson even stated in the offseason how he thought Bates was primed for a breakout year.
"I like to think Tamar Bates, he's been a guy we targeted when we first brought him to do some special things for us," Woodson said to Jon Rothstein on the College Hoops Today podcast. "But as a freshman, he had some ups and downs. Summer work has just been fantastic for him in terms of his growth, and I'm looking for big things from him."
But through Indiana's first five games, Bates didn't have that breakout performance many expected. He was steady, averaging 5.8 points in 21 minutes a contest. In a similar fashion to his play from last year, streaky shooting was coupled with inconsistent defense — as Bates struggled to defend without fouling.
In Indiana's win over Jackson State on Black Friday, that breakout performance finally came.
Bates led Indiana in scoring with a career-high 22 points on 8-for-11 shooting, four of which were 3-pointers. Adding to his scoring dominance, the guard tacked on four assists and no turnovers.
When Bates left the game for the last time with 4:26 to go, he got a standing ovation from Assembly Hall and was greeted by big smiles on the Hoosiers bench from Mike Woodson and his teammates.
"He finally had a break-out game. I'm not surprised or shocked," Woodson said. "You know, I mean, when we started this journey with this team five months ago, he was probably one of our best players playing."
Bates' talent has always been evident. He came into Indiana as Mike Woodson's first recruit after he reopened his recruitment after originally signing with Texas. Since arriving in Bloomington, it's been about putting it together.
"He went through some — I wouldn't call it truly personal issues. He had a baby last year, and that's a big responsibility for a young kid at his age," Woodson explained. "I thought this summer, you know, he accepted what he was going through, which he had no choice, and he started to grow up. And these five months that we've been together after coming back, you know, he has shown some signs of maturity. We're going to need that from him because he can make shots, and he can do things from an offensive standpoint that I want him to do."
Woodson wasn't the Hoosier who noticed a shift in Bates' maturity.
"This summer he came in with a different attitude. He grew up a lot. He matured," said Indiana point guard Xavier Johnson.
Bates' performance against Jackson State was him putting it all together. That maturity, that talent and that energy. Bates' long and lean frame at 6-foot-5 and 198 pounds allows him to score at all three levels. He can drive and kick, get up the floor well in transition and knock down shots from beyond the arc.
Leading Indiana's talented second unit, Bates holds the reigns and he's matured into a vocal figure.
When asked about his role this season a couple of weeks ago, he defined it as this:
"It's to bring a spark and change the flow of the game by doing what I do best," Bates said last month. "Which is defending, getting out in transition, getting easy baskets, making shots, creating my own shot, creating opportunities for others to score, leading the defense when I'm on the backline."
The guard showcased his tattoos on that same Zoom call last month. On each of his fists are Leilani's footprints.
"Carrying her with me in a sense," he said. "My daughter means the world to me."
Filed to: Tamar Bates