What to Expect: Indiana vs. Jackson State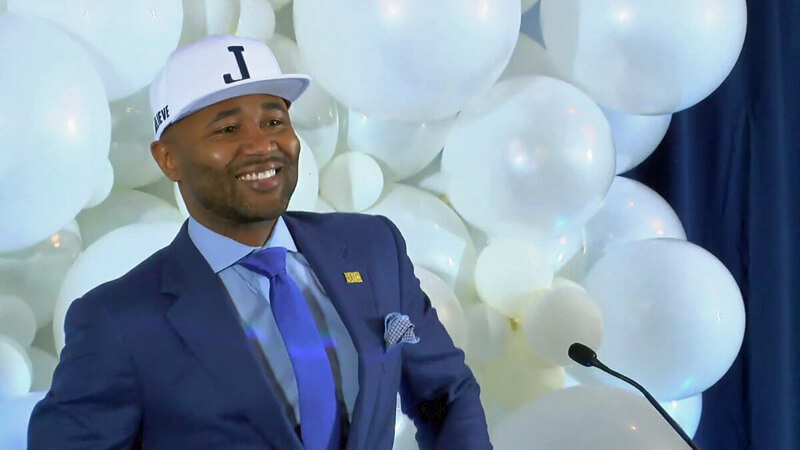 Indiana will play its third game in six days when it hosts Jackson State on Friday afternoon. The Tigers are 0-4 and lost 78-68 at Michigan on Wednesday night.
Friday's game is set for a 12:30 p.m. ET tip on BTN:
Indiana was challenged by Little Rock at Assembly Hall, but the Hoosiers used a second-half run to put away the Trojans for a fifth straight win to begin the season.
The focus now shifts to Southwestern Athletic Conference (SWAC) opponent Jackson State, the third and final game of the 2022 Hoosier Classic. The Tigers are 303rd in the KenPom ratings.
Jackson State played a eight-man rotation on Wednesday in Ann Arbor and put up .94 points per trip on the Wolverines. Four players logged 30 or more minutes in the loss.
The Tigers are coached by Mo Williams, who played in the NBA from 2003-2017. Williams began his coaching career as an assistant at Cal State Northridge before taking over at Alabama State in 2020. He landed the Jackson State job this past offseason. In college, Williams was a part of the Alabama team that lost to Indiana in the 2003 NCAA tournament as a No. 10 seed.
MEET THE TIGERS
Through four games, Jackson State is led in scoring by 6-foot-5 sophomore Ken Evans Jr. A native of Jackson, Mississippi, Evans is averaging 16.5 points, 4.5 rebounds and 2.3 assists in 29.5 minutes per game. He's shooting 35.3 percent on 3s on 17 attempts.
Two other Tigers are averaging double figures: 6-foot-8 senior Trace Young and 6-foot-2 senior Gabe Watson.
Young is from Owensboro, Kentucky and Jackson State is his third school. He began his career at Wyoming and played for Williams last season at Alabama State, where he was the team's leading scorer. Young followed Williams to Jackson State, where he has the highest usage rate on the roster. He is averaging 14.5 points in 25.5 points per game. Young has already attempted 23 3-pointers in four games and is second on the team in rebounding at 7.3 per game.
Watson logged a team-high 37 minutes in the loss at Michigan. Jackson State is also his third school as he previously played at Southern Miss and Tulane. Watson has attempted a team-high 29 3-pointers, but has connected on just 24.1 percent of his attempts.
Chase Adams, a 5-foot-8 junior, is the point guard. The Chicago native transferred from Portland and has slid right into a starting role for Williams. He's averaging 5.3 points, 3.3 assists and 2.8 rebounds in 28.8 minutes per game.
Romelle Mansel, a 6-foot-9 junior, will be tasked with dealing with IU's post players. He played the previous three seasons at Long Beach State before transferring to Jackson State. Mansel is averaging 7.8 points and 7.8 rebounds and is shooting 50 percent from the field.
The three other Tigers to log minutes at Michigan were 6-foot-3 sophomore Coltie Young, 6-foot-5 senior Jamarcus Jones and 6-foot-6 sophomore Zeke Cook.
Young has knocked down four 3-pointers in 13 attempts. Jones is averaging 6.3 points on 75 percent shooting from the field. And Cook has scored just nine points through four games.
THOUGHTS ON THE MATCHUP
Jackson State is ranked just 327th in adjusted offensive efficiency by KenPom as of Thursday morning. The Tigers play at a brisk pace with the 45th fastest tempo in the country, which is similar to Little Rock. Wednesday's game at Michigan ended at 73 possessions, the second most for a Wolverines game this season.
The primary strength for the Tigers is their rebounding on both ends. Jackson State is 98th nationally in offensive rebounding percentage and 56th in defensive rebounding percentage.
As with most smaller conference opponents, Indiana will have a size advantage at nearly every position. Adams is only 5-foot-8 and the Hoosier frontcourt should have no problem getting clean looks at the rim. Jackson State opponents are shooting 53.4 percent on 2s and the Tigers are just 334th in the country in block percentage.
WHAT IT COMES DOWN TO
Health is top of mind for Indiana. The Hoosiers were without three scholarship players for Wednesday's win over Little Rock. Trayce Jackson-Davis is dealing with a sore back, Trey Galloway has a knee injury and Anthony Leal is in a boot for an ankle injury. With the North Carolina game coming up next week, there's no reason to take any risk on Friday.
The Ken Pom projection is Indiana by 28 with a 99 percent chance of victory for the Hoosiers. The Sagarin ratings like Indiana by 26 points.
Indiana didn't play a complete game Wednesday and Jackson State should enter with some confidence after hanging with Michigan in Ann Arbor. Still, this is a game the Hoosiers should win comfortably and a victory could mean a jump into the top 10 of the Associated Press poll for the first time since the 2016-17 season.
Filed to: Jackson State Tigers