What to Expect: Indiana vs. Little Rock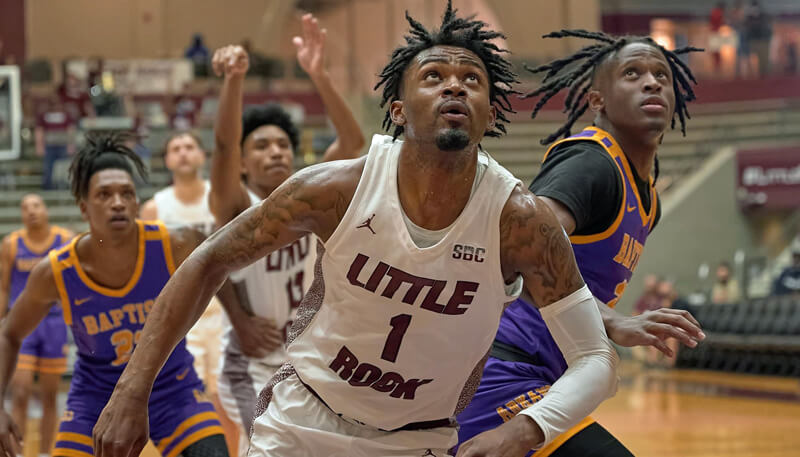 Indiana's second opponent in the three-game Hoosier Classic is Little Rock. The Trojans are 2-3 and beat Indiana's Friday opponent, Jackson State, on Sunday.
Wednesday's game is scheduled for a 6:30 p.m. ET tip on BTN:
There will be no Thanksgiving break for Indiana basketball as the Hoosiers play three games in six days to complete their multi-team exempt event, the Hoosier Classic.
Indiana defeated Miami (OH) on Sunday at Gainbridge Fieldhouse and has two games in three days in Bloomington. First up is Little Rock, which joined the Ohio Valley Conference this season.
The Trojans are ranked 325th in KenPom as of Tuesday with wins over NAIA Arkansas Baptist and Jackson State. Little Rock lost at Southern Illinois by 31 to open the season and dropped road games to Central Arkansas and East Tennessee State.
MEET THE TROJANS
Little Rock, coached by former NBA guard Darrell Walker, was picked to finish sixth in the OVC.
Walker played in the NBA from 1983 through 1993, finishing his career as a member of the Chicago Bulls. He spent time as a head coach and assistant in the NBA, CBA and WNBA from 1995 through 2016 before accepting his first college coaching position at DII Clark Atlanta in 2016. Walker arrived at Little Rock in 2018 and led the Trojans to a 21-10 record in the COVID-19-shortened 2019-20 season.
The 61-year-old Walker was an assistant coach for the Knicks under Mike Woodson.
The Trojans have three players averaging double figures: DeAntoni Gordon, Myron Gardner and D.J. Smith.
Gordon (pictured) is a 6-foot-8 forward who began his career at Wichita State in the 2019-20 season. He played at JUCO Northwest Mississippi College in 2020-21 before transferring to Little Rock. Last season, he suffered a season-ending injury against Colorado State in early December. Through five games, he's the leading scorer for Little Rock at 13.4 points per game. Gordon is shooting 51.9 percent from the field.
Gardner began his career at Georgetown and went the junior college route at South Plains College before arriving at Little Rock last season. The 6-foot-6 wing from Detroit is shooting 47.4 percent on 3s and is second on the team in scoring at 12.8 points per game. Through five games, he's pulled down an incredible 50 rebounds. He also leads the Trojans in assists (18) and steals (12).
Smith, a Little Rock native, is Walker's point guard. The 6-foot floor leader is third on the team in scoring at 10.8 points per game. He's shooting a team-best 83.3 percent from the free throw line but just 28.6 percent on 3s and 44.4 percent from the field.
Nigel John, a 6-foot-8 sophomore, has started all five games in the frontcourt. He's second on the team in rebounding at six per game and averages 8.8 points per game.
Wing Isaiah Palermo, a 6-foot-6 senior, averaged 10.8 points, 3.8 rebounds and 1.5 assists last season in 29.1 minutes. Palmermo's usage is down five percent so far this season and he's averaging only 5.4 points in 22.4 minutes.
Three other names to know on the roster are Jordan Jefferson, Chris Walker and Ethan Speaker.
Jefferson, a 6-foot-4 sophomore guard from Marietta, Georgia, is taking half of his field goal attempts from beyond the 3-point line, where he shoots 41.7 percent. Walker, a 6-foot-5 freshman, has knocked down a team-high 11 3-pointers and is connecting at a 40.7-percent clip. And Speaker, a 6-foot-7 freshman, did not play in the team's first two games but has scored in double figures in two straight games and is the team's fourth-leading scorer.
THOUGHTS ON THE MATCHUP
Pace is the name of the game for Little Rock. The Trojans are playing the 42nd fastest tempo in the country.
Little Rock's goal is to create chaos and turn its opponents over. So far, D1 opponents are turning it over on 23.4 percent of possessions through four games.
What happens when teams don't turn it over, however, is a major issue for Walker and his team. Little Rock has the nation's 334th best defense according to KenPom's adjusted defensive efficiency metrics. Through four games against Division I competition, Little Rock is surrendering a 2-point field goal percentage of 59.3.
All five of Little Rock's games so far have been played at 71 possessions or more and four of them have been at 75 possessions or more.
If Indiana takes care of the ball, the Hoosiers should have little trouble taking care of an undersized and overmatched opponent.
WHAT IT COMES DOWN TO
The KenPom projection is Indiana by 31 with a 99.7 percent chance of victory for the Hoosiers. The Sagarin ratings like Indiana by close to 29 once adjusted for home court.
At the various sportsbooks, Indiana is a 30.5-point favorite at FanDuel and a 28.5-point favorite at Caesars.
This looks like another easy win for Indiana, which could be barreling towards a top 10 ranking in the Associated Press top 25 poll ahead of next week's Big Ten-ACC Challenge matchup against North Carolina.
(Photo credit: Little Rock Athletics)
Filed to: Little Rock Trojans