Five takeaways from Indiana's win against Little Rock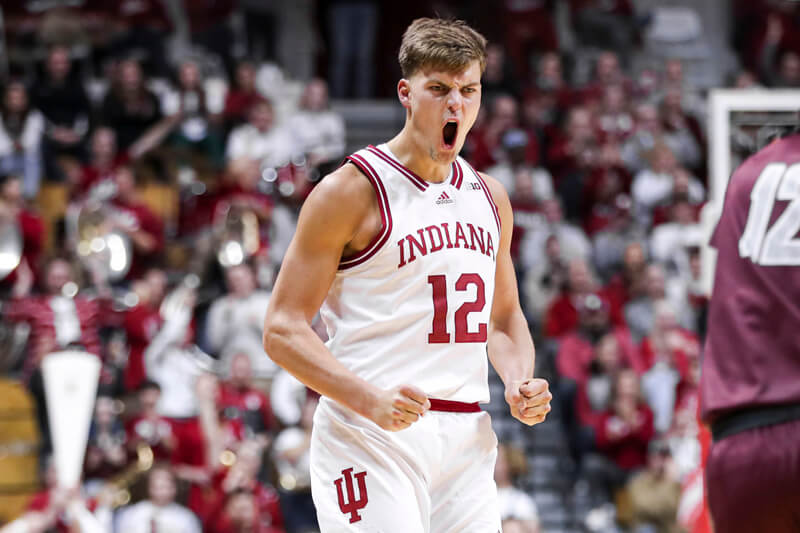 Indiana beat Little Rock 87-68 on Wednesday night at Assembly Hall to improve to 5-0 this season.
Here are five takeaways from the win against the Trojans:
Race Thompson thrives wearing a headband
It was announced before tip that the Hoosiers would be without All-American forward Trayce Jackson-Davis. But without him, Indiana's frontcourt was just fine.
Entering Wednesday, Race Thompson was off to a slow start through IU's first four games. The fifth-year senior came into Wednesday's contest averaging 5.5 points and 4.8 rebounds. Against the Trojans, Thompson led Indiana in scoring with 20 points and in rebounds with eight. Thompson did all of this while shooting 7-for-8 from the field.
Thompson's performance, however, wasn't without a scare. Midway through the first half Thompson took an elbow to the side of his head and left the floor a bloody mess. After heading to the locker room, Thompson re-entered the game wearing a white headband to cover up the wound.
By the final buzzer, part of the headband which covered his injury was stained with a hint of red.
Injuries pile on but no reason for concern just yet
Thompson's injury wasn't the only that happened in-game on Wednesday. Freshman forward Malik Reneau left the game in the first half after taking a hard fall. The Miami (Fla.) native made a trip to the locker room but returned to the bench with an ice pack and later returned to the floor.
Indiana was without three scholarship players at tipoff against Little Rock. Jackson-Davis was held out for precautionary reasons after having a sore back during Indiana's win over Miami (OH) on Sunday.
"We'll continue to evaluate him, he's kinda beat up a little bit…nothing major," Mike Woodson said postgame. "We rested him tonight and we'll get him ready for hopefully Jackson State."
Anthony Leal also left the Miami game due to a lower leg injury. He was ruled out for Little Rock and wore a boot for an ankle injury. Trey Galloway missed his second game in a row due to a knee injury.
No timetable has been given for a return for Jackson-Davis, Leal or Galloway.
Xavier Johnson's steady play continues
The second half belonged to Xavier Johnson. It may not have been the scoring performance he displayed at Xavier last Friday, but Johnson was once again steady and in control against the Trojans.
The senior's night ended with a season-high 10 assists and he tacked on nine points. Johnson only turned the ball over twice and picked up one foul in 29 minutes.
Johnson's play showed to be the X-factor against Xavier and it certainly will continue to be as competition gets tougher.
"He's capable of doing that and I expect him to do that, he's our point guard," Woodson said. "I thought he was solid…and he just started getting everyone else involved and making basketball plays."
Malik Reneau continues to be post scoring threat
Of all Indiana's freshmen, Reneau has proved to be the most consistent and reliable thus far.
The forward was inserted into Indiana's starting lineup on Wednesday and shined despite taking a hard fall. Reneau finished the contest with 10 points and six rebounds in 18 minutes.
Reneau's post activity and footwork is advanced for his class and he's given Thompson and Jackson-Davis a safety net off the bench this season. The big man's play will be pivotal against better competition and allows for lineup flexibility — something Indiana hasn't had in quite some time.
The Montverde product has scored double digits in four games this season and is shooting 62 percent from the field.
3-point shooting continues to be Miller Kopp or bust
So far this season, Miller Kopp is shooting 12-for-23 (52 percent) from beyond the arc. The rest of Indiana's roster? 19-for-62 from deep. That's just barely over 30 percent.
This story again played out against the Trojans. Kopp shot 3-for-6 on 3s and the rest of the Hoosiers were 3-for-14.
Indiana's struggles from beyond the arc were a concern in the offseason and they're proving to be a concern in-game. If Kopp has an off-game, the Hoosiers haven't had a guy step up who might be able to fill his shoes.
This shooting might fly against Little Rock and Jackson State, but it might not in the Big Ten and against the upcoming bluebloods IU has remaining on the non-conference schedule.
(Photo credit: IU Athletics)
Filed to: Little Rock Trojans, Malik Reneau, Miller Kopp, Race Thompson, Xavier Johnson