Indiana's depth shines in 30-point win over Miami (OH)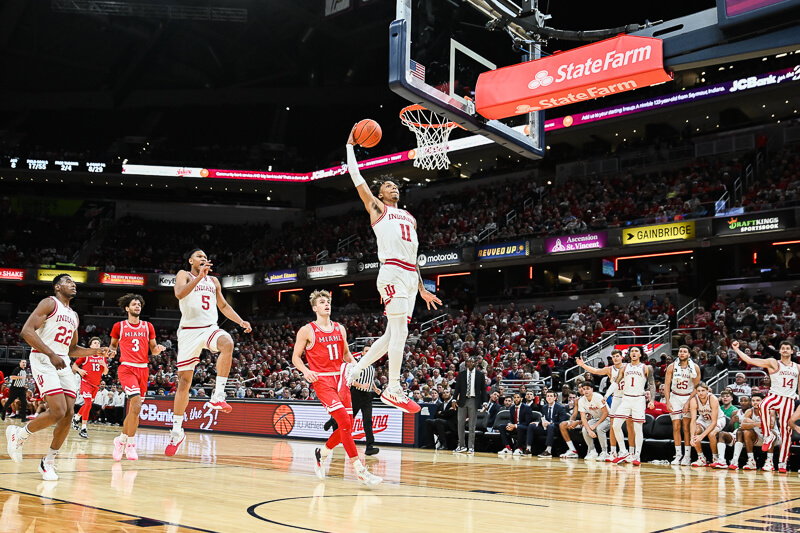 Indiana's Sunday evening game against Miami University (OH) was generally regarded as one of the easier games on Indiana's non-conference slate since the schedule was announced.
The most challenging part of the game was that it would come 48 hours after Indiana faced Xavier, which would be the first real competition the Hoosiers saw in the young 2022-23 season. And after a hard-fought 81-79 victory over the Musketeers, that concern came to light as Indiana came onto the floor at Gainbridge Fieldhouse Sunday night sluggish and with some sloppy play.
The score remained close until just under eight minutes remained in the first half, and the Hoosiers benefitted from multiple fast breaks. Trayce Jackson-Davis put up a quick five points to bring Indiana's lead to eight, and the lead stayed comfortable for the rest of the night.
"He's starting to figure it out and get the ball into the right areas where we can play offense," Mike Woodson said postgame. "He's playing pretty good right now for us. We got to keep him playing at a high level."
While Jackson-Davis recorded his first double-double of the season and led the Hoosiers with 17 points and 16 rebounds, he wasn't alone in his all-out efforts. Unlike Indiana's game against Xavier, the starters and the bench players brought solid contributions on both ends of the floor.
Besides the three bench players who came on in the final minute of the game, each of the 10 Hoosiers who stepped foot on the floor scored at least five points. Three players besides Jackson-Davis put up double figures; Jalen Hood-Schifino scored 12 points, and Miller Kopp and Malik Reneau each scored 10 points.
Hood-Schifino had a comeback night following a three-point performance against Xavier, scoring 12 points on 5-for-12 shooting. While not every shot fell, he found his rhythm as the game continued and continued to be a strong presence on defense with five rebounds.
"I don't think that's too bad," Woodson said about Hood-Schifino's shooting. "He made some shots, got some good looks. It's just the other things that he does on the floor: he defends, he rebounds, he assists. He runs your ball club."
Both Tamar Bates and CJ Gunn played extended minutes, playing for 25 and 18 minutes, respectively. Gunn's 18 minutes were the most in his young career as a Hoosier, but keeping in theme with the rest of the freshmen, he looked confident and comfortable in almost everything he did on the floor.
Gunn finished with a final stat line of five points, two assists and one rebound, two steals and one block. Bates finished with seven points, one rebound and one assist.
"I always just want to bring a spark off the bench," Bates said postgame. "No matter how the game is going, I want to pick up the pace or do what I can to affect the game with my particular skill set."
Trey Galloway sat out of Friday's game with precautionary reasons after he twisted his knee during Indiana's game against Xavier. Still, Woodson made it clear injuries wouldn't hamper this Indiana team.
"They've done what we've asked them to do on and off the court," Woodson said about Bates and Gunn. "We've got enough bodies on this team, my thing is always going to be 'next man up'."
The "next man up" mentality also extended to Kaleb Banks, who put up a new career-high in minutes against Miami. Even though Banks was only on the court for six minutes near the end of the second half, he still scored six points, matching the number by Jordan Geronimo.
As a team, the Hoosiers finished shooting 49 percent from the field with 42 points in the paint. IU had 34 bench points, and every player called upon went into the game with conviction and brought positive outcomes.
"We got a lot of players on this team, and I'm not sitting here playing favoritism to anyone," Woodson said. "I'm trying to win basketball games, and I'm going to play the guys that I think I can win with."
Filed to: Miami Ohio Redhawks