It's in the genes: Jordan Geronimo is 'the battery' off Indiana's bench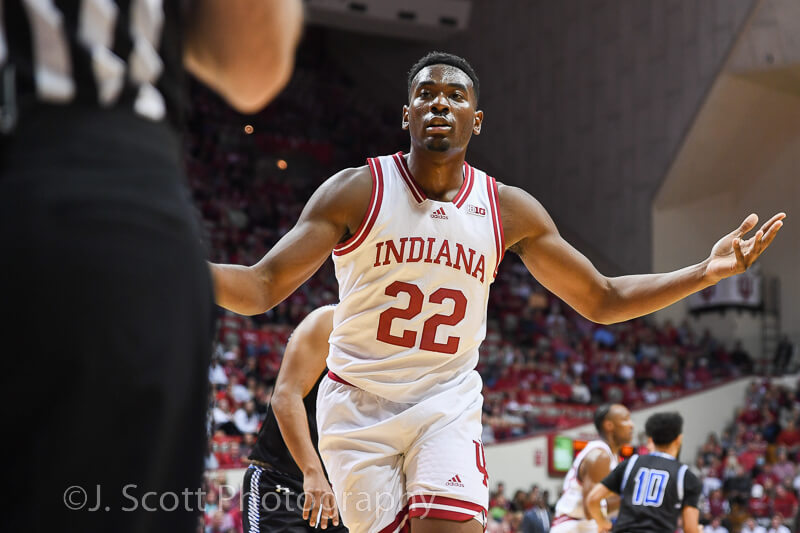 Midway through the first half, Jordan Geronimo slid his feet into the corner in front of the Illinois bench with both hands ready to catch the ball if it came his way. Rob Phinisee, working towards the left side of the arc on a pick-and-roll, protected the ball from Coleman Hawkins and slipped it to a cutting Geronimo on the baseline.
Lift off. In what felt like slow motion, Geronimo took off from outside the paint and soared toward the rim with the ball in his right hand. Fans at Gainbridge Fieldhouse in Indianapolis awakened and let out "oohs" and "aahs".
In front of him? 7-foot and 285-pound Illini big man Kofi Cockburn.
"I remember catching the ball. I don't think I dribbled. I didn't dribble. I just took that one-two step, but I went up… I seen him there and I was like — oh I gotta go for this one," Geronimo said in September at Indiana's media day. "I gotta get that back. Somebody's gonna be on the receiving end of that."
In an ideal scenario, Geronimo would have put Cockburn on a poster and propelled Indiana over Illinois to advance to the Big Ten tournament semifinal.
Only one of those two things happened, though: a 65-63 Indiana win. Yes, Geronimo missed the dunk, but he got fouled and cashed in on two free throws.
Geronimo has a contagious smile, pogo sticks for legs and relentless energy. The relentlessness showed when he attacked the rim with Cockburn in the way.
The pogo sticks for legs? The junior got them from his mom.
Geronimo's mother, Dawn Royster Geronimo, was a standout dual-sport athlete at Nyack High School in the early 1980s. Royster, from Rockland County, New York, starred in track and field but excelled on the basketball court.
Royster was listed at 6-foot-1 and averaged a ridiculous 22.5 points, 13 rebounds and seven blocked shots a game her senior year. That season, 1983, she was named Rockland player of the year and named all-state.
While being masterful on the glass, she also posted a mark of 5-foot-7 as a high jumper in track and field and set three county records.
"The unique thing about Dawn Royster was her fabulous jumping ability and coordination," said Margie Edmunds, who coached Suffern High, in a 1988 article about Royster titled "Best Ever". "She was tall and she dominated the boards. She was one of the most dominating players ever in Rockland because she was a big inside player."
The knack for rebounding and leaping ability sounds a lot like her son.
Royster went on to play college basketball at North Carolina where she was named ACC rookie of the year and All-ACC twice. As a Tar Heel, she averaged 16.6 points (seventh in school history) and 10.1 rebounds (second in school history), while totaling 326 blocks (second in school history).
When Geronimo was asked about his innate ability to rebound, he named his mom as his inspiration.
"I'm gonna give this credit to my mom. My mom played basketball at UNC… and we play them this year. So she's coming to that game," Geronimo said. "But, she's always telling me, since I was little, to box out, get a rebound. When you gotta rebound, you gotta grab it with two hands… she always tells me that, to this day."
The 6-foot-6 junior also explained how his parents have always been there for him after bad games.
"They always give me something to work on," Geronimo said. "I always take my mom's and dad's advice seriously, because my mom played basketball at UNC and my dad played basketball for the Navy in the Dominican Republic. So they know what they're talking about."
Geronimo's mother, Dawn, even ended up playing for a few years professionally in Europe.
Growing up, there was no better source for Geronimo to learn basketball from than his parents. Interestingly, Geronimo tends to play as his mother did.
He plays with high energy, is a good rebounder and is an excellent leaper. It's safe to say that all of these traits combined make a pretty good basketball player.
This season, Geronimo has yet to put anyone on a poster as he hopes to do. But based on how he's started the season it feels like that big dunk could happen at any moment.
In No. 12 Indiana's two wins against Morehead State and Bethune-Cookman, the Newark, New Jersey native has scored 21 points in 28 minutes while shooting 9-of-12 from the field. Geronimo is already halfway to matching his total number of double-digit scoring games for his career entering the season.
The New Jersey native surged at the end of last season with an excellent performance in the NCAA tournament against Wyoming, where he scored 15 points on 7-of-11 shooting. Geronimo also started to stretch the floor more towards late February and early March last season, looking a lot more comfortable from beyond the arc.
Afterward the win in Dayton, Trayce Jackson-Davis called him a freak.
"Some of the things he does are just out of this world," Jackson-Davis said. "He's an energy guy, he's going to go rebound and he's going to go get things at the top of the backboard and dunk it hard. Without him, we probably would have lost that game."
Now, he's a spark plug off the bench for an Indiana team with major expectations.
"I'm already athletic," Geronimo said at a media availability over the summer. "I feel like if I was to always just be consistent and keep pushing myself and play hard every single time, that athleticism is going to like, shine… so I feel like the next step into improving my game or showing my actual game is just being positive, always having like a battery, always just trying to, you know, make the extra play, you know what I mean. I feel like that would really show my potential."
Keep the word "battery" in mind when describing Geronimo. His athleticism is apparent. It's flashy and stands out every time he's on the floor, but the next step for him is becoming consistent.
So far this season, he's done that. All of the things that he wanted to work on in the offseason such as off-ball movement, and getting to the rim off the dribble, have been showcased in Indiana's first two games.
He even added Stephen Curry as someone he loves watching move off the ball and find openings in the defense.
With the Hoosiers front court depth being as strong as it has been this season, Geronimo can't coast. He's gotta work for minutes and when he's on the court, he has to be a ball of relentless energy that keeps the bench humming.
"I wanna be remembered as a guy who just brought energy, you know what I mean, who always… ," Geronimo said before pausing his thought at IU's media day.
"I don't know how to say this but like 'ahhhh', you know what I mean," he continued as he clenched his fists, flexed his muscles and let out a yell.
Laughter filled the media day table.
"I just love the energy so much. I wanna be the guy who's like the battery, just seeing energy and putting it out times two."
It won't be on Cockburn, but maybe 'the battery' has a few more jaw-dropping plays up his sleeve this season.
This time, though, Geronimo doesn't want to head to the free-throw line, he wants to finish.
Filed to: Jordan Geronimo