What to Expect: Bethune-Cookman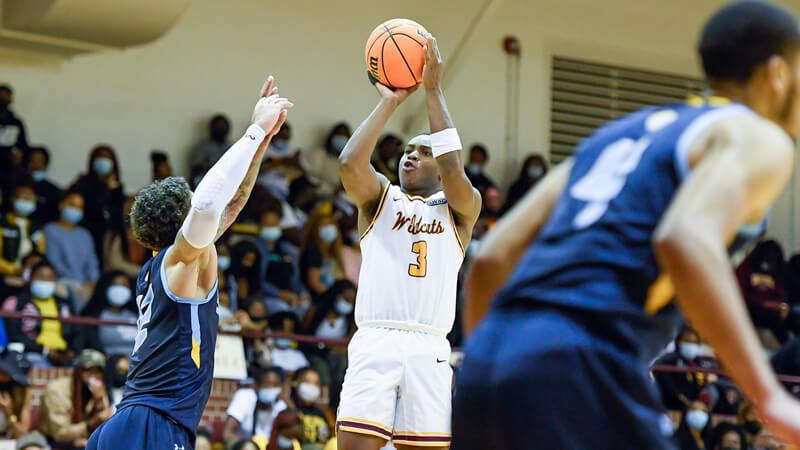 Indiana returns to action Thursday night when it hosts Bethune-Cookman at Assembly Hall. The Wildcats are 0-1 and are coming off an 89-58 loss at Iowa on Monday.
Thursday's game will tip at 8:30 p.m. ET on BTN with Brandon Gaudin and Robbie Hummel on the call:
Indiana's second of its seven scheduled buy games brings Bethune-Cookman to Bloomington. The Wildcats, coached by former NBA standout Reggie Theus, are members of the Southwestern Athletic Conference. Theus is in his second year at the helm in Daytona Beach.
Bethune-Cookman finished last season 9-21 and 333rd in the final KenPom rankings, but went 4-5 in its last nine games. This season is projected to be better for Theus as the Wildcats are currently 309th in KenPom and projected to finish 16-14 overall and 10-7 in league play.
Bethune-Cookman was picked to finish 8th in the 14-team SWAC in the preseason. In a preseason poll of league coaches by The ALMANAC, the Wildcats were picked as the "sleeper team" in the league.
MEET THE WILDCATS
Unsurprisingly, Bethune-Cookman was blitzed by Iowa earlier this week at Carver-Hawkeye Arena. While the Wildcats have some talented pieces, the disparity in talent from the SWAC to the Big Ten is sizable.
In Monday's opener, Theus went with an experienced starting lineup featuring three seniors and two juniors.
SWAC preseason player of the year Joe French, a 6-foot-5 junior guard, averaged 15.8 points last season. He's a career 43 percent 3-point shooter and made 48 percent of his attempts from distance last season in league play. French got off to a slow start in Monday's season opener, scoring just three points on 1-of-5 shooting in 28 minutes.
Marcus Garrett, a 6-foot-2 senior, began his career at Morehead State before transferring to Bethune-Cookman before last season. Garrett, a Chicago native, averaged 13.6 points, 4.4 rebounds and 2.8 assists last season. He finished last season with the highest usage rate in the SWAC and was second in the league in assist rate.
Damani McEntire is an Indianapolis native who went to Hargrave Military Academy and played two seasons at Southern Utah before transferring to play for Theus last season. McEntire had the highest steal percentage in the SWAC last season and was 13th in block percentage. The 6-foot-4 guard isn't much of an offensive threat as he made just 24.3 percent of his 3s and 32 percent of his 2s last season.
The two starters in the frontcourt in Monday's opener were 6-foot-10 senior Dylan Robertson and 6-foot-6 senior Kevin "K.J." Davis. Robertson is another transfer who is in his second season in Daytona Beach. The Tuscaloosa native averaged 8.5 points, 6.1 rebounds and 1.5 blocks last season.
Davis, also in his second season at Bethune-Cookman, is in his fifth season of college basketball. He began his career at East Carolina and also played at Samford before arriving in the SWAC. Davis ranked 10th in the conference last season in 3-point shooting at 38.6 percent.
Theus made a splash over the summer with the addition of point guard Zion Harmon. Harmon was the No. 63 player nationally in the 247Composite in the 2021 season who enrolled at Western Kentucky, but never played due to personal issues. Harmon signed with Bethune-Cookman in August. In Monday's season opener, the 5-foot-10 point guard scored 15 points off the bench in 33 minutes. He was 5-of-18 from the field and also had seven assists.
Three other Wildcats logged minutes off the bench in Monday's opener: Lukas Gudavicius, Derek Carter-Hollinger and Elijah Hulsewe. Gudavicius is a 6-foot-10 freshman from Lithuania with guard skills. Carter-Hollinger is a transfer from Montana who is a career 40.8 percent 3-point shooter at 6-foot-6. And Hulsewe is a 7-foot freshman from Orlando who gives Theus some post depth and legitimate size. Hulsewe is 260 pounds.
THOUGHTS ON THE MATCHUP
While Bethune-Cookman has legitimate talent across its roster and will be a tough out in the SWAC, this is another matchup Indiana should win comfortably.
In Monday's loss at Iowa, Bethune-Cookman allowed Iowa to score 1.2 points per possession. The Hawkeyes made 67.6 percent of their 2s and didn't play any starter more than 23 minutes in a 31-point win.
The Wildcats shot only 36 percent on 2s, turned it over 16 times and allowed Iowa to rebound 32.4 percent of its missed shots.
WHAT IT COMES DOWN TO
The KenPom projection is Indiana by 29 with a 99.5 percent chance of victory for the Hoosiers. The Sagarin ratings like Indiana by 31.
At the various sportsbooks, Indiana is a 31.5-point favorite at FanDuel, 32-point favorite at Caesars, 31.5-point favorite at BetMGM and a 31.5-point favorite at DraftKings.
Five of Indiana's next six games are against opponents currently ranked 278th or lower by KenPom. The exception is next Friday's Gavitt Tipoff Games matchup at Xavier. The Hoosiers should cruise to another easy win on Thursday, but next week could bring an opportunity to learn if Indiana is ready to meet this season's major expectations.
Photo credit: Bethune-Cookman Athletics
Filed to: Bethune-Cookman Wildcats