Hoosier Hysteria features scrimmage, skill competitions, drop-top Cadillacs and rappers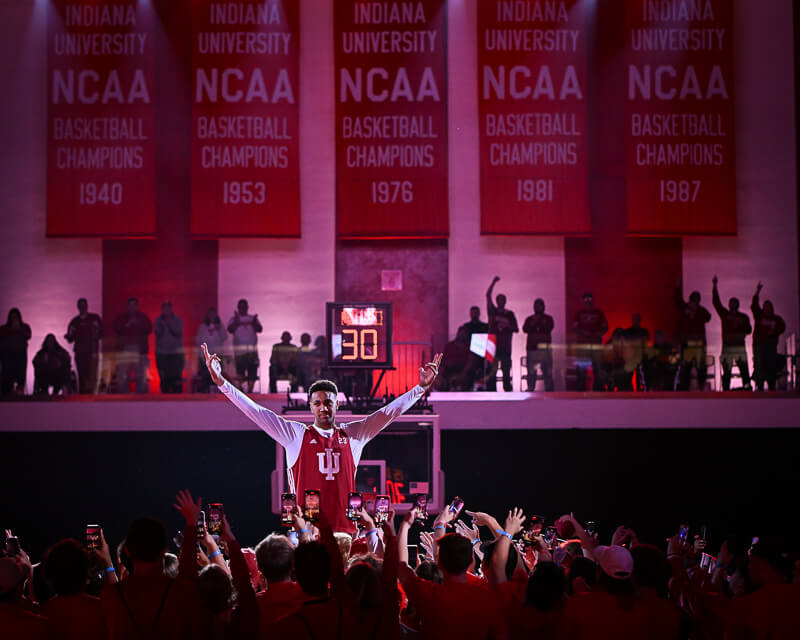 From Mike Woodson's expletives, babies in ear muffs, and drop-top Cadillacs to rappers G Herbo and Snoop Dogg, Hoosier Hysteria was packed and loud.
The event kicked off with player and coach introductions from both teams. Each player walked out onto a platform at center court with their song of choice playing. Family accompanied the coaching staff, Mike Woodson and Teri Moren came into Assembly Hall in the back of a Cadillac, and Tamar Bates was introduced with his daughter in his arms.
Friday night was all about fun at Simon Skjodt Assembly Hall, so much so that Mike Woodson had to have his language excused.
"Indiana basketball is, excuse my language, the shit," Woodson said.
The crowd, of course, erupted.
Woodson also gave Hoosier Hysteria fans his usual spill on defense, Trayce Jackson-Davis, and the crowd; telling fans how easy Bobby Knight made it for him to commit to Indiana and how much he cares for the state of Indiana.
"A Big Ten title and a national title, that's what it's all about," Woodson said. "I'm here for the long haul. This is not about me, it's about these 17 guys who wear this uniform. Defense wins championships. When I took this job, my initial thought was that we have to build a defensive system… and these guys bought in."
"I can't thank you enough for giving me another shot to coach you," Woodson told Trayce Jackson-Davis. "I love Trayce Jackson-Davis. I love all my players, but he's special to me because he didn't have to come back."
After introductions, the evening moved to a 3-point competition. The men's and women's teams paired up to make as many 3-pointers as possible in an around-the-world fashion.
Round one scores:
Sara Scalia (15) and Xavier Johnson (12) = 27
Sydney Parrish (14) and CJ Gunn (11) = 25
Chloe Moore-McNeil (18) and Miller Kopp (14) = 32
Tamar Bates (13) and Yarden Garzon (8) = 21
Round two scores:
Scalia (17) and Johnson (10) = 27
Moore-McNeil (12) and Kopp (16) = 28 (winners)
The skills competition featured a relay of a mid-range baseline jumper, a free throw, a wing 3-pointer, and a half-court shot. Teams of three were timed to make all shots in that respective order.
Teams and scores were as follows:
Grace Berger and Jordan Geronimo = 35.7 seconds
Mackenzie Holmes and Race Thompson = 24.0 seconds (winner)
Kaitlyn Peterson and Malik Reneau = 40.3 seconds
Jalen Hood-Schifino and Alyssa Geary = 30.3 seconds
A guest joined each pair of IU players. Two of the four guests were former Hoosiers Derek Elston and Collin Hartman.
Next came the scrimmage, but due to Indiana's Pro Day earlier in the afternoon, it was limited to six minutes and played with light intensity.
Red: 6                                                White: 14
Miller Kopp – 0                                  Malik Reneau – 2
Jalen Hood-Schifino – 2                  Galloway – 2
Trayce Jackson-Davis – 2                Tamar Bates – 4
Xavier Johnson – 2                           Jordan Geronimo – 4
Race Thompson – 0                          Logan Duncomb -2
CJ Gunn – 0                                       Michael Shipp – 0
Kaleb Banks – 0
Anthony Leal did not play and wore a boot on his right foot.
Filed to: Hoosier Hysteria