'We'll be OK in that regard this year': Indiana's shooting woes won't go away overnight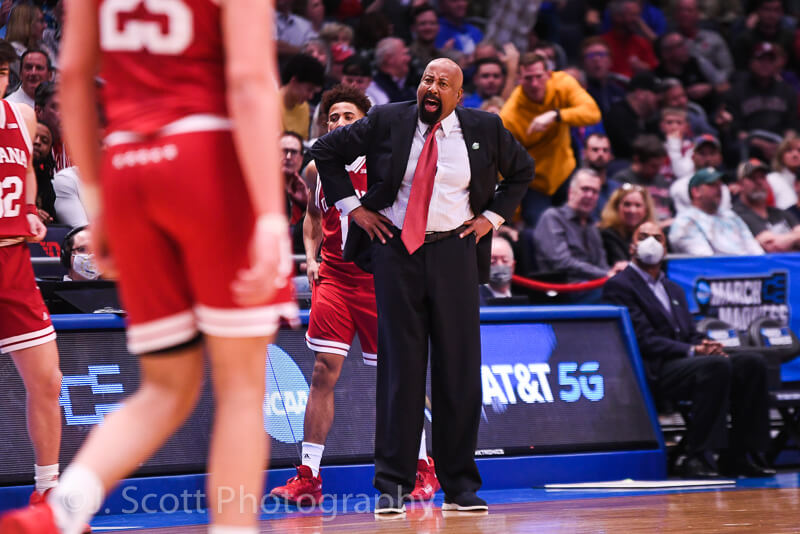 Over the past six years putting "Indiana basketball" and "3-point shooting" in the same sentence created distaste. It's been that bad. 
The Hoosiers are widely picked as the Big Ten favorites and a big part of that is the returning production. Indiana returns four of five starters, adds one of the top recruiting classes in the Big Ten, and retains role players like Trey Galloway, Jordan Geronimo, and Tamar Bates. But, the season won't end with the flying colors people expect if Indiana doesn't fix its biggest problem: shooting.  
Since Tom Crean's firing in 2017, Indiana hasn't shot better than 33.3 percent on 3-pointers in a season. Last year — Mike Woodson's opening act — was when Indiana reached that number. Even though the percentages went up, 33.3 percent was still just 11th best in the Big Ten. And it wasn't like IU was just throwing up bricks, they were hardly shooting in the first place. 
Last year, Indiana attempted 17.7 3-pointers a game and only made an average of 5.9 of them. Both of these numbers were last in the Big Ten. 
Archie Miller tried to address the issue, but it never quite panned out. The transfer addition of Parker Stewart was too little too late. Players like Al Durham and Armaan Franklin grew into guys who could knock down shots for Miller, but there was no consistency. That began to be a similar problem last year under Woodson. 
Woodson carried Stewart over from Miller's roster and added Miller Kopp from Northwestern. Both Stewart and Kopp shot the highest volume of 3-pointers on the roster, but it still wasn't enough. 
Kopp, who shot 39.6 percent from distance in the 2019-20 season, found himself sitting in the corner waiting for the ball most of the game, and Stewart was used heavily in off-ball screens and trailed in transition. The stationary playing styles of both players made spacing hard, especially when Race Thompson wasn't stretching the floor.  
There's no doubt that Stewart was Indiana's best shooter last season. He shot almost 40 percent from three. There's also no doubt that Indiana mightily struggled from beyond the arc. Now, Indiana is without Stewart and no sharpshooting transfers have been added, just freshmen.
"It's not like we're not working on threes. We shoot them every day. We shoot free throws every day. It's just when you get to a game situation, you've got to feel comfortable and ready to knock them down," Woodson said at Indiana's media day last month. 
CJ Gunn is the only freshman out of the four who was known in high school as a marksman. But, it shouldn't be a true freshman's cross to bear. With less shooting talent than last year, someone will have to step up and make shots for the Hoosiers. 
Race Thompson had an intriguing end to the season for Indiana and showed some ability to stretch the floor. If he can do it consistently and shoot around 34 percent on 3-pointers, it would do wonders for IU's spacing and Trayce Jackson-Davis down low. A season ago, Thompson only made 15 3-pointers on 55 attempts, but he proved he wasn't afraid to expand his game. 
"Shooting, ball handling, and sticking to the bread and butter," Thompson said on what he worked on most over the summer. "Really being able to play inside and out consistently. Like how I did at the end of the year, I was shooting the ball a lot better and feeling a lot more confident in my shot. I think being able to knock down open shots…. just being able to do all of that will help the team out a lot I think."
If Thompson can stretch the floor, it will invoke favorable matchups with opposing bigs.
Tamar Bates, who only shot 30 percent from deep last season as a freshman, will have to find a role off the dribble this year. Bates will have an expanded opportunity on offense this season as he'll be handling the ball more, but his frame makes him desirable. At 6-foot-5 and 193 pounds, Bates can elevate over big men on the outside while being quick enough to drive off the dribble. If his perimeter shots fall, it will take a lot of pressure off TJD and Xavier Johnson. It would give Indiana someone who can score on all three levels — something the Hoosiers desperately need. 
Speaking of Johnson, he shot better than most thought he would last season. His form is unorthodox, but he can make it work. Johnson shot 38.3 percent on 3-pointers and towards the end of the season, the Pitt transfer was playing his best basketball.
"I'd like to think Miller (Kopp) having a taste of what Indiana basketball is all about now, I think he'll be a lot better this season. Xavier (Johnson) showed that he could make them. I think some of the freshmen that we're bringing in will be able to knock some of those down," Woodson said. "Race (Thompson) kind of picked it up from previous years, a guy who really wasn't allowed to shoot them. He made some for us last year." 
"I think we'll be OK in that regard this year," Woodson stated. 
Someone from within must answer the call whether it's Kopp, Bates, or even Anthony Leal. 
And how much longer can Indiana afford to just be 'OK' from beyond the arc?  It won't be long if Indiana wants to compete with the best of the best.
Filed to: