FanDuel College Football Promo Tackles Week 0 with $150 Instant Bonus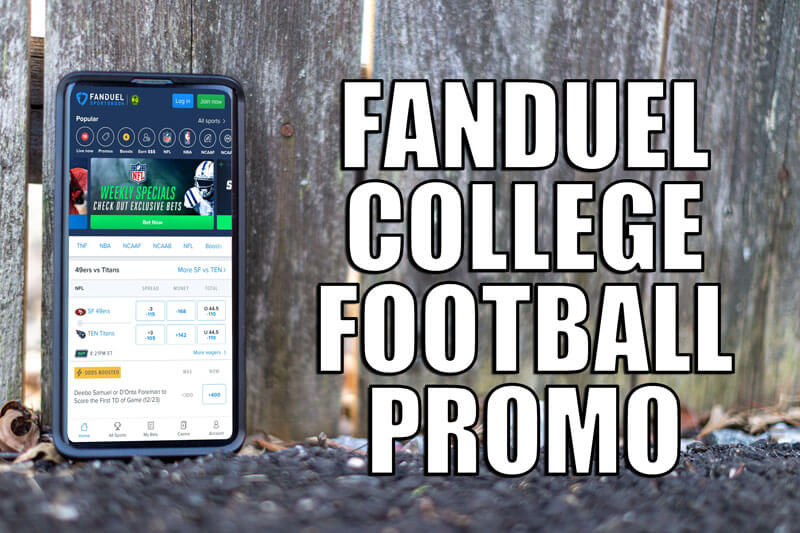 The new FanDuel college football promo (get it here) will provide a $150 sure thing payout on a $5 bet on any Week 0 game. With a 30-1 return, new players in legal online sports betting states will be able to welcome back college football with a bang.
This no-brainer FanDuel college football promo will deliver the $150 bonus instantly. To be clear, if you bet any game this weekend, you will get the reward immediately.
There are 11 games on the schedule on Saturday, which is considered to be NCAA football Week 0. The featured game will pit Nebraska against Northwestern in Dublin, Ireland on FOX. This is a quality matchup for an opener, and this promotion will get the season started on the right foot.
Click here to use the FanDuel college football promo code to get a $150 can't miss bonus.
FanDuel College Football Promo Terms
Given the guaranteed nature of the offer mechanics, players will begin with a $145 profit. The bonus will be deposited into your account in betting credit, and it will be available right away. For instance, let's say that you bet $5 on the Nebraska-Northwestern game. You can use all or some of the $150 credit to place another bet on that same game, the Wyoming vs. Illinois game later that afternoon, or, well, any game on the schedule — including MLB action.
Secondly, you have actual real money action on the $5 bet. If you win, the money is deposited into your account in cash. Since this is the opening week for college football, this is our area of focus right now. At the same time, you can use the betting credit to wager on any sporting event. The MLB dog days are here, and NFL Week 1 is approaching rapidly.
This promotion is live in the IN sports betting market, and it can be accessed in IL, IA, MI, PA, NJ, NY, CT, VA, WV, TN, LA, AZ, CO, and WY.
Grab the FanDuel College Football Promo
Complete this quick and easy process to get your $150 guaranteed reward:
1.) Above all, click one of the links on this page. As a result, you will be opted in and eligible for the bonus when you reach the landing page.
2.) Then, provide your name, date of birth, and other pertinent information to set up your account. After your identity has been verified for your protection, you will be a registered user.
3.) Thirdly, make your initial deposit. You have to bet at least $5 to get the $150 bonus, but the minimum deposit at FanDuel is $10.
4.) After that, if you are signing up with a laptop or desktop, download the mobile app.
5.) The money shot is the final step. Place your $5 qualifying wager, and you will receive a 30-1 instant payout.
Celebrate Thurs-K Promotion
The sign-up bonus is just the first of many promotional opportunities that you will receive.
For example, there are recurring daily specials in play like Celebrate Thurs-K offer on the table. First, opt in and place a $25 minimum 3+ leg MLB same game parlay on a game today. Regardless of the outcome, get a one dollar bonus for every strikeout that is registered in the game.
Click right here to accept the FanDuel college football promo offer that will generate a $150 instant bonus.
Filed to: