2022-23 Non-conference opponent preview: Kennesaw State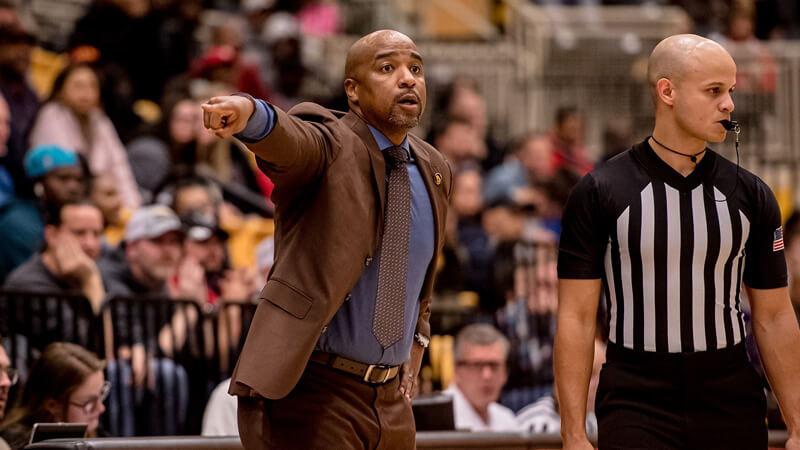 Indiana will finish its 2022-23 non-conference schedule against Kennesaw State University in Bloomington on Dec. 23. It will be the third time the Owls and the Hoosiers face off, and the Hoosiers will look to make their record against the Owls a clean 3-0.
In both of the previous matchups, in 2013 and 2015, Indiana scored at least 90 points and won by over 20 points. Both games also took place at Simon Skjodt Assembly Hall.
Kennesaw State finished the 2021-22 season with a 13-18 overall record and a 7-9 record in ASUN play, finishing fourth in the East Division of the conference.
However, despite the losing record, it was one of Kennesaw State's best seasons in program history as a Division 1 team, and those 13 wins were greater than the combined wins from the past three seasons (12). After taking the Owls into the postseason and winning in the first round of the ASUN tournament, head coach Amir Abdur-Rahim was given a contract extension through the 2026-27 season.
Abdur-Rahim has been head coach of the program since April 2019 and has brought the Owls some of the greatest success the program has seen since entering Division 1 in 2005.
As well as keeping their head coach, the Owls are keeping most of their roster. All five starters — three of whom were top-25 recruits in Georgia out of high school in 2019 — are returning, and the Owls suffered no big blows in the transfer portal while reaping the benefits with three incoming transfers.
Chris Youngblood led Kennesaw State in 3-pointers with 70, shooting at a 40.5-percent clip, and averaged 13.9 points per game last season. The 6-foot-4 guard was one of three players to start every game, joined by Terrell Burden and Demond Robinson. Both Youngblood and Burden were All-ASUN candidates last season.
Burden, a 5-foot-10 point guard, averaged 11.6 points per game for second-best on the team and led the team in assists (146) and steals (36). The 6-foot-8 Robinson transferred from Murray State before the 2021-22 season and quickly became a force for the Owls last season, typically playing as a center. He led the team in blocks (18) while averaging 9.1 points per game.
While Kennesaw State did lose four players in the offseason — three to the transfer portal and one to an overseas pro contract — the incoming transfers and freshmen alike are expected to add a great deal to the program.
The Owls most recently signed 6-foot-11 Yves Nkomba, who played at Three Rivers College this past season. Abdur-Rahim said he expects Nkomba, a center, to be an immediate impact player on the defensive end due to his height. The Owls averaged only 2.8 blocks per game in the 2021-22 season, and Nkomba will add size in the frontcourt.
Another notable transfer is Quincy Ademokoya, a guard who played for two years at Temple. He only saw action in 27 games in those two years, but posted double figures in high school and was a top-30 recruit in Georgia out of high school. Ademokoya was originally recruited by Abdur-Rahim and Kennesaw State before committing to Temple, and the Owls coaching staff is confident he can contribute on both ends of the floor.
Kennesaw State won't be without offensive power, given its retention rate and offensive success last season. In the 2021-22 season, the Owls averaged 74.8 points per game and shot 46.3 percent from the field.
However, the Owls finished last in the ASUN in free throw percentage at 66.2 percent and sat in the middle of the pack in the conference in just about every other statistic. Defensively, as Abdur-Rahim alluded to when talking about Nkomba's transfer, the Owls were not as dominant or lengthy as they would have liked to be, or needed to be in order to be more competitive.
According to KenPom, Kennesaw State had an adjusted defensive efficiency rating of 1.09 points per possession allowed and gave up 71.2 points per game. While often playing in high-scoring games, Kennesaw State couldn't always close out as the clock ran down, and were often shut down by teams like Liberty and Creighton.
While the Owls were largely successful by their own program standards last season, they didn't make much of a dent in national conversation, and Bart Torvik placed the Owls at No. 232 in the country at the end of the season. This season, Torvik projects them at No. 248 in the country and 9th in the ASUN.
As its challenging non-conference schedule comes to a close, Indiana will likely be able to give its starters a rest in its final games, allowing for more contributors off the bench to gain more experience before heading into conference play.
Filed to: Kennesaw State Owls