2022-23 Non-conference opponent preview: Jackson State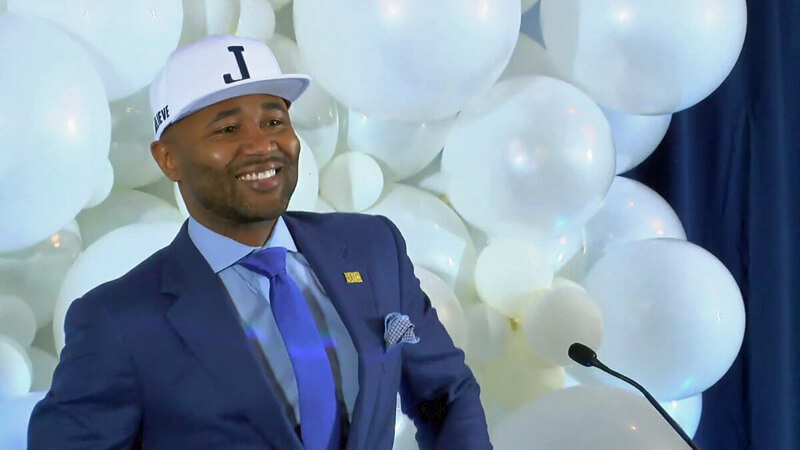 Indiana's 2022-23 non-conference schedule was finalized on July 1 and Inside the Hall will have a team-by-team look at all 11 opponents. Today: Jackson State.
In the third and final game of the Thanksgiving week Hoosier Classic, Indiana will play Jackson State University in Bloomington on Friday Nov. 24. The Tigers, members of the Southwestern Athletic Conference, are coming off an 11-19 season with a 9-9 conference record.
This matchup will mark the second consecutive season Indiana will host Jackson State, as the Hoosiers posted a dominant 70-35 win last November. However, a lot has changed for the Tigers since that matchup.
One of the most notable changes to the Jackson State team comes in the form of a new head coach, Mo Williams. Williams, a Jackson native, was most recently the head coach at Alabama State University, where he boosted the Hornets into the top four in the SWAC in scoring, assists, three-point field goal percentage, free throw percentage and blocked shots.
In the 2021-22 season, the Jackson State was last in the SWAC in scoring (61 ppg) and free throw percentage (63.4%). Williams' arrival could prove to be what the team needs to rise to the top of the conference.
Williams also holds 14 years of NBA experience, in which he played with a total of seven teams. He made the biggest impact with the Cleveland Cavaliers, where he played in the beginning and end of his professional career, both when Lebron James was on the team in 2008-10 and when the Cavaliers won the NBA Championship in 2015-16.
Mike Woodson was coaching in the NBA during Williams' playing career, and the two would have likely crossed paths when Woodson was the head coach of the New York Knicks from 2011-14.
Williams is bringing with him junior Trace Young, a former three-star guard out of high school. At Alabama State, Young averaged 11.7 points and 5.4 rebounds per game in the 2021-22 season. He entered the college scene as a player with a lot of potential, and after starting his career strong under Williams at ASU, it's no surprise he would want to continue on with his coach. Standing at 6-foot-8, Young will be able to contribute on both ends of the floor, as long as he can remain consistent — something he's struggled with in the past.
Incoming players to watch besides Young include point guards Chase Adams and Keionte Cornelius, who both have good ball-handling skills and the ability to score at the rim and from beyond the arc.
Adams played at the University of Portland from 2019-21 where he averaged 6.2 points and 3.3 assists per game. In 2021-22, he stepped away from Division I basketball to play at Salt Lake Community College and was able to find his game again, improving to average 11.5 points and 4.2 assists per game.
Adams also went viral in middle school after a YouTube video was posted showing off his ball-handling skills. He's relatively small at 5-foot-8, but has shown those middle school skills weren't a fluke and that he can compete with anyone. Adams will reenter the Division I environment with more experience and motivation that could be just what the Tigers need.
Last season, Cornelius played at Schoolcraft College, a NJCAA Division II school, and put up 25.6 points and 4.5 rebounds per game, while shooting 41.5 percent from beyond the arc. Cornelius was originally committed to Alabama State, but announced his commitment to Jackson State the same day Williams was named the new head coach in March.
Another big change the Tigers program underwent in the offseason was the departure of Jayveous McKinnis, who transferred to Ole Miss. McKinnis, who averaged 12.2 points and led the Tigers with 10.1 rebounds per game last season, was named 1st Team All-SWAC and SWAC Defensive player of the year for the third time after the conclusion of the 2021-22 season. He was the only Tiger to post double-digit block numbers with a whopping 77.
However, the loss of McKinnis doesn't mean the Tigers won't retain some of their top players. Bart Torvik lists guard Jonas James III as returning to Jackson State, and as a captain in the 2021-22 season, James would bring experience and confidence to the team much like Young. James averaged 8.2 points and three assists per game last season and played in the inaugural HBCU All-Star game in March. He also led the Tigers with 34 steals.
Ken Evans Jr., a 6-foot-5 guard who led the team in 3-pointers with 35 as a redshirt freshman last year, is also returning. He'll be joined by Gabe Watson, who, while only playing seven games last season due to injury, averaged 14.9 points per game. Watson was the only Tiger to put up double-digits against Indiana with 13 points.
As a whole, Jackson State will enter the 2022-23 season with most of its roster still intact. The loss of McKinnis will necessitate some restructuring and new strategies, but that is inevitable with a new head coach.
Indiana's defense was able to stifle just about everything from Jackson State in the two teams' last encounter, and the Hoosiers' starting five dominated offensively. Jackson State was largely outmatched, and it appears that tune may carry on into this game, as Bart Torvik puts Jackson State at No. 244 in the nation heading into the 2022-23 season.
Just like last year, this matchup could be a time for Indiana to fine-tune what it needs to before entering the more competitive part of its non-conference schedule. But with a new coach and some new faces, the Tigers could make some waves in the SWAC.
Filed to: Jackson State Tigers