2022-23 Non-conference opponent preview: Little Rock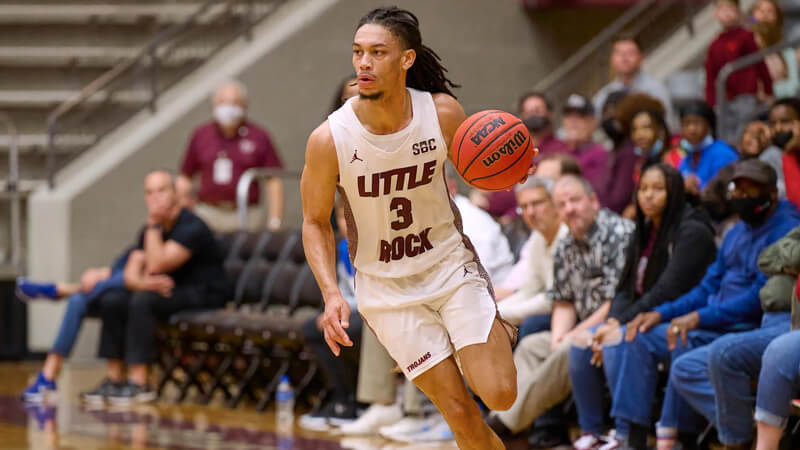 Indiana's 2022-23 non-conference schedule was finalized on July 1 and Inside the Hall will have a team-by-team look at all 11 opponents. Today: Little Rock.
The second opponent in Indiana's Thanksgiving week Hoosier Classic will be the Little Rock Trojans, who the Hoosiers will face in Bloomington on Wednesday Nov. 23. The Trojans are coming off of a rough 2021-22 campaign where they finished 9-19 overall and 3-11 in the Sun Belt.
The 2022-23 season will be a fresh start for Little Rock basketball as the program joined the Ohio Valley Conference on July 1. The OVC is losing two of its more reputable teams in Murray State and Belmont who will be joining the Missouri Valley Conference. Little Rock and Southern Indiana will be the replacements.
Former NBA first-round draft pick and coach Darrell Walker will lead Little Rock as head coach. Walker will be entering his fifth season with the Trojans where he has compiled a 51-64 record. The 2019-20 season was his best as the Trojans finished first in the conference and won 21 games. Unfortunately, an NCAA postseason berth was stripped away due to the COVID-19 pandemic. Walker was named Sun Belt coach of the year that same season.
The Trojans struggled last season on the defensive end as they had a defensive adjusted efficiency of 112.1, which was 336th in the country according to KenPom. They also allowed an effective field goal percentage of 56.3, which was 355th in the country out of 358 teams. On top of this, Little Rock's opponents shot 38.4 percent on 3-pointers and 55.5 percent on 2s.
The Trojans also lost their top two scorers in Nikola Maric (13.3 ppg) and Marko Lukic (11.4 ppg). Senior 6-foot-7 forward DeAntoni Gordon will fill the Maric void at the four. In the eight games Gordon played and started last season, he averaged 10.4 points and 4.4 rebounds. Gordon's season was cut short due to an injury in early December.
Rising senior guard Isaiah Palermo has good size at 6-foot-5 and thrives when attacking the basket. Palermo averaged 10.4 points per game while shooting 46 percent from the field. Palermo only shot 30 percent on 3s, but will likely be the focal point of Little Rock's offense this season.
Jordan Jefferson, a 6-foot-2 point guard, started 16 games as a true freshman last season and averaged nine points while shooting 41 percent on 3s. Jefferson didn't facilitate as much as he probably should have but looks to see more usage in the offense with ball screens paired with Gordon and Palermo. According to Bart Torvik, Little Rock is projected to be No. 278 in the country next season, a ranking that would place them fifth in the OVC.
If Jefferson and 44 percent sharpshooter Jovan Stulic are knocking down 3-pointers and spacing the floor, the Trojans can be at least average offensively. But as mentioned, there aren't a whole lot of signs pointing them in the right direction defensively.
Little Rock could struggle with Indiana's methodical and set piece heavy offense leading them to be picked apart. But, if there was one straw you could grasp at for what the Trojans did well on the defensive end it would be turning opponents over. Little Rock turned teams over 20 percent of possessions, which was 84th in the country last year. So if Little Rock can speed up the game and turn teams over, they could be competitive next winter.
Filed to: Little Rock Trojans