2022-23 Non-conference opponent preview: Miami (OH)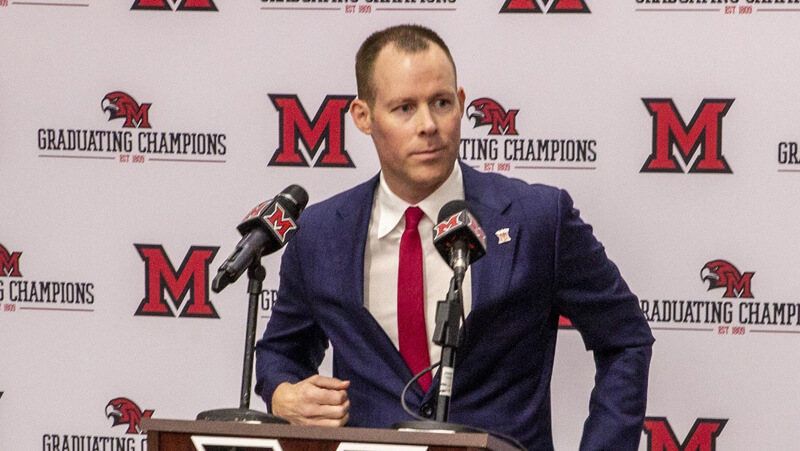 Indiana's 2022-23 non-conference schedule was finalized on July 1 and Inside the Hall will have a team-by-team look at all 11 opponents. Today: Miami (OH).
Indiana won't be headed north to Indianapolis as a part of the Crossroads Classic this year, but they will make the trip to face Miami (OH) at Gainbridge Fieldhouse on Nov. 20.
The game against the RedHawks is the first of three in the Hoosier Classic Thanksgiving week games, the others being against Little Rock and Jackson State in Bloomington. While it will be the second season in a row where Indiana will not play in an out-of-state Thanksgiving break tournament/event, the Hoosiers have crafted a schedule where they can tune up, play and gain confidence before a brutal December.
The Hoosiers and RedHawks have faced 14 times before and Indiana leads the all-time series 13-1. The programs have not played since 1994.
Miami will be coached by Travis Steele, who was fired from Xavier this past year after not making the NCAA tournament in any of his four years with the Musketeers. The Hoosiers will face the Musketeers two days before the RedHawks.
Miami has only posted one winning season in the last thirteen years and has been at the bottom of an improving MAC. The MAC has seen programs like Buffalo and Ohio win a game or two in the Big Dance, but that type of program seems to be far in the distance for Miami. The RedHawks went 14-18 last season.
Besides upsetting Georgia Tech in Atlanta as the 2021-22 season-opening act, not much went right for the RedHawks last season. Two strengths for Miami were its ability to take care of the ball and make free throws. The RedHawks turned it over on just 15 percent of their possessions last season and shot 80 percent from the free throw line, which ranked third nationally.
Roster turnover was not kind to Steele, who landed the job on March 31. Last year's best player, guard and All-MAC selection Dae Dae Grant transferred to Duquesne after averaging a career-high 17.5 ppg. On top of that, three starters were seniors last season and are no longer in the program.
The biggest returning piece is 5-foot-8 Evansville native Mekhi Lairy. The former 2018 Indiana Mr. Basketball runner-up has improved steadily every season and has proved to be a viable scorer. Last season, Lairy averaged 13.6 PPG, had 40 steals, shot 33 percent from beyond the arc and an astounding 92 percent from the foul line, the thirteenth-highest rate in the country. Lairy returning for a fifth year is some of the best news Steele has heard over the past few months.
Two players who are transferring in this season are 6-foot-6 sophomore guard Julian Lewis from William & Mary as well as 6-foot-5 junior Morgan Stafford from Wofford. Lewis is fresh off a stellar freshman year where he was named to the CAA All-Rookie team and averaged seven points and four rebounds in 24 starts.
Stafford looks to be a big addition as he can light it up from beyond the arc. The sharpshooter, who averaged 6.5 points last season, is a career 40 percent 3-point shooter. This should help bolster the RedHawks, who shot 34 percent from distance a season ago.
The RedHawks don't have a whole lot going for them down low as they struggled to rebound last season and don't have a player listed above 6-foot-8. Miami's opponents shot almost 53 percent on 3s last season.
It's going to be an uphill climb this season for Travis Steele, but a new era has to start somewhere. Bart Torvik currently projects the RedHawks to be No. 338 nationally next season.
Filed to: Miami Ohio Redhawks