Malik Reneau could bring frontcourt depth — and more — in his freshman season at Indiana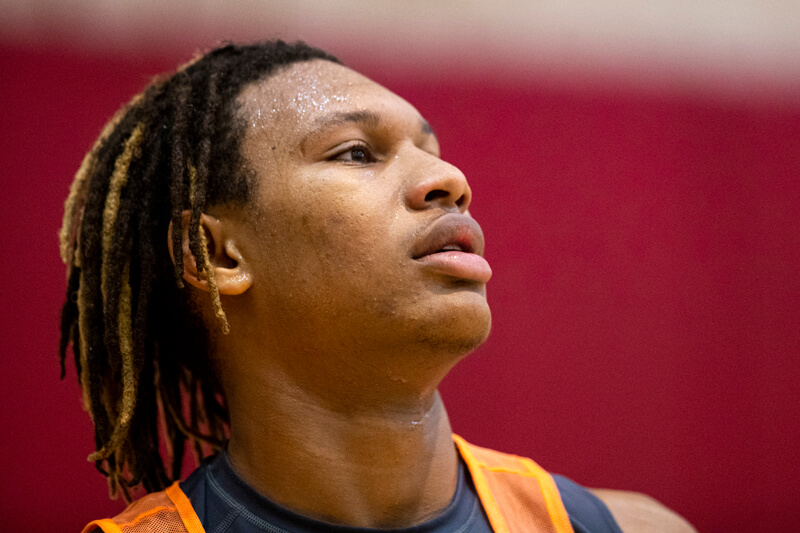 Race Thompson remembered two plays. During a Zoom media availability about a month ago, Thompson was asked to recall a particular move that freshman forward Malik Reneau made. Thompson came up with two.
Thompson said that Reneau hit a little shimmy, one-foot fadeaway. "Kinda turned my head a little bit," Thompson said. Thompson recalled another. Reneau did a euro-step on two people.
These brief insights from Reneau's time at IU could get the wheels turning about what the 2022-23 season could look like for the freshman forward. Reneau — ranked as the No. 28 player nationally in the 2022 class, according to the 247Sports Composite — had an accomplished high school career. He helped Montverde Academy win back-to-back GEICO High School Basketball Nationals titles (2021 and 2022) and played in the 2022 Jordan Brand Classic.
Reneau joins what is among the most talented — and among most experienced — frontcourt duo in the Big Ten: Trayce Jackson-Davis and Race Thompson. Whether Reneau starts or not, his biggest impact during the 2022-23 season could be providing frontcourt depth. Over the last two seasons, Indiana has largely lacked a third frontcourt player to provide solid production. Joey Brunk missed the entire 2019-20 season due to a back injury. Last season, Michael Durr didn't put up significant numbers on a consistent basis. That left Thompson and Jackson-Davis to shoulder a majority of the frontcourt production. But Reneau could step into that role for Indiana during the 2022-23 season.
"I'd say having a winning mentality, competing on the court," Reneau said Thursday via Zoom when asked about what ways he's most confident in having an impact during his freshman season. "You know, doing whatever it takes to help my team win, not only just, you know, trying to score the basketball but help on the defensive end, set good screens for the point guards and stuff like that and, you know, just try to do all the little stuff."
In his development, Reneau has the benefit of being able to learn from older players, such as Jackson-Davis, who is among the best returning players in college basketball. There are various similarities between Jackson-Davis and Reneau. Both were heralded recruits in high school. Both are left-handed. On IU's 2022-23 roster, Jackson-Davis is listed at 6-foot-9, 245 pounds and Reneau is listed at 6-foot-9, 235 pounds.
"He's real dominant down low and understands how he can control his man in the post," Reneau said of Jackson-Davis, "… he just finds a way to get easy baskets down low and I look at that and I see how I can (resemble)… Trayce being tough and being dominant down low."
Reneau's physical stature is extremely developed for his age. Reneau said that his plan with men's basketball director of athletic performance Clif Marshall is to maintain weight while also building muscle. That physical maturity should help Reneau's transition to the college level. What's also notable, though, is the potential versatility of Reneau. Reneau said he's mostly been playing the four position, but has been working on perimeter skills, too, such as being able to guard the one through five positions.
"Just being able to improve my shooting from past the arc and improve my three-point shot, and just being confident with my jump shot and working on attacking close-outs, and staying where I'm comfortable at in the post, too," Reneau said. "Just trying to touch on everything. But mostly my jump shot."
Reneau said that his parents have been the biggest influence in his basketball career. His mother played basketball in college. His father, who is from Belize, played basketball too, but not in college.
"Growing up with my mom and dad, they took me to the outside courts all the time and played against them, and they always beat me in one-on-ones and stuff like that," Reneau said. "But it was fun growing up because they taught me the game early, and trained me early, so I didn't have to really to, you know, try to pay for a trainer or anything."
Reneau originally signed with Florida, but head coach Mike White left the Gators and took the head coaching job at Georgia. Reneau told On3 that he received his release from Florida and would be reopening his recruitment. Reneau ultimately chose IU, meaning that he'd join Jalen Hood-Schifino, who he played with at Montverde Academy. As freshmen, both Hood-Schifino and Reneau have the potential to be integral parts of an Indiana team that has the potential to win a Big Ten title and more.
"To be a spark plug for my teammates, whether it's coming off the bench or… starting the game off," Reneau said when asked about what he expects from himself entering this year. "Whatever it is, just really being that spark plug for the team."
Filed to: Malik Reneau