Kaleb Banks' major upside could make his development compelling to watch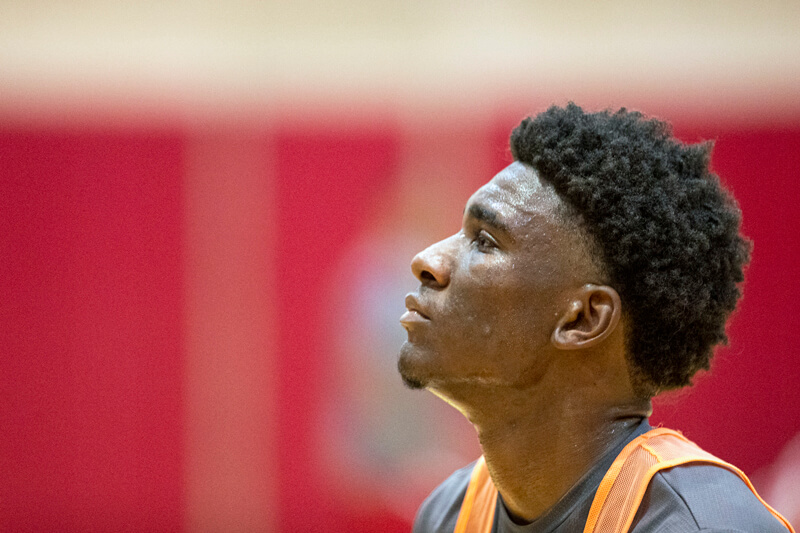 It was in between his sophomore and junior high school seasons when Kaleb Banks started working out with Fayette County High School in Fayetteville, Georgia. Banks had previously played for Spalding High School in Griffin, Georgia, but transferred to Fayette County High School. One time, during a workout with Fayette County in between his sophomore and junior high school seasons, Banks set a screen and rolled to the basket. The ball was tossed up, to which Banks caught it and dunked it with two hands.
"So then I was like 'oh yeah, this kid could be something special,'" said Andre Flynn, Fayette County High School head coach.
As he now prepares for his first season at IU, Banks' athleticism is just part of what makes him such a compelling prospect. Listed at 6-foot-7, Banks very much fits into the modern style of basketball, which has shifted to a more positionless approach, where versatility is important. Banks "can score at all three levels," Flynn said. During Banks' senior season at Fayette County, he shot 37.5 percent from deep, making 45 3-pointers.
Banks — ranked No. 86 nationally in the 2022 class, according to the 247Sports Composite — has already displayed promising signs. As a senior, he averaged 23 points and 10 rebounds per game, and was named the Georgia Class 4A player of the year. But perhaps Banks' upside is what could make him such an enticing player to follow in his development. A testament to that is when — during Banks' junior high school season — he matched up against the future No. 3 pick in the 2022 NBA Draft, Jabari Smith Jr. During the first game against Smith Jr.'s team that season, "Kaleb kinda outplayed him (Smith Jr.)," Flynn said. During the second matchup, though, Smith Jr. outplayed Banks. (Fayette County lost both games). Regardless, that first game speaks to the level Banks can play at.
Perhaps the big questions surrounding Banks in his career are when — or if — he can reach his full potential.
"I mean, I'm still learning how good I am," Banks said last Thursday via Zoom. "I still think I've got a lot of potential for me to reach."
As important as Banks' physical traits are, it's also important to understand his intangible characteristics. In his junior season, Fayette County made the GHSA Class 4A state championship game. In the opening seconds of the game, Banks went after a loose ball, but got a cut above his eye, causing him to bleed and come out of the game. He got 10 stitches in the arena. Banks played in the second half of the game with 10 stitches and his eye swollen. But it wasn't enough for Fayette County to win.
Earlier in his junior season, Banks didn't have a good game, but Fayette County won. "He (Banks) said 'coach, we got the win,'" Flynn recalled. "He said, 'we got the win and I didn't even play well. Ok… I'll play better next time.' He said 'bottom line, we got the win.' That came out of his mouth. 'Bottom line, we got the win,' knowing that he didn't play well at all. And that told me right there what type of kid he was. It wasn't about me. It's about us." Also, Flynn said that Banks would work out in the gym early in the morning two or three times per week. Banks would also stay after practice sometimes for more reps. Perhaps then, it's not especially surprising what Banks said last Thursday about adjusting to living away from his home in Georgia.
"I mean, it's been a big adjustment," Banks said. "I went to a regular high school. This is like the longest I've… not been at home. But I think I'm adjusting pretty well. I wake up every day, work out, be in the gym majority of the day, go back home, go to sleep and just come back the next day, get ready to work out."
Banks said that during scrimmages at IU, he has been playing at the three position. That could potentially create various enticing lineup combinations to mix and match. For instance, how would a lineup that included Banks, Race Thompson and Trayce Jackson-Davis perform? In that scenario, Banks and Thompson would likely need to be able to shoot effectively from the perimeter for sufficient floor spacing and production.
It's difficult to predict exactly how much playing time Banks will get during the 2022-23 season. There's the hurdle of adjusting to the college game, plus potentially competing for playing time with other freshmen, along with others on IU's roster that have more experience at the collegiate level. But Banks still has time to continue to develop. Part of that is the physical aspect. On Thursday, Banks said that he has gone from weighing 200 pounds to 215 pounds so far since working with director of athletic performance Clif Marshall.
In all, Banks has the chance to be a crucial part of Indiana's future — whether that be in the short or long term.
"Definitely my shooting, being able to spread the floor, my versatility, being able to take the ball up, like at a rebound going coast to coast," Banks said when asked what parts of his game he wants to bring to his freshman year and stabilize at IU. "Making plays, getting my teammates open, getting my teammates involved… doing the things (the) coaches want me to do… giving coach what I can bring to the table."
Filed to: Kaleb Banks