Five takeaways from Indiana's 2022-23 non-conference schedule release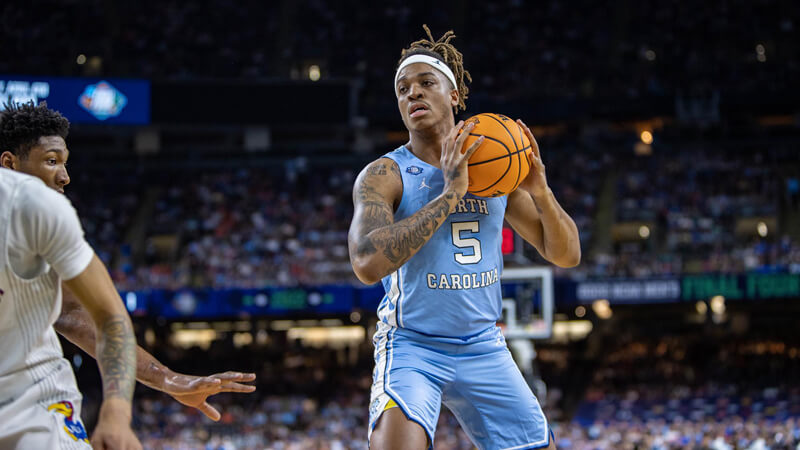 Indiana released its full 2022-23 non-conference men's basketball schedule on Friday, which includes 11 games and two exhibitions.
Here are five takeaways from the schedule, which is shaping up to be the toughest for the program in recent memory:
North Carolina headlines non-conference schedule
Four of Indiana's non-conference opponents are ranked in the top 21 of Bart Torvik's projections for next season.
But there's a headliner in the group: North Carolina.
The Tar Heels, the national runner-up in the 2022 NCAA tournament, return four starters: Armando Bacot, Leaky Black, Caleb Love and RJ Davis. North Carolina also filled the departure of Brady Manek with Northwestern transfer Pete Nance.
Of Indiana's four marquee non-conference games, the matchup with North Carolina is the only one in Bloomington.
Given that this contest will be one of the marquee matchups in the Big Ten-ACC Challenge, expect a late tipoff with a raucous crowd in Assembly Hall on Wednesday, November 30.
Indiana will be tested away from Bloomington
The Hoosiers are ranked in most early top 25s that have been released for next season and Mike Woodson has scheduled ambitiously in year two at the helm.
Indiana will play Arizona on a neutral court in Las Vegas on Saturday, Dec. 10 and then travel to Lawrence, Kansas to take on Kansas on Saturday, Dec. 17.
The Wildcats are No. 14 in Torvik's preseason projections and Kansas, last season's national champion, is No. 8.
In addition to those contests, Indiana also drew a road game against Xavier in the Gavitt Tipoff Games. The Musketeers are now led by Sean Miller, the older brother of former Indiana coach Archie Miller.
"When you look at teams like North Carolina, Kansas, Arizona and Xavier, we can expect to be challenged very early," Woodson said in a release. "What you are telling recruits is that you can expect to play big time games in front of exceptional atmospheres and in top notch venues by playing at Indiana."
All eyes on five-game stretch from November 30 through December 17
Indiana's most difficult stretch of the season will come beginning November 30 through December 17.
The Hoosiers will play North Carolina, two Big Ten games, Arizona and Kansas in that stretch.
Two of those games will be true road games, one will be on a neutral floor and two will be in Bloomington.
The conference opponents for the stretch have not yet been announced, but will come in a nine-day window of December 1 through December 9.
Why is this stretch so important?
All three non-conference games are important to the non-conference resume and the two Big Ten games are critical if the Hoosiers hope to be in the mix for the Big Ten title.
Hoosiers continue the tradition of playing in Indianapolis
The Crossroads Classic ended in 2021, which left Indiana's 48-season streak of playing a game in Indianapolis in potential jeopardy.
The streak will live on as the Hoosiers will open a multi-team exempt event called "The Hoosier Classic" with a game against Miami (OH) at Gainbridge Fieldhouse on Sunday, Nov. 20.
Indiana will have just one to prepare for the game in Indianapolis as it comes just two days after the road trip to take on Xavier in the Gavitt Games.
Miami, however, is the lowest ranked non-conference opponent on Indiana's schedule for next season according to Bart Torvik.
The RedHawks, who will be led by first-year coach Travis Steele, are 338th nationally in Torvik's projections.
The return of exhibition games
Indiana didn't play an exhibition game last season, Woodson's first in Bloomington.
This season, rather than playing "secret scrimmages" against Division I teams, the Hoosiers are going to host a pair of exhibition games in Bloomington.
Indiana will first host Marian University on Saturday, Oct. 29 before hosting Saint Francis on Thursday, Nov. 3.
Marian and Saint Francis are both NAIA programs.
Having two exhibitions plus games against Morehead State (Torvik No. 236) and Bethune Cookman (Torvik No. 289) should give the Indiana staff an opportunity to get an extended look at rotations before the schedule ramps up.
While Indiana returns four starters from last season, the Hoosiers also lost four scholarship players and also added four freshmen who could potentially figure into the rotation.
Filed to: 2022-23 schedule