Indiana's 2022 recruiting class ranked 13th nationally by RSCI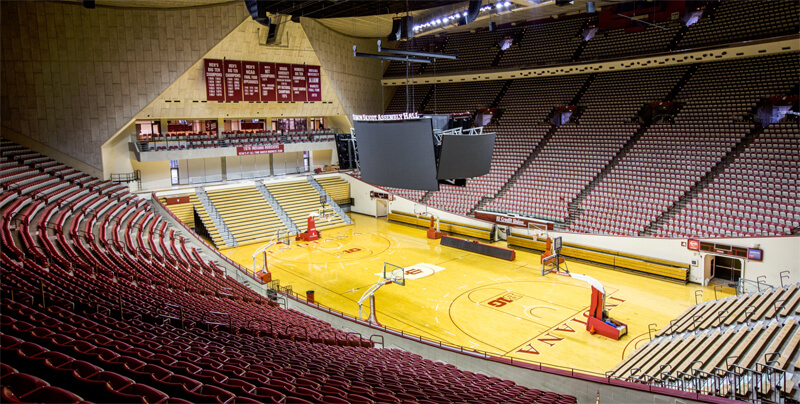 Finding consensus among recruiting rankings is a difficult task. But that's the goal of the Recruiting Services Consensus Index (RSCI), which has been combining rankings from various services from since 1998.
The RSCI (pronounced "risky") rankings are calculated as such:
1. The process begins with a single top 100 list from one of the experts.

2. The players listed are assigned points based on their position on that list. The top ranked player is given 100 points, #2 gets 99 points, #3 gets 98, and so on with #100 getting 1 point.

3. Repeat step 2 for each of the top 100 lists.

4. Finally, add up the scores based on all the lists and sort the players by their score in descending order.
The list of experts providing the rankings may change year over year as could the services themselves. And they have. For example, the first RSCI rankings produced in 1998 used data from the Bob Gibbons All Star Report, Hoop Scoop, PrepStars.com and Future Stars.
The most recent RSCI rankings, published earlier this month after all of the recruiting services released their final lists for 2022, used data from Van Coleman, ESPN, Rivals, 247Sports and On3.
Given that Indiana is just the 26th best program nationally in the KenPom era (dating back to 1997), its not surprising to learn the Hoosiers have landed just three top 10 classes over the last 25 recruiting cycles, according to RSCI.
In 2004 and 2013, Indiana ranked 5th nationally and in 2012, it ranked 7th.
The 2004 group included D.J. White, Robert Vaden, A.J. Ratliff, James Hardy and Robert Rothbart. As the RSCI noted, this class was slated to be ranked No. 1 in the country before Josh Smith opted for the NBA.
In 2013, Indiana landed Noah Vonleh, Troy Williams, Stanford Robinson, Luke Fischer and Devin Davis. The 2012 group featured Yogi Ferrell, Jeremy Hollowell, Hanner Mosquera-Pera, Ron Patterson and Peter Jurkin.
While all three of those groups were highly ranked, the degrees of success they helped produce for the program certainly varied.
Other Indiana classes to be ranked inside the top 20 nationally since 1998 include 2002 (13th), 2007 (18th), 2009 (13th), 2014 (15th), 2018 (13th) and 2021 (15th).
This brings us to the 2022 RSCI rankings, which were finalized earlier this month. Indiana's class is 13th nationally, behind only Ohio State (8th) and Michigan (12th) in the Big Ten. Illinois (17th) was the only other Big Ten program in the top 20.
In the final RSCI rankings for 2022, Jalen Hood-Schifino is ranked 20th, Malik Reneau is ranked 26th and Kaleb Banks is 96th. CJ Gunn is not in the top 100.
Hood-Schifino is the highest-ranked incoming Big Ten recruit and Reneau is second.
—
Indiana national recruiting class ranking (RSCI)
1998: Not ranked
1999: Not ranked
2000: Not ranked
2001: Not ranked
2002: 13th
2003: Not ranked
2004: 5th
2005: Not ranked
2006: Not ranked
2007: 18th
2008: Not ranked
2009: 13th
2010: Not ranked
2011: Not ranked
2012: 7th
2013: 5th
2014: 15th
2015: Not ranked
2016: Not ranked
2017: Not ranked
2018: 13th
2019: Not ranked
2020: Not ranked
2021: 15th
2022: 13th
Top 100 Indiana recruits by year in RSCI
1998: Dane Fife (14th), Kyle Hornsby (95th)
1999: George Leach (72nd)
2000: Jared Jeffries (9th), A.J. Moye (56th)
2001: No top 100 recruits
2002: Bracey Wright (12th), Marshall Strickland (62nd)
2003: Patrick Ewing Jr. (97th)
2004: D.J. White (13th), Robert Vaden (30th), A.J. Ratliff (76th), James Hardy (93rd)
2005: No top 100 recruits
2006: No top 100 recruits
2007: Eric Gordon (3rd), Eli Holman (90th), Brandon McGee (93rd)
2008: Nick Williams (88th)
2009: Christian Watford (45th), Maurice Creek (58th), Jordan Hulls (74th)
2010: No top 100 recruits
2011: Cody Zeller (10th)
2012: Yogi Ferrell (25th), Jeremy Hollowell (44th), Hanner Mosquera-Perea (50th)
2013: Noah Vonleh (8th), Troy Williams (51st), Stanford Robinson (61st), Luke Fischer (71st)
2014: James Blackmon Jr. (20th), Robert Johnson (46th)
2015: Thomas Bryant (25th)
2016: De'Ron Davis (40th), Curtis Jones (76th)
2017: Justin Smith (87th)
2018: Romeo Langford (5th), Jerome Hunter (57th)
2019: Trayce Jackson-Davis (26th)
2020: Khristian Lander (81st)
2021: Tamar Bates (27th), Logan Duncomb (73rd)
2022: Jalen Hood-Schifino (20th), Malik Reneau (26th), Kaleb Banks (96th)
Filed to: