Hoosiers in the NBA: Several former IU players to hit free agent market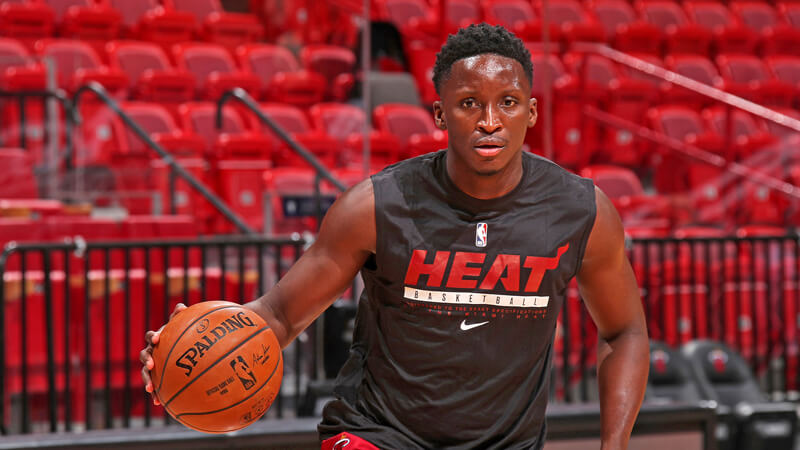 The 2021-22 NBA season wrapped up earlier this month and free agency begins later this week.
Here's a look at each former IU player who was in the league last season and what their future could look like moving forward:
OG Anunoby – Toronto
Statistically speaking, Anunoby just put together his best season as a pro. He did miss 34 games, but averaged a career-high 17.1 points in 36 minutes per game.
The 24-year-old earned $16 million last season, the first of a four-year contract extension that will net him $72 million over four years. The fourth year of the deal – the 2024-25 campaign – is a player option that would pay Anunoby $19.9 million.
While Anunoby has been frequently mentioned in trade rumors this offseason, the latest buzz from Jake Fischer of the Bleacher Report indicates the Raptors would only be interested in trading him for an elite center.
Eric Gordon – Houston
Gordon just wrapped up his 14th NBA season and averaged 13.4 points on 41.2 percent 3-point shooting for the rebuilding Rockets.
The Indianapolis native is entering the third season of a four-year contract extension that is worth $75 million. The upcoming season, however, is the last fully guaranteed year on Gordon's deal. He is set to earn $19.1 million. For his career, Gordon has earned more than $157 million.
Given that Gordon's age and salary don't fit in with a Houston franchise that is building through the draft, he's a name often brought up in trade discussions. According to Keith Pompey of The Philadelphia Inquirer, the 76ers are attempting to acquire Gordon this offseason.
Victor Oladipo – Miami
The former IU All-American guard is an unrestricted free agent after finishing a one-year deal in Miami that paid him $2.3 million.
Oladipo played in just eight regular season games for the Heat after returning from an injury and then played in 15 playoff games for the Heat. In the playoffs, which included a trip to the Eastern Conference finals, Oladipo averaged 10.6 points, 3.4 rebounds, 2.1 assists and 1.3 steals in 24.5 minutes per game.
According to this recent report from Fischer, Oladipo has interest from Washington, Denver and Detroit at the mid-level exception, which in the range of $6.4 million.
Thomas Bryant – Washington
Bryant, like Oladipo, is an unrestricted free agent. The 24-year old returned to the Wizards last season following a torn ACL that forced him to miss 72 games during the 2020-21 season. Bryant played in 27 games this past season for Washington and averaged 7.4 points and four rebounds in 16.3 minutes per game.
After completing a three-year, $25 million deal in Washington, Bryant has now earned $26.7 million in the NBA, which is impressive for a player who was picked in the second round just five years ago.
Given that he's not a high priority target, Bryant will likely have to wait until some of the dust settles in free agency before finding his next home.
Romeo Langford – San Antonio
The former New Albany star will be entering his fourth NBA season and also the final guaranteed season of his rookie contract. Langford was traded from Boston last season along with Josh Richardson, a 2022 first-round draft pick (Blake Wesley) and a 2028 first-round pick swap in exchange for Derrick White.
Langford appeared in 44 games last season for the Celtics, where he averaged 4.7 points and then just four games in San Antonio. He averaged just 2.8 points in 10.8 minutes per game for the Spurs.
His contract next season is guaranteed for $5.6 million, but where does Langford fit in San Antonio? The Spurs drafted two guards in Wesley and Malaki Branham and already have Devin Vassell and Josh Primo on the roster. Next season will be pivotal for Langford to prove himself after battling injuries and a lack of opportunity for the majority of his career in Boston.
Juwan Morgan – Boston
Undrafted out of college, Morgan made history back in the 2019-20 season when he started a playoff game as a rookie for the Jazz in the playoff bubble at Walt Disney World.
Over his three-year career, Morgan has appeared in 52 games, averaging 1.5 points and 1.2 rebounds per game. This past season, he signed a 2-year, $1.8 million deal with the Celtics with little guaranteed money. Morgan was on the bench for Boston's playoff run and he has a club option for next season.
According to the Boston Globe, the 25-year old Morgan is expected to play for the Celtics in the NBA Summer League.
Cody Zeller
After spending the first eight seasons of his NBA career in Charlotte, Zeller left the Hornets last summer in free agency for a league minimum deal with Portland. After appearing in 27 games with the Trail Blazers, Zeller was waived after suffering a knee injury that required surgery.
The former No. 4 pick in the 2013 NBA draft has now earned $74.9 million over his nine-year career and could be a target for a team looking for depth at the center position.
Zeller, 29, has averaged 8.5 points and six rebounds over 494 career games.
Filed to: Cody Zeller, Eric Gordon, Juwan Morgan, OG Anunoby, Romeo Langford, Thomas Bryant, Victor Oladipo