Freshman Focus: CJ Gunn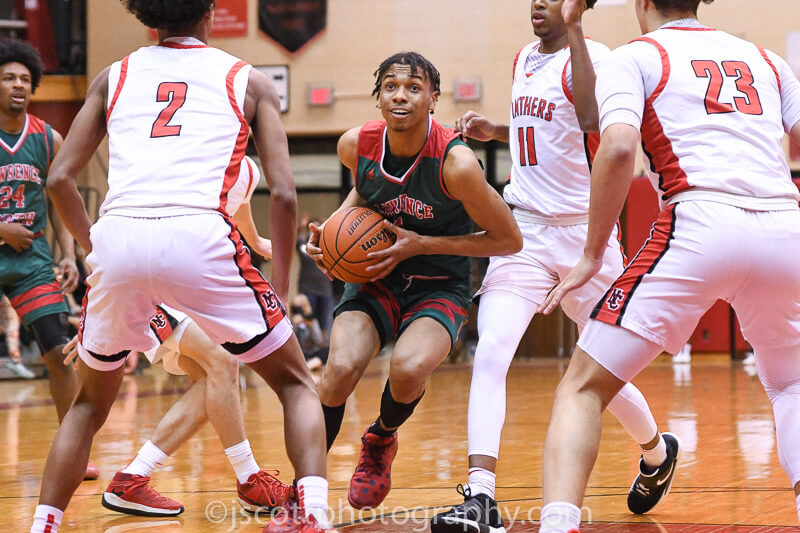 A lot has changed with IU basketball since CJ Gunn announced his commitment to the program in February of 2021.
Gunn, who chose the Hoosiers over offers from Cincinnati, Kansas State, Xavier and Missouri, gave his pledge to Archie Miller near the end of Miller's fourth season in Bloomington.
Just 36 days later, Miller was fired, leaving uncertainty for Gunn as well as Logan Duncomb, a class of 2021 recruit who had already signed his National Letter of Intent.
But like Duncomb, Gunn didn't make any quick decisions after Miller's dismissal.
"I'm old enough to have been fired before," Gunn's father, Christopher, told Inside the Hall in March of 2021. "I'm old enough to have been and have done some firing, so for me, it's not the end of the world… but for a 17-year-old it's like 'what does this mean? How exactly does this all work?' Those are the conversations we're having internally right now."
Standing pat and letting the process play out worked out for both Gunn and Indiana.
It took some time, but after a 13-day search, Scott Dolson landed on Mike Woodson as the program's 30th head coach.
And Gunn, realizing he had plenty of time to figure things out if he didn't fit with the new coaching staff in Bloomington, had his patience rewarded as Woodson quickly reached out following his hiring.
A day after Woodson was hired, Gunn reaffirmed his commitment to the Hoosiers.
"We happen to have some folks in common, so the trust factor for me is pretty high (with coach Woodson)," Christopher Gunn said. "He talked about being committed to CJ and wanting him to be a part of the plan of what he's building, I told him that was great and let him know that we remain committed to you guys as well."
Keeping Gunn in the fold gave Woodson and the new Indiana coaching staff a solid foundation for the 2022 recruiting class that developed into one of the Big Ten's best.
Woodson was also able to add Kaleb Banks, a forward from Georgia, and two top 30 prospects from Montverde Academy in Jalen Hood-Schifino and Malik Reneau.
A product of Lawrence North – which consistently plays a tough schedule in Indianapolis – Gunn played against some of the state's best competition last season and dealt with the pressure that comes with being an IU signee.
After missing several weeks at the beginning of his senior season with a broken toe, he returned to the floor and averaged 23.5 points and 5.5 rebounds while being named an Indiana All-Star. Gunn shot close to 47 percent from the field as a senior and 37.4 percent on 3s. In a game against Fort Wayne Snider, Gunn erupted for a school-record nine 3-pointers. He left Lawrence North as the program's all-time leader in points per game average.
While perimeter shooting might be his clearest path to minutes as a freshman, Gunn told Inside the Hall recently that he's willing to take on any role to help the Hoosiers win next season.
"I feel like I can make an impact in all of the ways coach needs me to make an impact," Gunn said after the Indiana All-Stars beat Kentucky at Southport High School earlier this month. "Whatever he needs from me, I feel like I can fulfill that. I feel like that's what makes me special is that anything he asks, I can do."
At 6-foot-6 and 186 pounds, Gunn has prototypical size at the two-guard position. His length should allow him to grow into a disruptive defender and his size should make it easier for him to create scoring opportunities for himself and his teammates in a rugged Big Ten.
"I feel that I can score at all three levels – the three, the midrange or driving to the basket," Gunn said after committing to the Hoosiers in February of 2021. "I feel like scoring is a big part of it. I think I'm a two-way player. I can go out there and guard the best player on the other team."
Like most freshmen who arrive in Bloomington, Gunn's work with director of athletic performance Clif Marshall will be pivotal this summer.
"I'm new down there, so just getting comfortable and also adding that Big 10 weight to me, that's definitely another goal for me," Gunn said when asked about what he'd like to accomplish this summer.
Ultimately, what should excite Indiana fans the most about Gunn is his desire to be a part of Indiana basketball.
In an era of player movement where it's easy to move on to another school following a coaching change, Gunn never wavered after his decision to commit to Indiana. That would have been easy to do when the Hoosiers went just 3-7 in the 10 games following Gunn's commitment in 2021 and fired Miller.
Gunn's steadfastness will be rewarded this winter when he puts on the candy stripes for a Hoosier team expected to compete for a Big Ten championship – and possibly more.
"I'm really excited," Gunn said. "I can't wait to get in the gym with those guys and hopefully it leads to a national championship."
Filed to: C.J. Gunn