From imitating Chuck Crabb while growing up to being named full-time public address announcer for IU men's and women's basketball at Assembly Hall: Jeremy Gray takes next step in career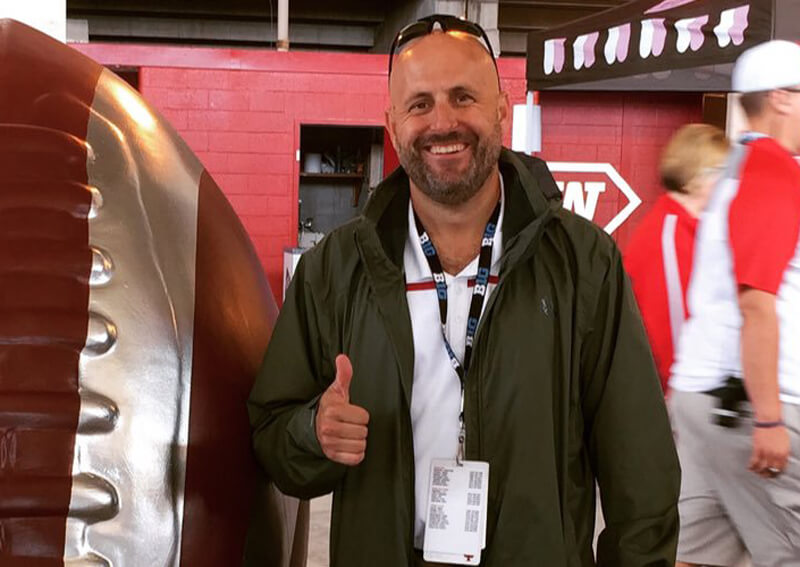 The night before the game, he wasn't nervous. Not at all, he said. Jeremy Gray had done stuff like this before. He worked as a public address announcer in the past, including filling in a few times as the IU men's basketball public address announcer when Chuck Crabb was sick or had other obligations. Gray had also spent some of his career as a sports broadcaster.
A few days earlier, on Sunday, January 30, Gray had gotten a call from IU vice president and director of intercollegiate athletics Scott Dolson saying that Chuck Crabb, who notably worked as the public address announcer for IU men's and women's basketball, was retiring. Dolson asked if Gray would be willing to do the IU men's and women's basketball public address announcing on an interim basis. Gray said sure. The following day, Crabb announced his retirement in a press release.
That led to Indiana's game against Illinois on Saturday, February 5 at Simon Skjodt Assembly Hall. It was the first IU men's basketball game since Crabb had announced his retirement.
The night before that IU's February game against Illinois, Gray said he wasn't nervous. But before the game, various people told Gray he had big shoes to fill and asked if he was nervous. Eventually, it wore on Gray.
"I'm like 'they keep asking me this, now all the sudden I'm nervous,'" Gray remembers telling IU senior assistant athletic director for marketing Mark Skirvin that day. "I'm like 'they made me nervous by asking me if I was nervous.'"
Gray wanted to pay a tribute to Crabb, too. When Gray announced IU's starting lineup, he said "soph-o-more" for Trayce Jackson-Davis (he was in his third season at IU, but a sophomore eligibility-wise). Gray imitated the three-syllable pronunciation of sophomore, which was an iconic element of Crabb's style. Once Gray got through the starting lineups, though, the nerves went away.
And now, after doing the job on an interim basis, Gray was announced as the full-time men's and women's basketball public address announcer at Simon Skjodt Assembly Hall starting with the 2022-23 season. Gray added that role to his title as IU senior associate athletic director for strategic communications/director of the Cuban Center, where he also works as the sport administrator for a variety of sports at IU, along with his job teaching a class at the IU Media School.
Taking the job means following an IU legend. Over the years, Crabb's baritone voice has become linked with IU basketball. Among other roles, Crabb spent 45 years as the public address announcer for IU men's basketball.
Gray grew up an IU basketball fan and Crabb was part of that experience, too. Gray, who is from Indianapolis, didn't get to Bloomington for games very often, but the starting lineups would be broadcast on TV. That meant Gray could listen to Crabb announce the starting lineups during IU's home game broadcasts. Gray even imitated Crabb, where he pronounced sophomore with three syllables. Gray called out his own name and IU players like Jay Edwards and Steve Alford.
"There is nothing better as a broadcaster or a performer — of any kind — than being unique," Gray said. "And Chuck was unique."
Gray loves sports, but, as he described himself, was a "very average athlete." So he found another way to continue his involvement in sports. At North Central High School in Indianapolis, he did play-by-play of basketball and football games for the student radio station.
After moving away from broadcasting for a few years, he found his way back into the field. Gray worked as a play-by-play broadcaster at the University of Notre Dame before transitioning to IU, where he did a variety of sports broadcasting jobs, including some time with ESPN Radio and the Big Ten Network. After working as both a full-time sport administrator at IU and a full-time broadcaster at the same time, he transitioned to working solely in IU administration in 2014. For about the last eight years, Gray has sat at the scorer's table but had to keep his fandom mostly bottled in so as to appear neutral. That, though, meant Gray sometimes punched the underneath part of the scorer's table if there was a big play. Gray said there are probably some dents underneath the scorer's table.
Then there was the phone call with Dolson during the last IU men's and women's basketball seasons, where he asked Gray to take over the public address announcing on an interim basis. After the IU men's basketball game against Illinois in February, Gray spoke with Crabb. Among other things, Crabb told Gray he was touched by the "soph-o-more" tribute. Crabb wished him luck. Crabb also told Gray he didn't have to imitate his style and wanted him to be his own person.
"I think it's also important in a historic venue like Simon Skjodt Assembly Hall that they don't want a WWE announcer," Gray said. "I don't need to go over the top with it. So, you know, I'm going to bring maybe a slightly more modern sensibility to it, definitely have some real enthusiasm for IU, but you're not going to get some carnival barker who thinks that he's the show, if that makes sense."
There are many details that go into preparing for the game. Gray drinks lukewarm water to keep his vocal cords loose. He doesn't drink a ton of carbonated beverages because he doesn't want to burp. About an hour before tipoff, he talks to the opposing school's sports information director to get pronunciations. He crosses out and then handwrites the pronunciation of names that are difficult to pronounce. Before the starting lineups, he gets a little jolt of adrenaline. During every home starting lineup announcement after taking the interim job last season, Gray announced Jackson-Davis as a "soph-o-more."
"I mean, announcing the starting lineups for IU basketball — both men's and women's — at Simon Skjodt Assembly Hall, it's a cool thing," Gray said. "I'm not gonna lie."
After a couple of games, Dolson asked Gray if he was interested in doing it permanently. Gray didn't know. But somewhere in the second half of the IU women's basketball game against Princeton in the NCAA tournament at Simon Skjodt Assembly Hall, Gray remembers thinking to himself: "you know what, this is pretty fun. I enjoy this." Gray also got positive feedback from current players and coaches and former players.
About a week after that IU-Princeton game (which IU won), Gray told Dolson that he wanted to do IU men's and women's basketball public address announcing full-time. On May 2, it was officially announced in a press release. Gray got another note from Crabb who, among other things, said how happy he was for him, talked about their relationship and that Gray's children need to be warned that they're going to be stopped in restaurants by people asking questions because they love IU basketball so much.
The job Gray did last season could perhaps be best summarized by referee Bo Boroski. About 15 minutes before tipoff of that February Indiana-Illinois game, Boroski came over to Gray.
"'You've got big shoes to fill,'" Gray recalls Boroski saying.
After the starting lineups, Boroski gave his review to Gray.
"He's like 'you did a pretty good job, kiddo,'" Gray recalls Boroski saying.
(Photo via Jeremy Gray's Twitter account.)
Filed to: Jeremy Gray