What to expect: Saint Mary's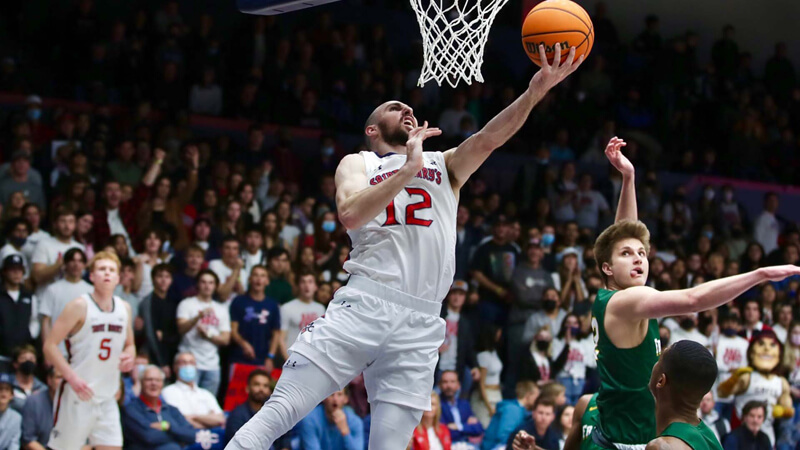 Indiana traveled west early Wednesday morning and will play Saint Mary's on Thursday in the 2022 NCAA tournament first round at the Moda Center in Portland, Oregon.
The Gaels, who finished second in the West Coast Conference, are 25-7 and No. 17 in the KenPom ratings. Thursday's game will tip at 7:20 p.m. ET on TBS:
Indiana's reward for beating Wyoming 66-58 on Tuesday in Dayton in the First Four is a short turnaround against one of the best west coast teams in the NCAA tournament first round.
Saint Mary's, led by coach Randy Bennett, beat Gonzaga in Moraga this season and is a veteran team hungry for tournament success. The Gaels haven't won an NCAA tournament game since 2017 and have only reached the round of 32 three times in their history.
All six of Saint Mary's top contributors are upperclassmen and four of them are seniors. The Gaels were tested in the non-conference with wins against Notre Dame and Oregon and losses to San Diego State and Wisconsin. Saint Mary's plays a deliberate style and won't beat itself, so Indiana will have to play a disciplined 40 minutes of basketball to advance.
MEET THE GAELS
Saint Mary's has four players averaging in double figures, but none of them are scoring better than 12.6 points per game.
The backcourt leaders are seniors Tommy Kuhse and Logan Johnson. The 6-foot-2 Kuhse, who is in his sixth season of college basketball, is a 46.9 percent 3-point shooter and the leading facilitator for the Gaels. Kuhse's 3.6 assists per game lead the team. As the shot chart below shows, Kuhse is dangerous from everywhere on the perimeter. He's also shooting 61.1 percent at the rim, according to Hoop-Math. Kuhse ranks in the 84th percentile nationally in ball screens, per Synergy Sports, and is by far the most effective Saint Mary's player with the ball in his hands.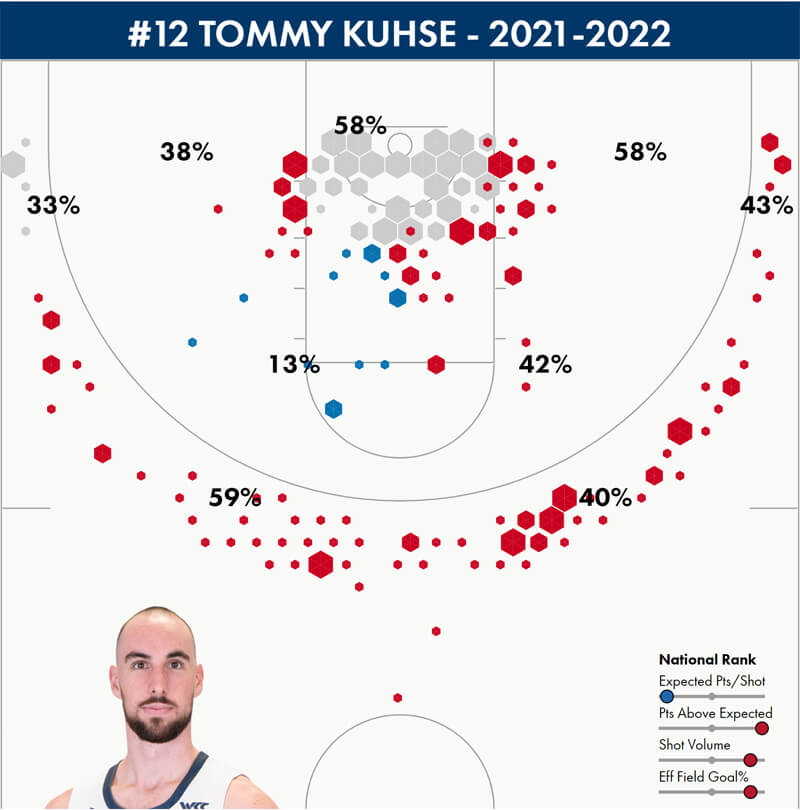 Johnson, who is also 6-foot-2, will likely guard Xavier Johnson and averages two steals per game, which leads the team. Johnson has the 74th best steal percentage in the country, per KenPom. His 11.5 points per game are third on Saint Mary's, but he's shooting just 43.2 percent from the field and 29.3 percent on 3s.  Johnson is most dangerous as a shooter from the corners and is taking close to 60 percent of his shots at the rim, per Hoop-Math. He's connecting at a 52.5 percent clip at the rim.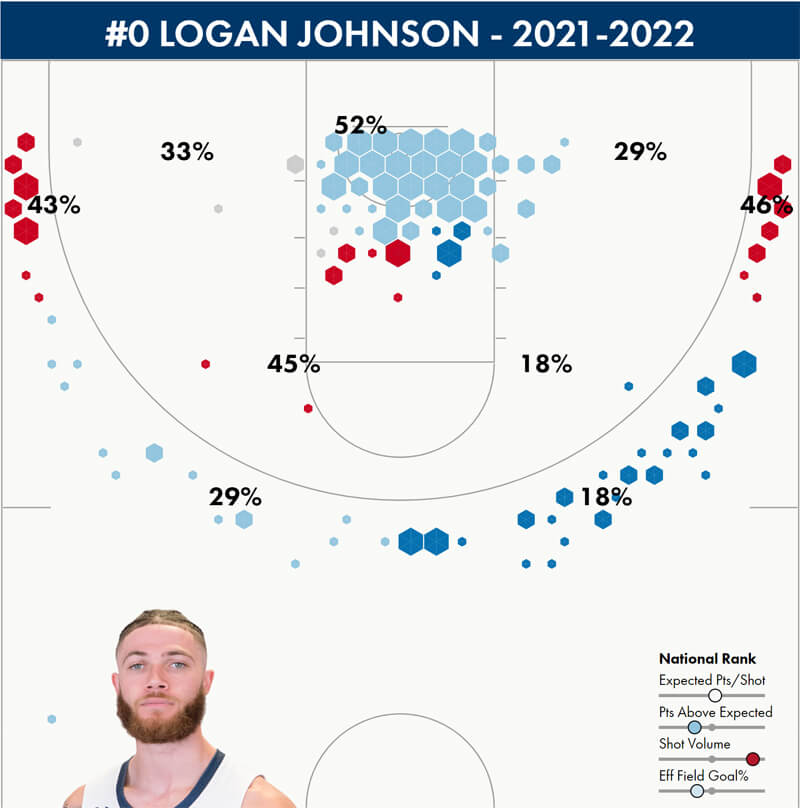 Alex Ducas, a 6-foot-7 junior, starts at the three with 6-foot-8 junior Kyle Bowen at the four. Both are capable 3-point shooters with Ducas shooting 38.6 percent from distance and Bowen at 39.2 percent.
Ducas leads Saint Mary's in both 3-pointers attempted (158) and made (61). He grades out as an excellent spot-up shooter with 1.2 points per possession on spot-ups, which ranks in the 93rd percentile nationally, according to Synergy Sports.
Bowen is a good athlete who averages just 5.9 points in 29.5 minutes per game. He's also a solid rebounder with a defensive rebounding percentage of 19.1, tops among the team's starters.
Like Wyoming, Saint Mary's doesn't go very deep into its bench as only 23.2 percent of available minutes are being logged by reserves. The most notable bench contributor at the forward spots is 6-foot-7 senior Dan Fotu, who can make the occasional 3-pointer and is sixth in the team in scoring at 6.5 points per game.
Senior center Matthias Tass leads Saint Mary's in scoring at 12.6 points per game as well as rebounding at six per game. Tass is shooting 64.9 percent at the rim, per Hoop-Math. He's a good, but not great, post-up scoring option with .937 points per possession on post-ups, per Synergy. That ranks in the 72nd percentile nationally.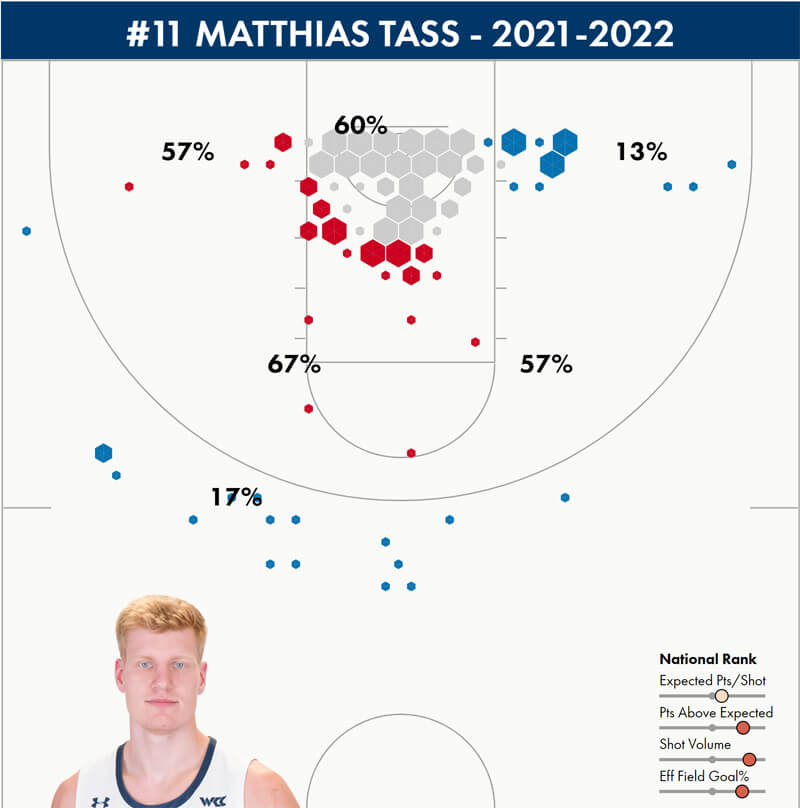 Backing up Tass is 6-foot-10 sophomore Mitchell Saxen, who had seven points in 16 minutes in the Saint Mary's win against Gonzaga in late February. Saxen averages 3.3 points per game in 7.2 minutes off the bench.
Two other reserves to know are 6-foot-6 sophomore Jabe Mullins and 6-foot-4 freshman Augustus Marciulionis. Marciulionis started 13 games from Dec. 22 through Feb. 12, but has played just 23 minutes over the last six games. Mullins is a 3-point threat and is 21-of-57 from distance on the season. He averages three points in 9.9 minutes per game.
TEMPO-FREE PREVIEW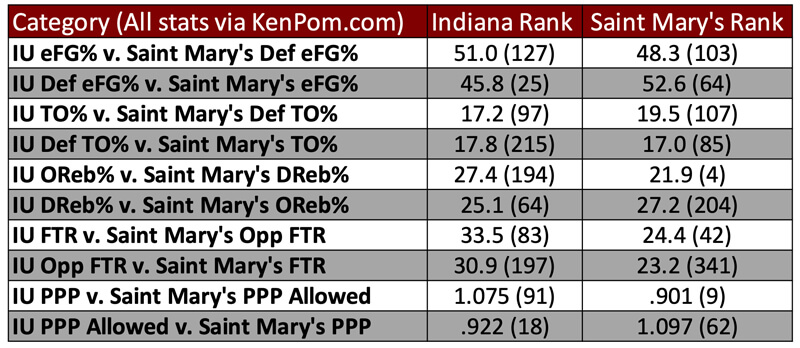 Saint Mary's operates at a deliberate pace and has a top ten defense nationally, per KenPom's adjusted defensive efficiency ratings. The Gaels have an average offensive possession length of 19.1 seconds, which is 1.5 seconds longer than the Division I average.
Rebounding-wise, the Gaels are insistent on not allowing second-chance points. Their opponents are rebounding just 21.9 percent of their missed shots, the fourth-lowest percentage in the country. The Gaels have the seventh-best 2-point field goal percentage defense in the country at 58.6 percent allowed.
While not an elite offensive team, Saint Mary's has been better offensively this season than Indiana and ranks in the top 100 nationally in 3-point field goal percentage (35.1), 2-point field goal percentage (52.5) and free throw percentage (76.7).
WHAT IT COMES DOWN TO
Both teams are excellent defensively, ranking in the top 20 nationally and this game will likely be played at a slower pace with points at a premium.
Saint Mary's has not played since losing to Gonzaga on March 8 and Thursday's game will be Indiana's fifth in eight days. There's always the worry of rust coming off a long layoff, but Saint Mary's has won five of six entering the tournament and is a veteran-laden group.
Indiana, meanwhile, has been able to play well with a flurry of games in a short period of time, but it will be interesting to see if the volume of games plus travel has an impact down the stretch of the second half.
The KenPom projection is Saint Mary's by three and the Gaels are a 2.5-point favorite in Vegas. The Hoosiers will have the best and most talented player on the floor in Trayce Jackson-Davis, which is a distinct advantage for Mike Woodson as he attempts to advance the Hoosiers to the round of 32 on Saturday. On paper, the keys for Indiana are finding a way to make some 3s and Xavier Johnson being able to bounce back from just an average performance against Wyoming on Tuesday.
Filed to: 2022 NCAA tournament, Saint Mary's Gaels