Trayce Jackson-Davis and Race Thompson's endurance has helped lead Indiana back to the NCAA Tournament: 'That's my brother for life'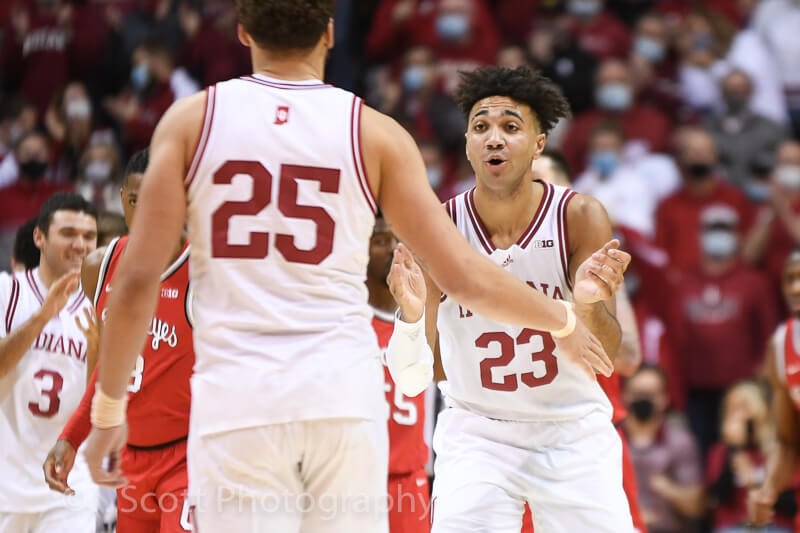 DAYTON, Ohio – Race Thompson smiled.
He had walked up behind his friend and wrapped him in a bear hug, smiling, then leaning his chin on his friend's shoulder. It was just after Indiana had made an improbable 17-point second-half comeback against Michigan in the Big Ten tournament. Indiana's NCAA tournament hopes were still alive.
Thompson just wanted to show appreciation to his friend Trayce Jackson-Davis.
"I gave him that hug because me personally I didn't have my best game that game," Thompson said Monday. "…Trayce had a great second half…. I didn't play much in the second half. I was just telling him, 'yes, bro,' like, 'thank you, thank you.'"
With Thompson's arms wrapped around him, Jackson-Davis' face was stoic.
"I don't even remember it really; I was so amped up," Jackson-Davis said. "And just surreal that we won."
This moment, as brief yet powerful as it was, gets to the heart of the bond between Jackson-Davis and Thompson. Perhaps "friends" doesn't do their relationship justice. Jackson-Davis has referred to Thompson as his "brother." Following that embrace against Michigan, Indiana knocked off top-seeded Illinois. The Hoosiers then made the NCAA tournament for the first time since 2016, where they will face off against Wyoming in the First Four on Tuesday night. Both have been crucial to Indiana getting here. Both were once foundational pieces of the program — Thompson as Archie Miller's first recruit (not including those already committed) and Jackson-Davis as an Indiana Mr. Basketball winner. Both are an embodiment of endurance as the program has navigated ups and downs and now been at the forefront of a renewed culture.
"I've seen Trayce grow not only on the basketball court but just like in life, it's fun to watch," Thompson said. "And I think he can say the same."
There was a time, though, where it may have seemed unlikely that Jackson-Davis and Thompson would be playing college basketball together. Once upon a time, Jackson-Davis, a high school sophomore, and Thompson, a high school junior, were roommates at a basketball camp. "Me and Race… (have) always been cool off the court and on the court," Jackson-Davis said. At one point, Jackson-Davis posed a question to Thompson. "I asked him 'what schools are recruiting you?'" Thompson went through a list of schools. "I said how about Indiana?" Jackson-Davis pressed. "He was like 'yes,' but he was like 'I don't really mess with them, really,'" Jackson-Davis recalled.
About a month later, Jackson-Davis remembered, Thompson committed to Indiana.
"I'm like 'what, dude?" Jackson-Davis said, recalling back on it years later. "I thought you didn't mess with them."
Thompson had already spent two seasons at IU before Jackson-Davis arrived. Thompson's first two years at IU were relatively adverse. Thompson reclassified, skipping out on his senior year of high school to redshirt at IU and get in shape to play at the collegiate level. As a redshirt freshman, most of his season was derailed by injuries. That November, Jackson-Davis committed to Indiana. But the Hoosiers were struggling as a program in those two seasons — Thompson's redshirt and redshirt freshman years — with a combined 35-31 and void of NCAA tournament appearances.
The 2019-20 season was the first the duo was on the court together at IU. As a freshman, Jackson-Davis quickly became a star. He was named to the All-Big Ten freshman team. On the other hand, Thompson mostly served as a role player off the bench. Last season, Jackson-Davis and Thompson were the only two players on Indiana to start all 27 games. Jackson-Davis was named a third-team All-American and Thompson continued to grow.
"Last year we started playing a lot together and throughout the year it got better and better and better," Thompson said. "And then we started hanging out off the floor a lot, just hanging out. I think we just bonded a lot and we know where we want the ball, we know where each other are going to be. I think that we're really good at playing with each other in the post."
In those two seasons, though, Indiana had a combined record of 32-27. In 2019-20, Indiana likely would've made the NCAA tournament, but the event was canceled due to the COVID-19 pandemic. In 2020-21, Indiana suffered a losing record. Archie Miller was fired.
This offseason, there was a chance, it seemed, that Jackson-Davis and Thompson's time playing together at IU could've been over. Thompson entered the transfer portal. Jackson-Davis weighed starting his professional career.
Both, though, stayed.
After being hired, Woodson showed Jackson-Davis what he needed to work on. There was also the fact that Jackson-Davis wanted to help get it back on the right path.
"I told him in front of his parents, that I'm not an easy coach," Woodson said. "And I'm going to challenge you and push you. And if you allow me to do that, I think you will grow as a player. And he's done that. He's allowed me to actually coach and push him. And I know there's days he walks out of that gym pissed at me. But, hey, at the end of the day, it's just coaching, man. As long as he knows that I love him and I'm in his corner, that means more to me than anything."
Thompson, on the other hand, was a back to the basket player up to this point in his collegiate career, despite showing more versatility in his prep years. When Woodson took the job, he said he heard from someone: "I don't know if you want this guy to handle the ball that much," Woodson recalled. But Woodson wanted Thompson to play his game. It resonated with Thompson.
So they both stayed. Woodson told Jackson-Davis he'd be a captain. When asked by Woodson who else should be a captain, Jackson-Davis said Thompson. Off the court, they moved in together. They went fishing and got a haircut together. During the offseason, Jackson-Davis said, they played Call of Duty, a warfare video game, every day.
"We just goof around," Thompson said. "Trayce is a goofy guy. I can be goofy, too."
"Me and Race have a lot of memories," Jackson-Davis added in February.
"Some probably shouldn't be said on here… But he's been with his girlfriend a lot lately, so I've kind of been pushed to the side. But it is what it is, I guess," Jackson-Davis said with a smile.
They have become among Big Ten's best frontcourts this season. There have been numerous moments where their chemistry has led to dunks for one another. Jackson-Davis is averaging 18.1 points and 8.2 rebounds per game. He had a phenomenal Big Ten tournament, proving himself against Hunter Dickinson and Kofi Cockburn. Thompson has transformed his game and become one of Indiana's most consistent players. He's averaging 11.6 points and 7.6 rebounds per game. He's also shown multiple layers of his game. Handling the ball and making 15 3-pointers, more than double his combined total entering the season.
"He's had all the other intangible parts going for him," Woodson said of Thompson. "And he's added that to his game this year, and it's been a treat to see his development. It's been nice and I think we've all benefited from that as a team, I think."
On Monday, Jackson-Davis said when he was a little kid, he dreamed of playing the championship game and hitting free throws to win. Thompson also said he's dreamed of playing in the national championship.
And now, Jackson-Davis and Thompson are going to play in the NCAA tournament.
Together.
It hasn't been linear. But few things in life are. Jackson-Davis and Thompson are proof of that.
"Just playing with him the last few years, that's my brother for life, man," Jackson-Davis said of Thompson earlier this month. "And I can't say enough good things about him."
Filed to: 2022 NCAA tournament, Race Thompson, Trayce Jackson-Davis