2022 NCAA tournament: Previewing Big Ten matchups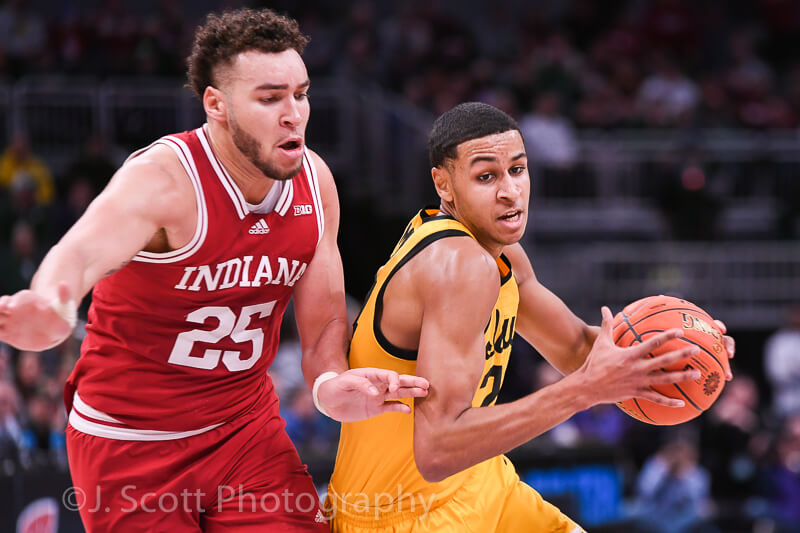 For just the second time ever, the Big Ten is sending nine teams to the 2022 NCAA tournament. That includes the two teams playing in the First Four games in Dayton on Tuesday and Wednesday.
Here are each of the Big Ten teams in the field by region:
South: Illinois (No. 4 seed), Ohio State (No. 7 seed), Michigan (No. 11)
Midwest: Wisconsin (No. 3 seed), Iowa (No. 5 seed)
East: Purdue (No. 3 seed), Indiana (No. 12 seed)
West: Michigan State (No. 7 seed), Rutgers (No. 11 seed)
Six of the nine Big Ten teams are favorites to advance past their first game, according to KenPom.
Here's a look at each Big Ten matchup in the NCAA tournament:
No. 4 Illinois vs. No. 13 Chattanooga (Pittsburgh, Friday, 6:50 p.m., TNT)
The co-regular season champions, Illinois will face the Southern Conference champs from Chattanooga after falling to Indiana in the Big Ten tournament in Indianapolis. The Mocs have only four wins against KenPom top 100 teams all season and three of those wins came against conference foe Furman.
Chattanooga does have a legitimate high-major center in Silvio De Sousa, who began his career at Kansas, but Kofi Cockburn will be hungry to advance the Illini to the Sweet Sixteen following last season's loss to Loyola Chicago in the round of 32. If Alfonso Plummer and Trent Frazier shoot close to their season averages, Illinois should march on to meet the winner of Houston-UAB.
KenPom: Illinois 71, Chattanooga 66
No. 7 Ohio State vs. No. 10 Loyola Chicago (Pittsburgh, Friday, 12:15 p.m., CBS)
The Buckeyes have been trending in the wrong direction for weeks and Thursday's loss to Penn State in the Big Ten tournament doesn't inspire confidence that a turnaround is coming. Ohio State is 1-4 over its last five games with losses to Maryland, Nebraska and Penn State in that span.
The Ramblers, champions of the Missouri Valley Conference, knocked off a Big Ten foe last season in Illinois to advance to the Sweet Sixteen. Loyola is one of the nation's best shooting teams and ranks 16th nationally in 3-point field goal percentage and 15th in 2-point field goal percentage.
KenPom: Loyola Chicago 69, Ohio State 68
No. 11 Michigan vs. No. 6 Colorado State (Indianapolis, Thursday, 12:15 p.m., CBS)
The Wolverines avoided the First Four in Dayton on the strength of a strong non-conference schedule and five Quad 1 wins. Now, they'll get to play in a familiar venue (Gainbridge Fieldhouse) against a Colorado State team that can flat out shoot the ball.
The Rams have a top 20 KenPom offense nationally and rank in the top 20 in both 2-point and free-throw shooting. Colorado State is led by 6-foot-6 big man David Roddy, who is currently ninth in KenPom's national player of the year rankings. This should be a great start to the Thursday afternoon window of games.
KenPom: Colorado State 72, Michigan 71
No. 3 Wisconsin vs. No. 14 Colgate (Milwaukee, Friday, 9:50 p.m., TBS)
Is Johnny Davis healthy? The answer to that question will go a long way in determining how far the Badgers will advance in March Madness. Davis certainly didn't look 100 percent when Wisconsin fell to Michigan State in the Big Ten tournament in Indianapolis.
Colgate started the season 8-11, but has won 15 straight games entering the NCAA tournament. The Raiders, champions of the Patriot League, are the nation's No. 2 3-point shooting team.
KenPom: Wisconsin 74, Colgate 67
No. 5 Iowa vs. No. 12 Richmond (Buffalo, Thursday, 3:10 p.m., truTV)
Iowa is the highest-ranked Big Ten team in the KenPom ratings and is playing as well as any team in the country entering the tournament. Keegan Murray is a legitimate first-team All-American and the Hawkeyes just won four straight games as the five-seed to win the Big Ten tournament.
The Spiders played the role of bid thief by winning four games in four days to capture the Atlantic 10 tournament title on Sunday afternoon. Richmond doesn't turn the ball over much at all, which is important against an Iowa team that is one of the best at forcing turnovers. If the Hawkeyes are clicking offensively, it's hard to see Richmond being able to keep pace for a full 40 minutes.
KenPom: Iowa 81, Richmond 72
No. 3 Purdue vs. No. 14 Yale (Milwaukee, Friday, 2 p.m., TBS)
Early in the season, Purdue looked like the best candidate to break the Big Ten's national championship drought that is approaching 22 years. But the Boilermakers never figured things out defensively. Purdue still has the nation's third-best offense and arguably the most explosive player in the tournament in Jaden Ivey. But there are real questions here defensively and it's fair to wonder just how far Matt Painter's crew could advance.
Fortunately for Boilermaker fans, the first-round matchup looks favorable. Purdue is the biggest KenPom favorite of the nine Big Ten teams selected for the tournament and Yale's poor 2-point field goal percentage defense is a red flag. Zach Edey and Trevion Williams should be able to dominate the paint against the Ivy League champs.
KenPom: Purdue 79, Yale 66
No. 12 Indiana vs. No. 12 Wyoming (Dayton, Tuesday, 9:10 p.m., truTV)
Indiana was surprisingly sent to the First Four in Dayton to take on Wyoming, which packs a strong one-two punch with Graham Ike and Hunter Maldonado. If the Hoosiers advance, they'll have to fly west to take on Saint Mary's on Thursday in Portland. That's a brutal turnaround, but for a program that hasn't been to the tournament since 2016, it's hard to complain about the circumstances.
It'll be fascinating to watch how Indiana chooses to defend Wyoming's post-up heavy offense. At 6-foot-7, Maldonado is a tough matchup at point guard. If the Hoosiers play as well as they did in Indianapolis, they're capable of beating any team in the field. But given the inconsistent offense that has plagued Indiana the entire season, this feels like a game that could go either way on Tuesday.
KenPom: Indiana 67, Wyoming 66
No. 7 Michigan State vs. No. 10 Davidson (Greenville, Friday, 9:40 p.m., CBS)
The Spartans went just 4-6 over their last 10 games entering the tournament and Davidson is an elite shooting team with former MSU guard Foster Loyer on its roster.
Coached by Bob McKillop, Davidson enters Greenville with the nation's 11th best KenPom offense and rarely turns the ball over. There are legitimate concerns here as to whether Michigan State can slow down Davidson's offense, which ranks eighth nationally in 3-point shooting percentage. The Wildcats have been in every game they've played this season as their six losses have come by an average of just 5.5 points.
KenPom: Michigan State 73, Davidson 72
No. 11 Rutgers vs. No. 11 Notre Dame (Dayton, Wednesday, 9:10 p.m., truTV)
Despite a terrible NET ranking and a poor non-conference performance, Rutgers earned one of the last four spots in the field and will take on the Fighting Irish on Wednesday in Dayton.
Rutgers has proven itself capable of beating the nation's best teams as its wins against Purdue, Iowa, Ohio State, Wisconsin and Illinois were all top-notch. Like the winner of Indiana and Wyoming, the winner of Rutgers and Notre Dame will have the daunting task of heading west to San Diego following Wednesday's game and will take on Alabama.
KenPom: Notre Dame 67, Rutgers 65
Filed to: 2022 NCAA tournament