Indiana's loss to Iowa shouldn't overshadow what it accomplished at the Big Ten tournament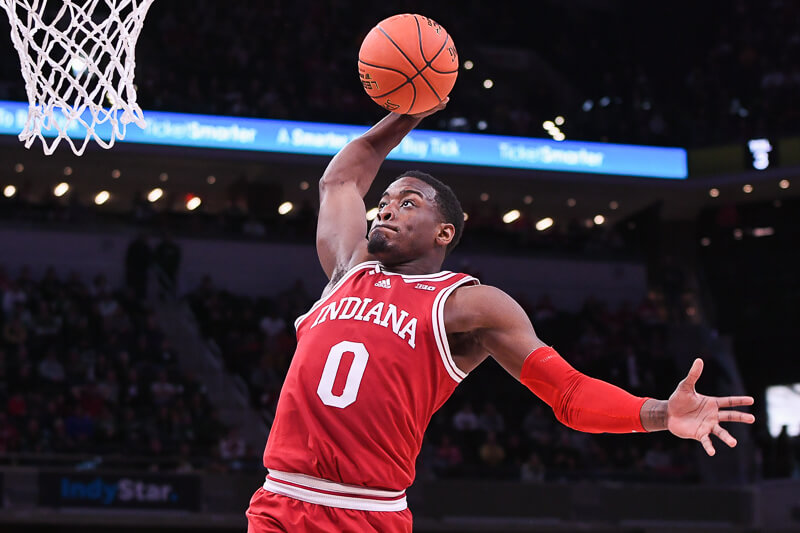 INDIANAPOLIS – Trayce Jackson-Davis wouldn't specify exactly who said it. Asked about it during the postgame press conference, he turned to Mike Woodson, who made it known that no further details should be revealed. But regardless, it was said in the locker room after the game.
"Like they said in the locker room, I don't think anyone wants to see us right now," Jackson-Davis said.
That message was delivered even after what happened at the end of Saturday's game. With the game tied and time running down, Iowa's Jordan Bohannon curled to the top of the key, then squared himself up and launched a three from near the midcourt logo. It banked in.
But that shot and Indiana's 80-77 loss to Iowa in the semifinals of the Big Ten tournament shouldn't overshadow what it accomplished over the last few days. Iowa has proven itself to be a really good team. It entered Saturday winning 10 of its last 12 games. There were flaws to Indiana's performance on Saturday, but the Hoosiers came to Indianapolis as a team that was seemingly searching to find its stride and it left after having made a statement.
"I think we've proven not only to the Big Ten but to the country that we're also a team, a top team that can compete with anyone," Jackson-Davis said. "So it took the last-second three to beat us against the hottest team in the Big Ten right now and it stings, but at the same time I feel like we've got a lot of ball left."
It's worth putting into perspective where Indiana was just one week ago. The Hoosiers had just endured another missed opportunity, another heartbreak, with a two-point loss at Purdue. It seemed that Indiana's NCAA tournament hopes were fleeting. Earlier in the season, Indiana was once viewed as an NCAA tournament team, but dropped into a tailspin. To end the regular season, Indiana lost seven of nine games, including one to Northwestern where five of its players were suspended, plus there were a handful of blown games in the final minutes.
But the narrative around not only this team but also the program took an upward turn over the last few days. Indiana trailed by 17 points in the second half against Michigan, but rallied in remarkable fashion to overcome the deficit and keep its tournament hopes alive. On Friday, Indiana then knocked off top-seeded Illinois. In those two games, the Hoosiers were finally able to close out games down the stretch. They played with the type of passion and intensity that seemingly makes it easy for a fanbase to embrace. Nothing is final until Sunday, but even with Saturday's loss, Indiana will likely make the NCAA tournament for the first time since 2016.
"We listened to Coach's plan and we finally got over the hump. After that first game against Michigan, I think that's when we started to believe," Jackson-Davis said. "I think when we got down at Iowa late, I still think that our team believed that we were going to win and then obviously they hit a tough shot and it happens. That's basketball."
There were aspects of Saturday's game, though, that were concerning. Indiana failed to close out a game as has happened many times this season — whether it be against Wisconsin or Rutgers or on the road against Ohio State. On Saturday, Indiana led by nine points with 5:29 remaining before letting Iowa take the game.
There was also the case of the 3-point line. Iowa, known as a prolific 3-point shooting team, knocked down 14 threes, making 44 percent of its shots from deep. Keegan Murray was 8-of-10 from three. Bohannon was 4-of-9. There have been other moments this season where 3-point defense has been a problem for Indiana. Among other instances, the Hoosiers gave up 13 threes to Syracuse, 11 in its first matchup with Penn State, 11 in the loss to Michigan and 14 on the road against Minnesota.
On the flip side, there were few times where Indiana was able to counter with threes of its own. The Hoosiers made just five threes, connecting at just a 26 percent clip from deep. Miller Kopp and Parker Stewart combined to shoot 2-of-9 from three. Three-point shooting hasn't been a consistent strength for Indiana this season as the Hoosiers entered the day at 34 percent.
"There were a lot of wide-open looks tonight, we just didn't make them and that's a part of basketball," Woodson said. "I mean, I got to keep positioning our guys. When Trayce is being double-teamed, our guys have got to step up and make shots. I thought Iowa made shots when they had open looks and we struggled to make them tonight in that area."
In a positive light, Saturday also reaffirmed the fact that two of arguably Indiana's most important players are playing phenomenal basketball right now.
On Saturday, Jackson-Davis finished with 31 points on 15-of-21 from the field, 10 rebounds and three assists. In his career at IU, Jackson-Davis has collected numerous accolades, but never played in an NCAA tournament and struggled some against the conference's top big men this season. This weekend seemingly changed that view. Jackson-Davis had 24 points and eight rebounds against Hunter Dickinson and Michigan. He followed it up with 21 points and seven rebounds against Kofi Cockburn and Illinois.
After stretches of inconsistent play earlier this season and taking criticism, Johnson has become an invaluable floor general. He has put up double-figure scoring numbers in Indiana's last eight games. Against Michigan on Thursday, he had 17 points, seven assists and eight rebounds. Against Illinois on Friday, he had 13 points, six assists and four rebounds. On Saturday, he finished with 20 points, nine assists and four rebounds. He has also displayed his chemistry with Jackson-Davis, especially in the pick and roll.
"He's a great player, especially when he gets downhill, he's going to make the right reads," Jackson-Davis said of Johnson. "And playing with him, I love playing with him, that's my guy."
On Twitter after the game, players expressed their thoughts. Even in a loss, there seemed to be positivity. "Lets Dance." Jackson-Davis posted. "Words can't explain how proud I am of my brothers. Still have more ball to play! LETS BOOGIE!" Johnson posted. "Love this team… Let's dance" Kopp posted.
Indiana proved something this weekend. They are a good team. One that is capable of noise in the postseason. The loss to Iowa shouldn't take that away.
"We're battled-tested," Woodson said. "We've been in so many games and the games that we have come up short, it's been — it's been tough, but our guys have always responded and we'll respond again after this one tonight."
Filed to: 2022 Big Ten tournament