Five takeaways from Indiana's loss to Iowa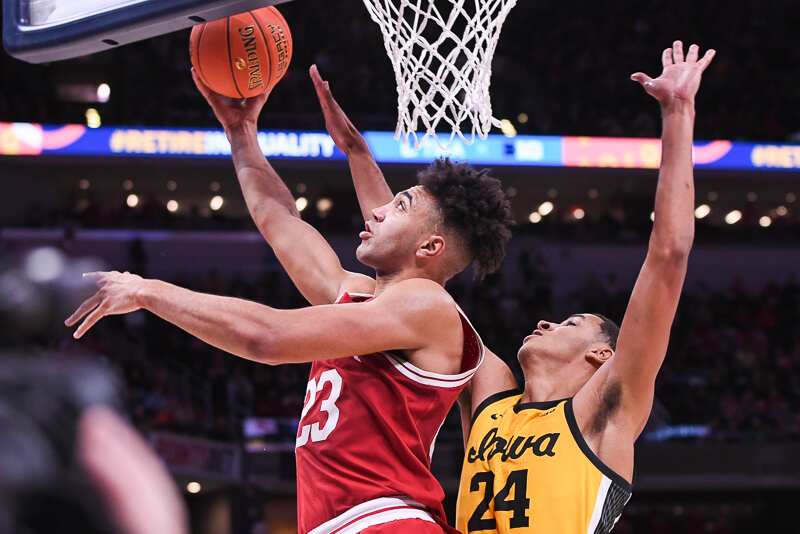 INDIANAPOLIS – Indiana's run in the 2022 Big Ten tournament stopped just shy of the title game after Jordan Bohannon banked a 3-pointer to give Iowa the 80-77 win on Saturday afternoon. The loss drops the Hoosiers to 20-13 overall.
But the Hoosiers' performance this week all but officially secured them a spot in the NCAA tournament for the first time since 2016.
Here are five takeaways from the loss:
"It's March"
Indiana found itself playing a third game in the Big Ten tournament for the first time since 2003 on Saturday. It was something most analysts or fans couldn't have predicted, but Indiana came prepared to play until Sunday.
That momentum toward the title game was ultimately stopped in its tracks with one second left on the clock against Iowa.
Jordan Bohannon launched one up from way beyond the 3-point line at Gainbridge Fieldhouse and the near-buzzer-beater banged off the glass and into the cylinder to give Iowa the 3-point edge and left Indiana with just 1.1 seconds to find an answer.
"I thought it was going to be long and then it banked in and sometimes that's what happens. It's March," Trayce Jackson-Davis said. "Obviously March Madness, it's a crazy, crazy time of year."
Hoosiers dominate in the paint
Iowa had no answer for Indiana down low.
Jackson-Davis got going early with 10 points in the first four minutes and ended the day with 31 points on 15-of-21 shooting from the field (71 percent).
When Indiana needed a bucket, the team looked for Jackson-Davis in the paint. And when he didn't have the look, he passed it off to Race Thompson, who added 11 points and seven rebounds.
"We kept feeding and feeding," Xavier Johnson said postgame.
The Hoosiers scored more than double what the Hawkeyes did in the paint, beating them 50-24 down low. But they weren't effective from outside.
Iowa held Indiana to just 15 points from outside the lane and beat Indiana from range with 14 3-pointers compared to the Hoosiers' five.
"Some shots we didn't knock down but we've got to go back to the lab and just keep working because if we get selected for the tournament, we've got to be ready to knock them down," Johnson said.
Keegan Murray burns Indiana from the perimeter
It was a battle between Jackson-Davis and Murray all game. In the end, Murray won by one point with 32 total.
He knocked down eight of his 10 3-point attempts — something that shocked even his teammate Bohannon when he saw the stat during the postgame press conference.
"He's the real deal. The NBA's going to love him," Woodson said. "He's a load. I mean, there's just nothing he can't do with the basketball in his hand."
Jackson-Davis said a lot of Murray's open looks came down to miscommunication. He said Indiana's defense relies on talking and they got confused today on screens and switches.
"He was knocking shots down, so you've got to be aware where guys are," Jackson-Davis said.
Hoosiers can't hold the lead late
Indiana led for 34 minutes of the game and Iowa was in front for just three — but the Hawkeyes came out ahead when the final buzzer sounded.
The Hoosiers have played at a deficit for most of their recent games. They made a 17-point comeback just two days ago against Michigan. Playing with the lead is something Indiana is still learning.
So when Indiana went up by double digits, Woodson told his team to remember how they got the lead and warned them not to celebrate too early.
"That's the whole part of trying to learn how to win, and we're still working in that, in that area," Woodson said.
Onto the NCAA tournament
A week ago, Purdue students were chanting "NIT" at Indiana. The Hoosiers entered the Big Ten tournament with everything on the line and showed up. They knocked off two teams they couldn't beat in the regular season, including the No. 1 seed.
Then Indiana almost beat a third team to punch its ticket to the title game, but it couldn't quite hold on. For once, it wasn't about getting over a hump against Iowa.
Jackson-Davis said this tournament proved to not just the Big Ten, but to the country, that Indiana can compete with anyone.
"It took the last-second three to beat us against the hottest team in the Big Ten right now," Jackson-Davis said. "It stings, but at the same time I feel like we've got a lot of ball left."
It was a tough loss, but it's not one that feels like a loss because of how much Indiana gained in Indianapolis this week. Indiana cemented its place in the NCAA tournament and Xavier Johnson put it best in a tweet postgame: "Let's boogie."
Filed to: 2022 Big Ten tournament