At the buzzer: Iowa 80, Indiana 77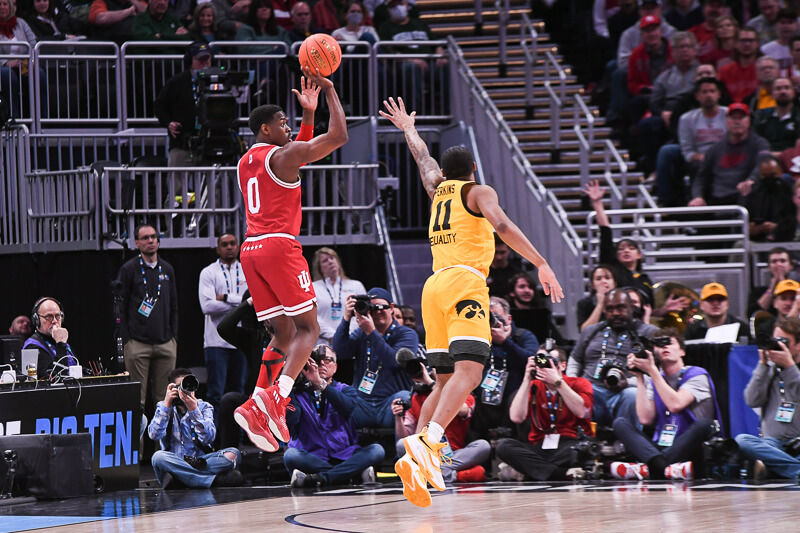 Quick thoughts on an 80-77 loss to Iowa:
How it happened: Indiana had a near flawless start on Saturday afternoon in the Big Ten tournament semifinals. The Hoosiers raced to a 15-3 lead and forced Fran McCaffery to use a timeout at the 14:20 mark of the first half. But the Hawkeyes had an answer from the perimeter and stormed back with four straight 3-pointers to get within two at 17-15 with 11:04 to play. By the 4:28 mark, Iowa led 27-26, but the Hoosiers answered with a 12-5 run to close the half. A late 3-pointer from Tamar Bates, who played the final few minutes after struggles from Miller Kopp and Parker Stewart, put the Hoosiers up 38-32. The defensive numbers for Indiana were impressive in the first 20 minutes. Iowa shot just 38.7 percent from the field and scored only .9 points per possession. For Indiana, Trayce Jackson-Davis had 16 in the first half and Xavier Johnson added eight points, five assists and two rebounds, but had to sit the final 7:08 with two fouls.
Indiana led by eight at 40-32 with 19:21 to play and then by seven at 49-42 with 13:16 to play, but Keegan Murray kept the Hawkeyes within striking distance with his 3-point shooting. Murray's 3-pointer with 12:18 to play cut Indiana's lead to one at 49-48. At the under eight media timeout, Indiana led 55-52 following a Race Thompson bucket. Back to back 3-pointers from Miller Kopp and a dunk by Jackson-Davis stretched the Indiana lead to nine at 67-58 with 5:29 to play. But Iowa answered with a Murray 3-pointer to make it 67-61 with 4:47 to go. By the final media timeout, Indiana's lead was 69-65.
After a pair of Johnson free throws made it 71-65 Indiana with 3:27 to go, a 3-point play from Tony Perkins cut the Indiana lead to three at 71-68 with 3:20 left. Indiana had two clean looks on its next possession from 3, but missed both. Iowa tied it at 71 on a Bohannon 3-pointer with 2:27 to go and then took its first lead of the second half on a Keegan Murray 3-pointer with 1:51 to go. Jackson-Davis' bucket with 1:37 got Indiana within one, but Iowa answered with another 3-pointer from Bohannon with 50.1 seconds to play to make it 77-73 Hawkeyes. After two Johnson free throws with just over 40 seconds to go, Iowa took a timeout. The Hoosiers stole the ball and got a bucket from Johnson to tie it at 77. But Bohannon banked in a 3-pointer to give Iowa an 80-77 lead with 1.1 seconds to go to lift Iowa to the victory.
Standout performers: Jackson-Davis was terrific, finishing with 31 points and 10 rebounds in 38 minutes. Johnson added 20 points, nine assists and four rebounds in 33 minutes.
Statistic that stands out: Iowa scored 1.5 points per possession in the second half and made 8-of-14 3s.
Final IU individual statistics:
Final tempo-free statistics: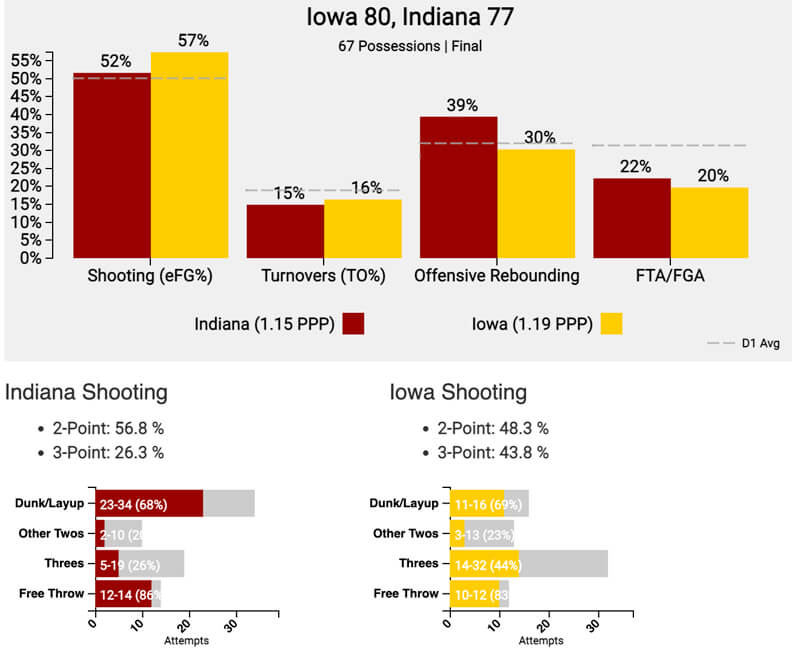 Assembly Call postgame show:
Filed to: 2022 Big Ten tournament, Iowa Hawkeyes