Mike Woodson, belief and a win against Illinois that signifies what Indiana basketball is supposed to be about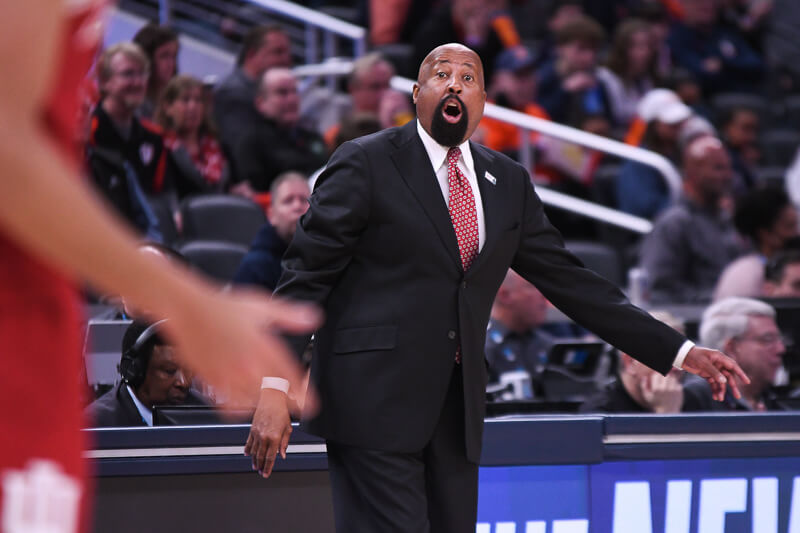 INDIANAPOLIS – At first, it was just the two of them. Indiana head coach Mike Woodson and IU athletic director Scott Dolson. Woodson had just finished up a press conference after Indiana's gut-wrenching 69-67 loss at Purdue to end the regular season. Woodson and Dolson walked together.
Then they came across several stadium workers at Purdue. Woodson stopped, said hello to them and shook their hands. It's worth, at this point, putting this moment into perspective. Indiana's NCAA tournament hopes were seemingly dwindling after losing seven of its last nine regular-season games. Yet here was Woodson, a man who has coached the likes of NBA stars Carmelo Anthony and Chris Paul, humble enough to thank workers.
"He's got that engaging personality, Dolson said. "That says a lot about Purdue's staff — how nice they were to him. But also, at the same time, it just says so much about him. After a tough loss, you won't find too many who are saying goodbye to the staff and thanking them for their help."
This is who Woodson is. He has joked about his golf game during a press conference. He stayed in contact with a doctor that performed back surgery on him when he was in college more than 40 years ago. Who Woodson is connected to what Indiana did on Friday when the Hoosiers knocked off top-seeded Illinois in the 65-63 in the quarterfinals of the Big Ten tournament. Woodson has seemingly captivated the locker room. Rallied them. He has given confidence to Race Thompson — a career 21 percent 3-point shooter entering this season — to play his game and take those shots. The main idea brought up multiple times post-game was "belief."
"It's just getting guys to believe in what you do on and off the court, both ends of the floor," Woodson said. "Our guys have bought into my stuff, I guess you can say, and my stuff ain't always the greatest, but it's working for us now."
Nothing is final until the Selection Show on Sunday, but with the win, Indiana has all but secured its spot in the NCAA tournament for the first time since 2016. The Hoosiers are heading to the Big Ten tournament semifinals for the first time since 2013. They have won two Big Ten tournament games for the first time since 2003.
It's important to note that this run in the Big Ten tournament doesn't mean Indiana basketball is back to where it was once. Two days ago, the Hoosiers were just one loss away from likely being in the NIT. But those above stats shouldn't be overlooked. Friday's win seemingly validated something important: a changing culture.
Friday felt like Indiana basketball is supposed to feel. Playing in a big game. Winning a big game. That is in part led by Woodson.
The initial reaction to Woodson's hiring in March seemed to be was somewhat mixed. He was a 63-year-old that had never coached at the college level. There were questions about whether he would be able to recruit or connect with players. During the coaching search process, Dolson called people from all across the basketball sphere and "every single person I talked to — every person — said you'll never find a better person than Mike Woodson," Dolson said. In the weeks following his hiring, the quality that Dolson referenced seemed to become apparent. When Jackson-Davis decided to return for his junior season, he took note of the type of who Woodson is as a person.
"Just some genuine off the court stuff that he's done for people and how he always is helping people," Jackson-Davis said last October. "And he told me even if I went to the draft, he would still try to help. So that was really big for me, as well."
There have been ups and downs in Woodson's first season at the helm. Indiana has blown games down the stretch and been plagued with inconsistencies multiple times. Woodson has adjusted to the college game and a new roster of players. But Friday was seemingly the result of a head coach that has kept faith in his players.
Xavier Johnson was at the epicenter of criticism earlier this season due to his inconsistencies. Woodson even had to publicly voice support of Johnson when asked about boos directed at his point guard following a December game against Notre Dame. But simply put, Johnson has been incredible the last few games and is a huge reason for Indiana's success. On Friday, he had 13 points, six assists and four rebounds.
"Coach is always believing in me, keep shooting," Johnson said when asked about his jump shot. "He's not going to tell me to stop shooting."
Thompson was an important contributor, too, and also paints the picture of the impact Woodson can have on his players. A fifth-year senior, Thompson has almost exclusively been a back-to-the-basket player during his collegiate career. But this season Woodson has given Thompson the latitude to step out and play on the perimeter. On Friday, Thompson was 2-of-2 from deep, both of which were massive makes in the second half.
"My favorite thing (about) playing for Mike Woodson is just the freedom to play your game," Thompson said. "He wants you to go out there, have fun. That's his main message before every game. Go have fun and play together. And I think that's one of my favorite things… Just the relationship that everybody has with him and how happy he is for all of us, all of that. Cause he always says it's not about him, it's about us."
And then there's Jackson-Davis. He's received numerous accolades during his career at IU, but hasn't played in an NCAA tournament. The narrative, Jackson-Davis said he was aware of, is that he didn't perform down the stretch of the last two seasons. He has also faced criticism about not showing up against top competition in the Big Ten. The last two games? He had 24 points and eight rebounds against Hunter Dickinson. On Friday, he had 21 points and seven rebounds against Kofi Cockburn. Against Illinois, with 26 seconds remaining and Indiana down by one, Jackson-Davis was at the free throw line. He knocked down both shots to give Indiana the lead.
"It was just belief," Jackson-Davis said. "I've been working on my free-throw routine, and it was something that I shoot a hundred free throws with some of our coaches every day, so I was just thinking of practice and trying to get that scenario in my head, that I'm just in practice knocking them down, so that's what I did."
After Indiana's win, Indiana's social media account posted a video of the locker room celebration, which showed as much about how Woodson's players feel about him. Woodson came walking into the locker room with a smile on his face. He wrapped his hand around Thompson's head, who was smiling, too. There were cheers and claps. Then he went up to Jackson-Davis and gave him a hug.
"It's more about our university and the program, guys," Woodson said. "I mean, we've been kind of on a rollercoaster ride with Indiana University basketball and it's nice to see guys now playing at a much higher level and now get an opportunity to play in the big dance."
Filed to: 2022 Big Ten tournament, Mike Woodson