Five takeaways from Indiana's win against Illinois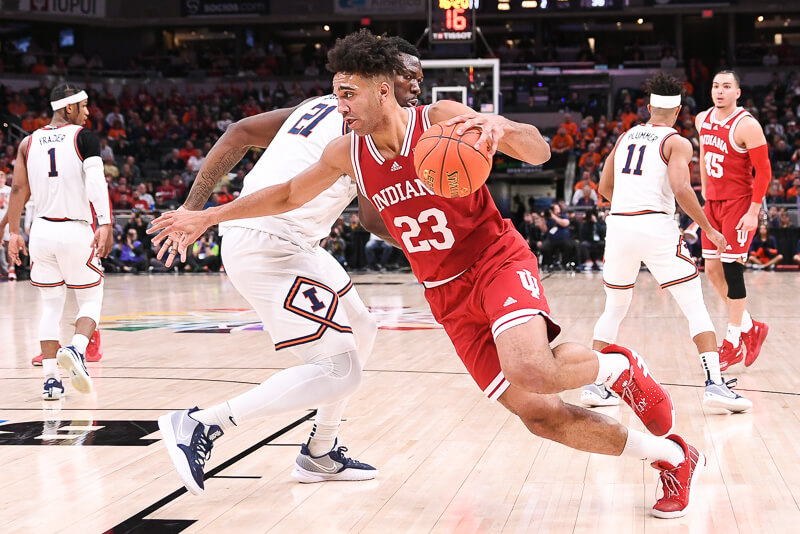 Indiana likely punched its ticket to the 2022 NCAA tournament with a 65-63 win over top-seeded Illinois on Friday in the Big Ten tournament quarterfinals.
Here are five takeaways from the win against the Fighting Illini:
Trayce Jackson-Davis holds his own against Kofi Cockburn
Through Indiana's last four matchups against Kofi Cockburn and Illinois, Trayce Jackson-Davis had been outplayed by the Fighting Illini's All-American. Illinois had also won each of those four matchups.
But just as Jackson-Davis did on Thursday when he found his footing against Michigan's Hunter Dickinson, the Center Grove product was able to hold his own against Cockburn.
Using his speed and quickness, Jackson-Davis was able to go around Cockburn at times for buckets rather than attempting to go right at him. Entering Friday's game, Jackson-Davis was shooting less than 35 percent against Illinois in his career. He finished Friday's game with a 9-of-13 shooting performance and team-high 21 points.
"I challenged him again. I was like, 'man, you've got to go out and play this guy and make him respect you,'" Mike Woodson said postgame. "And I thought he did a hell of a job in that regard."
After not shooting jump shots for a majority of the season, Jackson-Davis hit a key 15-footer with 4:12 to go to give Indiana a 58-57 lead.
And when Indiana needed him to knock in two free throws with 26 seconds to go, Jackson-Davis stepped to the line and calmly delivered a pair of makes.
"It was just belief," Jackson-Davis explained. "I've been working on my free-throw routine, and it was something that I shoot a hundred free throws with some of our coaches every day, so I was just thinking of practice and trying to get that scenario in my head, that I'm just in practice knocking them down. So that's what I did."
Indiana defense stifles Illinois
Indiana was dominated by Illinois in the first matchup between the two teams in Bloomington, surrendering 74 points and 1.13 points per possession.
But on Friday, with their NCAA tournament hopes on the line, the Hoosiers delivered one of their best defensive performances of the season.
After repeatedly losing shooters in the February 5 game in Bloomington, Indiana was much better containing the Illini on the perimeter on Friday. Illinois hit 8 of its 22 attempts from distance after making 11 3s against the Hoosiers in the first matchup.
It was inside the arc, however, where the defense was most impressive.
Illinois shot just 12-of-34 on 2s against Indiana. Kofi Cockburn was an efficient 8-of-13 on 2s, but the rest of the Illini roster was 4-of-21 (19 percent).
Illinois finished the game with just .96 points per possession, its lowest output since a 70-59 loss at Rutgers on February 16.
Second half 3-pointers from Race Thompson prove pivotal
With Jacob Grandison sidelined due to a shoulder injury, Coleman Hawkins made his second straight start for Illinois and made the most of the opportunity.
Hawkins, a 6-foot-10 forward, was shooting just 26.4 percent on 3s entering Friday's game. Hawkins got free often on the perimeter and knocked in four of his seven attempts from distance.
It looked like the hot shooting from Hawkins was going to be enough to sink Indiana if it couldn't find an answer from the perimeter. In the second half, Race Thompson provided one.
Thompson hit both of his 3-point attempts in the second half in key situations. The first at the 15:33 mark came after Trent Frazier's 3-pointer gave Illinois a 42-38 lead and the Hoosiers were in desperate need of a bucket.  The second, which came at the 10:43 mark, extended the Indiana lead to six at 50-44.
Thompson's 3-pointers were the only triples for Indiana in the second half.
"I know I can make it," Thompson said. "Every single person on the team and the coaching staff wants me to shoot it. And that gives me confidence."
Indiana's guards outplay Illini backcourt
Illinois has one of the best backcourt trios in the Big Ten with Alfonso Plummer, Trent Frazier and Andre Curbelo.
But on Friday, Indiana's guard trio of Xavier Johnson, Rob Phinisee and Trey Galloway were more impressive.
Johnson didn't shoot it particularly well, but finished with 13 points, six assists, four rebounds and two steals in another well-rounded performance.
"I've enjoyed watching X play," Illinois coach Brad Underwood said. "He's, in my opinion, one of the more underrated guards in our league."
Phinisee came off the bench, played stellar defense and scored six points in 25 minutes. And Galloway, who has been a key in both of Indiana's wins so far in Indianapolis, had eight points, two rebounds, two assists and a steal in 23 minutes.
The defense of all three was a big reason the Illinois guards never got comfortable shooting on Friday. Trent Frazier was just 4-of-10 from the field, Plummer was 2-of-12 and Curbelo was 1-of-7.
This win should clinch Indiana's NCAA tournament berth
Indiana was in most of the NCAA tournament projections after Thursday's win over Michigan, but it didn't seem like a sure thing because of potential bid thieves and the unknown of what the selection committee will value most from bubble teams.
Friday's win, however, likely breaks the program's streak of not making the NCAA tournament since 2016.
"We are competitive," Woodson said. "Even though we've lost a lot of close games, we are very, very competitive. From a coaching standpoint that's all you can ask for, but I think it's great for our program, it's fantastic that we're back in the big dance."
Friday's win also broke another lengthy losing streak to a Big Ten opponent. It was Indiana's first win over Illinois since March 7, 2019.
The Hoosiers also broke nine-game losing streaks to Michigan and Purdue this season.
"It's really big for me, honestly, and our program, because a lot of us, I know I haven't beaten Illinois throughout my whole career," Jackson-Davis said. "So finally getting that one like Michigan, I think it's just getting another thing off my chest."
Filed to: 2022 Big Ten tournament, Illinois Fighting Illini, Race Thompson, Robert Phinisee, Trayce Jackson-Davis, Trey Galloway, Xavier Johnson