At the buzzer: Indiana 65, Illinois 63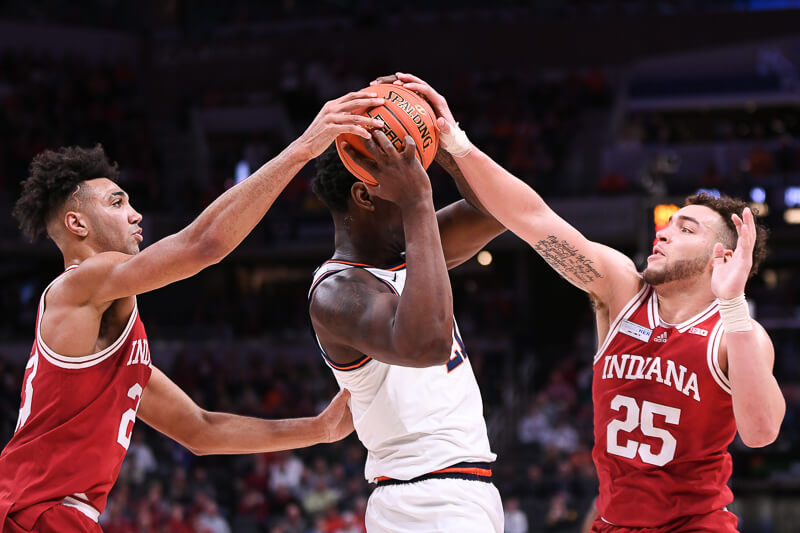 Quick thoughts on a 65-63 win over Illinois:
How it happened: Indiana came out firing offensively on Friday morning at Gainbridge Fieldhouse. The Hoosiers scored 13 points in the first 4:38. By the first media timeout, Indiana led Illinois 13-8. But a second foul on Race Thompson coupled with some stagnant offense from the bench let the Illini hang around. By the 5:37 mark, Illinois grabbed the lead at 23-21 on a Coleman Hawkins 3-pointer and stretched it to five on a 3-pointer by Alfonso Plummer with 5:15 to play. Indiana responded with four straight points to stop the Illinois run and went into the break trailing 33-31. It was an impressive defensive performance by Indiana, which held the Illini to just .96 points per possession in the first 20 minutes. Eight different Hoosiers scored in the first half, but Indiana shot just 1-of-4 on 3s.
Indiana took the lead at the 13:27 mark of the second half on a pair of Thompson free throws and then stretched it to three at 45-42 on a Xavier Johnson layup with 13:04 to play. After a Kofi Cockburn missed layup, Indiana's run stretched to 9-0 on a Jackson-Davis bucket to make it 47-42 with 12:28 to play. Illinois ended its field goal drought of more than five minutes with a Kofi Cockburn bucket with 11:12 to play, but Indiana answered with a 3-pointer from Race Thompson to make it 50-44. Coleman Hawkins cut the Indiana lead to 3 on a 3-pointer with 9:19 to play. Mike Woodson, sensing his team needed a break, used a timeout leading 52-49 with 8:20 to play.
Out of the timeout, Jackson-Davis missed a tough shot and Illinois answered with a Cockburn bucket to make it 52-51 with 7:50 to play. Johnson answered with a layup to make it 54-51 with 7:23 to go. Out of the under eight media timeout, an Andre Curbelo layup made it 54-53 with 6:58 to play. The Illini tied the game at 54 with 5:27 to play when Hawkins split a pair of free throws. After a Johnson turnover, Hawkins hit a 3-pointer to make it 57-54 Illinois. Out of an IU timeout, Jackson-Davis scored to make it 57-56 and then Trey Galloway's steal and subsequent assist to Jackson-Davis made it 58-57 Indiana with 3:45 to play.
Hawkins made a pair of free throws to give Illinois a 59-58 lead with 3:45 to play. Jackson-Davis answered for Indiana with a layup to make it 60-59 with 3:24 to go, the seventh lead change of the game. Curbelo missed the front end of a 1-and-1 with 3:10 to play and Trey Galloway's layup with 2:55 to go gave Indiana a 62-59 lead. Illinois called a timeout with 2:45 to play. Cockburn made a pair of free throws to make it 62-61 Indiana with 2:34 to play. The teams traded empty possessions until Indiana fouled Cockburn with 33.3 seconds to go. Cockburn made both free throws to make it 63-62 Illinois. Cockburn reached in on a pass to Jackson-Davis with 26.1 seconds to go, which sent Indiana's big man to the line for a one plus the bonus. He made both to make it 64-63 Hoosiers. Brad Underwood took his final timeout with 15.3 seconds to play. Trent Frazier threw the ball out of bounds with 11.5 seconds to go and Illinois fouled Miller Kopp with 10.5 seconds to play. Kopp missed the front end and Illinois went the length of the floor and Curbelo missed a layup. Jackson-Davis grabbed the rebound and Illinois fouled him with 1.7 seconds to go. Jackson-Davis made the first and missed the second as IU prevailed 65-63.
Standout performer: Jackson-Davis was outstanding again, finishing with 21 points on 9-of-13 shooting in 36 minutes. Johnson added 13 points, six assists, four rebounds and two steals in 36 minutes.
Statistic that stands out: The Hoosiers won with defense, holding the Illini to 35.7 shooting from the field and .96 points per possession.
Final IU individual statistics:

Final tempo-free statistics: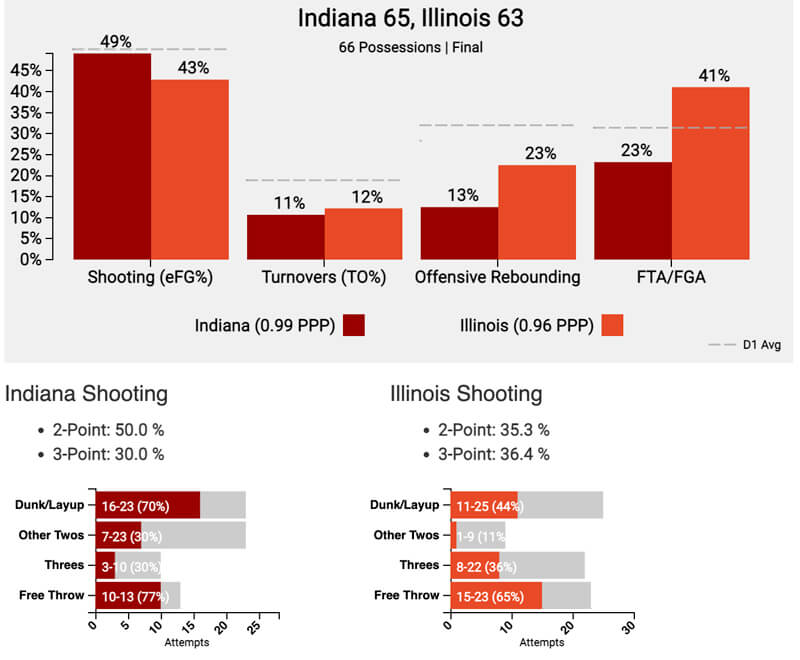 Assembly Call postgame show:
Filed to: 2022 Big Ten tournament, Illinois Fighting Illini