Against Illinois, Trayce Jackson-Davis changed the narrative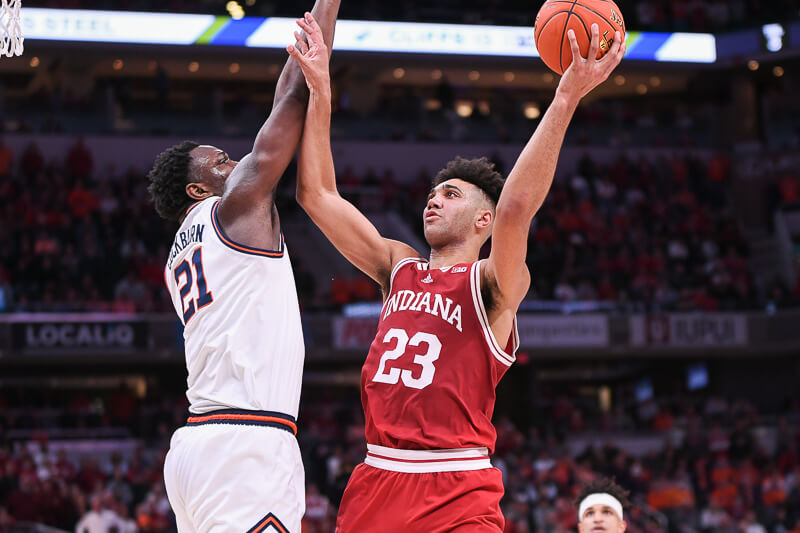 INDIANAPOLIS – Trayce Jackson-Davis got the ball in on the left block with Kofi Cockburn right on his back. He looked over his shoulder and saw the 7-footer he felt behind him.
He glanced quickly to the perimeter and saw Xavier Johnson open — perhaps last month he would've passed it out, but Friday afternoon he kept the ball. He wanted to take Cockburn on himself. He held strong, backed him down and got the layup to go.
That bucket put Jackson-Davis at 12 points on the game with 12:28 to play — double what he scored in his first matchup against Cockburn in Indiana's loss against Illinois last month in Bloomington.
"There's been a lot of talk, especially the last two years of me not showing up at the end of the season, so I'm trying to change that narrative," Jackson-Davis said following Indiana's 65-63 win over Illinois.
The narrative also features Jackson-Davis struggling against the Big Ten's top bigs — the ones selected on the conference first team over him.
"I went back and watched some old films of him going against Big Fella, Kofi, and he didn't fare well," Mike Woodson said.
When Jackson-Davis played Illinois in February, he couldn't get the angles on Cockburn around the rim — shooting 3-of-9 from the field. Woodson was the first to say he didn't play well.
But in Indiana's win on Friday, Woodson had the opposite to say about Jackson-Davis. Woodson said he challenged his preseason All-American before the game, and Jackson-Davis rose to that challenge.
"I was like, 'man, you've got to go out and play this guy and make him respect you,'" Woodson said. "I thought he did a hell of a job in that regard."
In the Big Ten Tournament quarterfinals, Jackson-Davis made Cockburn respect him from the jump. He made his first two looks over the first team All-Big Ten selection.
"I think after I got in that rhythm," Jackson-Davis said. "I felt like I could score, so I was just doing my job."
Woodson and his teammates gave him confidence, and he did the rest. Jackson-Davis scored 21 points on 69 percent shooting from the floor — an improvement from his 34.7 percent shooting against Illinois in four previous games.
Indiana has seen Jackson-Davis struggle against the bigs of the Big Ten throughout the regular season, but it's been a different story in the postseason. Woodson knew he was capable of it. And it was something Illinois head coach Brad Underwood expected.
"He's a good player," Underwood said. "I mean, on just about every All-American list. I don't know what you guys expect him to play like crap for 40 minutes?"
Jackson-Davis found his rhythm early but excelled in the second half — scoring 15 points in the final 20 minutes. He countered Cockburn's size with his quickness.
With 16:18 to go and Indiana trailing by three, Parker Stewart found Jackson-Davis with his back to Cockburn on the left block. Jackson-Davis faked to his left and took off right, curling around Cockburn and under the basket for a reverse layup. Jackson-Davis had already released the ball before Cockburn had even turned fully around.
Later in the half with Indiana trailing by two, Jackson-Davis had the confidence to take a jump shot when Cockburn gave him space. His 15-footer with 4:12 to play found the bottom of the net — ending, for the moment, a consistent criticism of Jackson-Davis' game.
"He's terrific," Underwood said. "You let him get to his left hand and he's a very effective mid-range shooter from there as well."
What Cockburn, Underwood and Woodson saw on display Friday afternoon stems beyond those involved in the game. Indiana athletic director Scott Dolson has seen throughout the previous two seasons what Jackson-Davis is capable of.
Dolson brought in Woodson last March to take Indiana back to the NCAA tournament, and it needed to happen behind the leadership of Jackson-Davis. So when Jackson-Davis decided to come back to play for Woodson rather than entering the NBA draft or the transfer portal, Dolson knew the team's potential.
When Indiana won a second game in the Big Ten tournament for the first time since 2003, Dolson thanked Jackson-Davis. He thanked him several times.
"You're always going to be remembered as a person who helped get the program back," Dolson told Jackson-Davis after the game.
Filed to: 2022 Big Ten tournament, Trayce Jackson-Davis