'We learned from our mistakes': Indiana pulls off 17-point comeback win over Michigan in Big Ten tournament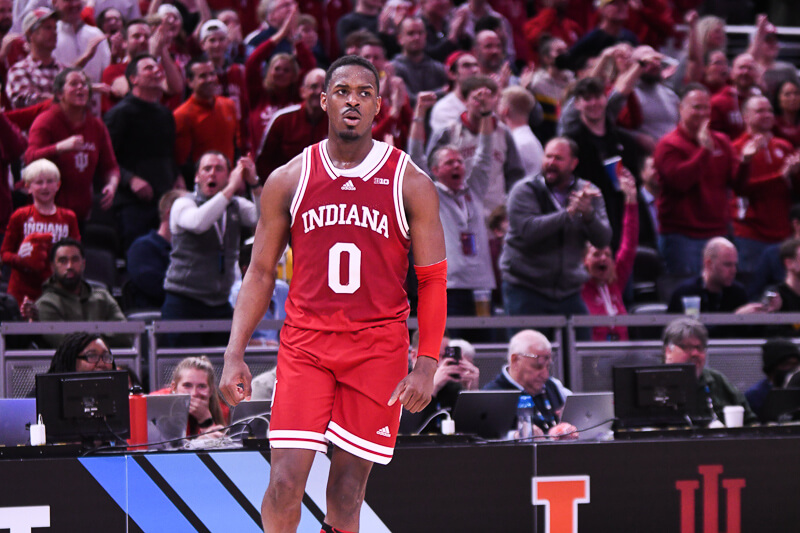 INDIANAPOLIS – Xavier Johnson jumped up toward the sideline, waving his arms up with the screams of the Hoosier fans that filled the stands at Gainbridge Fieldhouse.
"Let's go," he screamed with his arm flexing.
The jumbotron hanging above him showed something Indiana fans couldn't have fathomed just 13 minutes before — a four-point Indiana lead with three seconds left in the game.
A 17-point deficit was erased. Suddenly, the possibility of a trip to the NCAA tournament for the first time in six years was in play.
"This is probably the biggest win for our program in a long, long time," Mike Woodson said following Indiana's 74-69 victory over Michigan. "This team, they just won't quit."
Indiana had every reason to quit like it had in years past. Down 13 at half, there was every inclination the team would fall like it had in seven of its previous nine games.
But Woodson said he still felt like his team had a chance to win at halftime. That's why he got on Trayce Jackson-Davis in the locker room — who had five points and two made shots while allowing 13 points from Hunter Dickinson in the first 20 minutes of action. Woodson told his preseason All-American he wasn't playing up to his capability.
"His play the first half wasn't really good, I'll tell you that," Woodson said. "I kind of keep locker room things inside, but it wasn't pretty."
Coming out of halftime, things got uglier.
Indiana was finding better shots and making them, but it couldn't stop Michigan on the other end. The Hoosiers' efforts didn't make a dent in the deficit and allowed Michigan's lead to swell to 17 points with 12:52 to play.
That's when a flip switched. It was as if the team had remembered what they were playing for — a chance to dance.
"I feel like we learned from our mistakes in the past. We've been watching a lot of film," Johnson said. "Now we have the chance to go prove it, prove what we're working on."
After Eli Brooks hit a layup to give Michigan the 60-43 advantage, the Hoosiers outscored the Wolverines 31-9 the rest of the game.
"They just came out being more physical than us. They brought more energy, more effort in the second half," Michigan's DeVante' Jones said.
Not only was it the largest deficit Indiana has overcome in a game this year, but it was the second-largest rally in Big Ten tournament history. And the comeback came from a program that was 13-23 in the conference tournament prior to Thursday.
Woodson has emphasized all season that he's still teaching his team how to win. In the wake of close losses, he constantly preaches about getting his team over the hump.
Against Michigan, the team finally got to the other side.
"We've been striking out," Woodson said. "When you think about all the close games that we've had this season, this is really gratifying in terms of getting over the hump on a major stage, a big game that we had to win."
Jackson-Davis admitted he thought about Indiana's first game against Wisconsin this season during the game. That loss in Madison was one of Indiana's uglier performances. A 22-point lead slipped away.  It was a loss from three months ago, but not one forgotten by Indiana fans and players. So, Jackson-Davis decided to use that to his team's advantage against the Wolverines — which beat the Hoosiers by 18 less than two months ago.
Jackson-Davis and his teammates remembered the comeback, so why not make one of their own?
"We believed we were going to win and we kind of saw them deflating and deflating, and then we finally got back," Jackson-Davis said.
The comeback was fueled by a lineup featuring Johnson, Jackson-Davis, Trey Galloway and Jordan Geronimo with Rob Phinisee and Miller Kopp splitting time.
Johnson sat for more than half of the first half with foul trouble but made up for lost time in the final 20 minutes. He scored nine points, dished out seven assists and was a perfect 4-of-4 from the free throw line.
"His energy truly helped the team in a lot of ways on both sides of the ball," Howard said.
Galloway and Geronimo were menaces on the floor, stealing extra possessions for Indiana and frustrating Michigan on defense. Kopp showed up when it mattered most, hitting a 3-pointer to cut the deficit to one.
Then there was Jackson-Davis. He rose to Woodson's challenge at halftime, scoring 19 of his 24 points in the second half. Jackson-Davis accounted for almost half of Indiana's 31 points down the stretch. He also held Dickinson to just two points on the other end.
"He stepped it up and played like we thought he could play," Woodson said.
Juwan Howard's reaction to the win was simple: "They earned this victory."
Meanwhile, Indiana fans struggled to find words for the comeback they witnessed from their team that has lived on the bubble for the last month.
Among the words fans used to describe the win on Twitter included "unexpected," "shocking," and "jaw-dropping."
From having "NIT" chanted at them in West Lafayette less than a week ago, Woodson said he likes to think this win puts them into the NCAA tournament.
"I don't know how it works," Woodson said. "I'm new at this, but we've got to get ready for Illinois and see if we can play like we did tonight in the second half and see if we can get another win that might secure us for the big dance."
Filed to: 2022 Big Ten tournament, Michigan Wolverines