Sponsored: Save 30% on USDA certified organic CBD products at Cornbread Hemp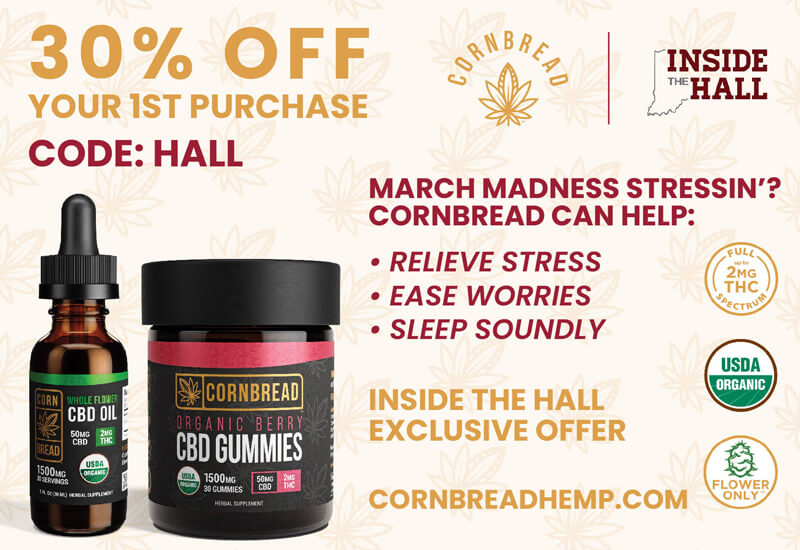 For years, our friends at Cornbread Hemp have been serving members of the IU community as the top local CBD brand offered at the Bloomingfoods Co-op Market in Bloomington. With CBD gummies, tinctures, topicals and even pet products – Cornbread Hemp is your go-to provider for natural comfort with aches and pains, stress relief and better sleep.
We are thrilled to offer a great discount on Cornbread Hemp products, exclusively for readers of Inside the Hall. Just use code HALL at checkout when you shop at cornbreadhemp.com and receive a 30 percent discount on your first order.
What makes Cornbread Hemp so special? For starters, their products are Flower-Only™, USDA certified organic, and contain the most delta-9 THC allowed by law. But even better, their products are made just south of Indiana in Kentucky.
It's perfectly legal to order Cornbread Hemp products from Kentucky and receive them at your home. That's because, even with 2mg of THC per serving, these products are made from hemp and are 100 percent legal across the country.
As far as we are concerned, Cornbread Hemp produces the best CBD available on the market. Check it out for yourself and don't forget to use code HALL for 30 percent off at checkout.