News and notes from Mike Woodson's radio show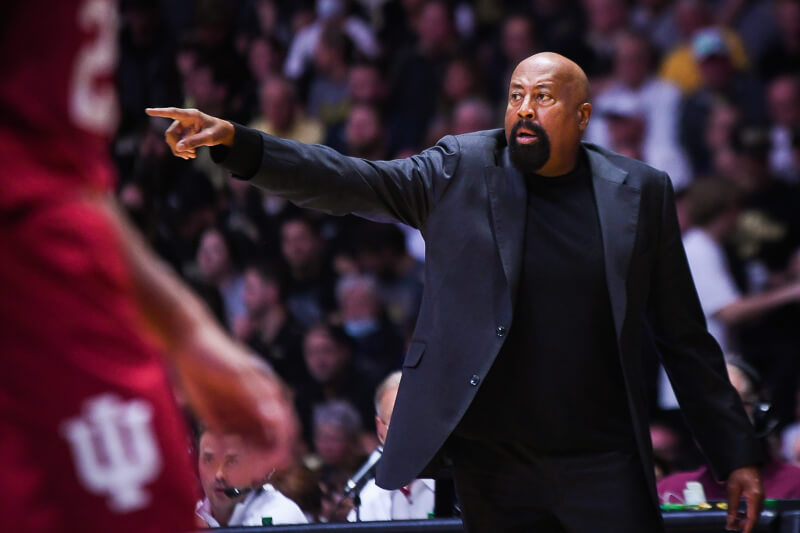 Mike Woodson joined play-by-play announcer Don Fischer for the last episode of "Inside Indiana Basketball with Mike Woodson" of the season Monday night.
Woodson discussed his team's two-game losing streak, his plans for the Big Ten tournament and thoughts on what's to come in the postseason.
• Woodson said his team is playing hard enough right now, but it's frustrating to not be rewarded with wins. He said they are still learning how to win: "I want to win and our players want to win in the worst way."
• He said his team shouldn't have been surprised by Rutgers' zone since it's something they've encountered multiple times this season. It just came down to making outside shots.
• Woodson on giving Parker Stewart the final shot against Rutgers: "All I can tell my players is 'Hey if I put you in that position again, I feel good that you can make it.'"
• The goal is getting the team to the NCAA tournament since they haven't been in so long: "Indiana is a team where we expect big things, and I get it man… all we can do as a coaching staff and team is make them feel good about what they're doing."
• When asked about the foul discrepancy between Purdue and Indiana on Saturday, Woodson said the situation is out of his control but acknowledged it was lopsided.
• On the final inbounds play against Purdue, Woodson said Miller Kopp usually throws it up high to Trayce Jackson-Davis, but went low and that's how the play got botched.
• Woodson said he's proud of how his team has improved in the area of turnovers: "We were turning the ball over and I was complaining about running, but we've been so much better in the category."
• After Purdue went on an early run, Woodson said he just wanted his team to stay in the hunt: "It's been 40 some years since I've been at Mackey and it's a tough place to play. Our players weathered the storm and got right back in the game."
• Woodson on Miller Kopp's 14-point performance against Purdue: "He had some good looks and a big setting like that, I was truly happy to see him step up and make shots — because we needed him."
• Woodson said there's been growing pains with Xavier Johnson, but now he's putting the team in a position to win games. He said his confidence is sky-high now: "It's been a major plus to see him get better for us right in front of us."
• Woodson said he likes to play 9-10 guys, but has shortened the bench now: "When you get in these tight games, there's just no margin for error."
• Woodson said the team is still a close-knit group: "Losing games like we've lost, you'd think the team would quit. But that's not the case."
• Woodson said the Big Ten has proven anyone can win on any given night and he thinks the Big Ten tournament will play out the same way.
• Indiana's game against Michigan during the regular season was the only time all season the other team had their way, Woodson said. He said his team didn't show up and it wasn't because of the high of the Purdue win.
• Woodson said he's not surprised by Michigan's success even without Juwan Howard as of late.
• When asked about the NIT, Woodson said: "I don't even think that far right now… NIT is what it is right now. We're trying to get to the Big Dance."
• Woodson said he's not sure if Trey Galloway will be back this week as he is still doing very little. He said playing without him and Rob Phinisee earlier was a tremendous loss: "I haven't been able to see them a lot with this team. That's kind of frustrating from a coaching standpoint."
Filed to: Mike Woodson