What to expect: Illinois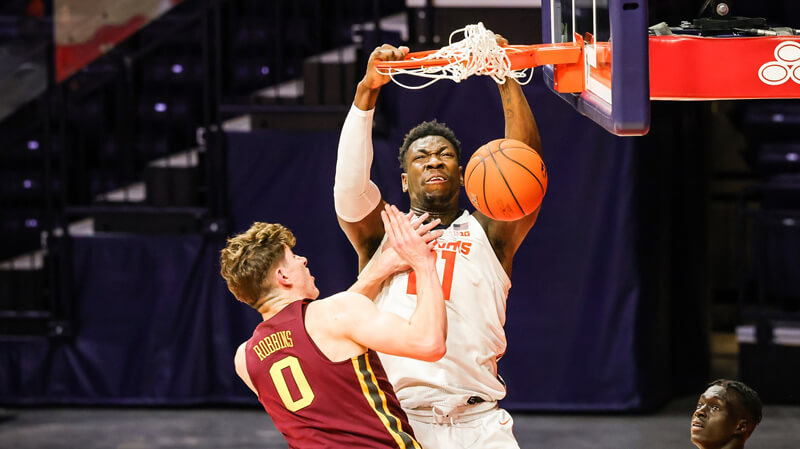 Indiana returns to action on Saturday as Big Ten leader Illinois comes to Assembly Hall. The Fighting Illini are 16-5 overall and 9-2 in conference play. 
Saturday's game will tip at 12 p.m. ET on ESPN:
With six days to prepare, Indiana will look to capture a third marquee home win when it hosts Illinois on Saturday afternoon.
The Hoosiers have won four of their last five, but begin a difficult stretch that includes three of their next five games on the road. The two home games in that stretch feature Big Ten leader Illinois and Wisconsin, a team that already beat the Hoosiers in Madison.
The Fighting Illini are coming off of a massive 80-67 win against Wisconsin on Wednesday night in Champaign and now sit alone atop the Big Ten standings with a half-game lead over Michigan State.
MEET THE FIGHTING ILLINI
Illinois played a tight rotation in Wednesday's win against Wisconsin as only six players logged double-figure minutes.
Despite losing Ayo Dosunmu to the NBA and two assistant coaches to Kentucky, Brad Underwood again has the Illini in the thick of the Big Ten title race.
Illinois boasts the Big Ten's second-best defense through 11 games and its scheme is designed around Kofi Cockburn. As UMHoops pointed out on Twitter last month, Illinois tries to take away catch-and-shoot opportunities by forcing guards and wings to make one-on-one plays and not helping. This results in opponents settling for a lot of mid-range 2s rather than trying to force the issue against Cockburn at the rim. In Big Ten play, Illinois opponents are deriving 58.9 percent of their offense on 2s, but shooting just 43.8 percent from inside the arc.
Despite missing the first three games of the season due to a suspension and two games recently due to a concussion, Cockburn might be the favorite for Big Ten player of the year. No frontcourt player in the league has been more dominant than Cockburn, who is averaging 22.1 points and 11.6 rebounds over 16 games.
According to Synergy Sports, Cockburn ranks in the 85th percentile nationally as he's scoring 1.05 points per possession on post-ups. According to Hoop-Math, Cockburn is shooting 69.2 percent at the rim. He ranks fourth in the Big Ten in offensive rebounding percentage and is second in defensive rebounding percentage.
Utah transfer Alfonso Plummer was an elite portal pickup for Underwood. The 6-foot-1 guard is shooting 40.4 percent from distance and is making more than three 3s per game. Plummer already has six games with five or more made 3s. Plummer is a difficult cover because he can connect off catch-and-shoots, off the dribble, or off of screens. He's second on the team in scoring at 15.3 points per game.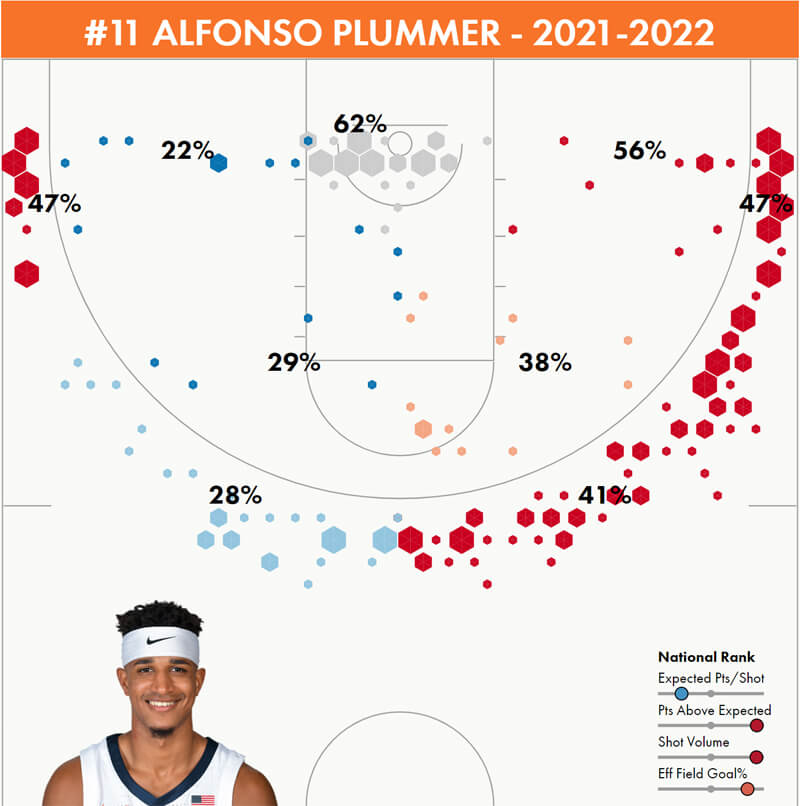 Fifth-year senior Trent Frazier has played a lot of point guard with Andre Curbelo's limited availability this season. Frazier has struggled from distance in Big Ten play, converting just 31.6 percent of his 79 attempts thus far. He does rank 15th in the league in assist rate and is third on the team in scoring at 12.8 points per game. Frazier is also an elite defender and will be on Xavier Johnson, who has been playing very well in recent weeks.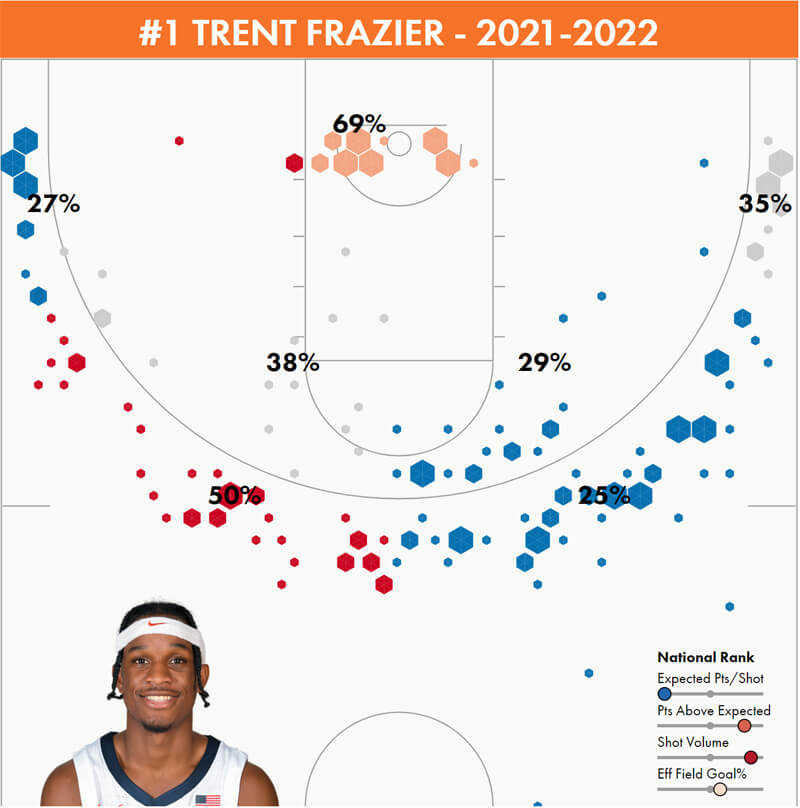 Fifth-year senior Da'Monte Williams starts at the three with Jacob Grandison at the four. The 6-foot-3 Williams made a ridiculous 54.7 percent of his 3s last season but has regressed thus far in his final season. Williams is shooting 33.3 percent on 3s, but has been better in league play (38.5 percent).
Grandison, who began his career at Holy Cross before transferring to Illinois prior to last season, is a matchup problem at the four because of his floor spacing ability. Grandison is shooting 43.2 percent from distance and his prowess from the perimeter forces defenses to stay home rather than doubling on Cockburn.
Curbelo has only played in seven games due to a concussion that sidelined him for nearly two months and most recently, a two-game absence for health and safety protocols. He logged 12 minutes on Wednesday against Wisconsin, scoring seven points and dishing out two assists versus two turnovers. Curbelo is one of the elite playmakers in the Big Ten, but it'll be interesting to see how Underwood chooses to utilize him moving forward with how Plummer and Frazier have solidified themselves as the starting backcourt.
A few names to know off the Illini bench include 6-foot-10 Coleman Hawkins, 6-foot-10 Omar Payne and 6-foot-7 wing Luke Goode.  Hawkins started the first 10 games of the season but has come off the bench for the last 11 contests. He logged a season-low two minutes in the win against Wisconsin. Hawkins is finishing 59.6 percent of his 2s this season and only 26.2 percent on 3s in 42 attempts. Payne is Cockburn's backup and the Florida transfer has blocked a team-high 20 shots in 21 games. Goode, a Fort Wayne native, gives the Illini another wing shooting option. The freshman is making 41.4 percent of his attempts from distance.
TEMPO-FREE PREVIEW
(Stats are now for conference games only. Numbers are through Wednesday's games.)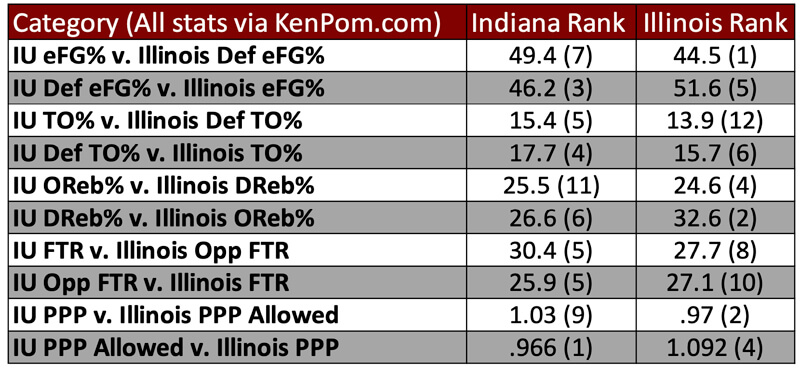 This matchup features the Big Ten's top two defenses and both programs are among the top three in the league in 2-point field goal percentage defense and 3-point field goal percentage defense.
Illinois is the superior 3-point shooting and rebounding team while Indiana does a slightly better job at getting to the line. Cockburn has the ability to dominate on the glass, so Trayce Jackson-Davis and Race Thompson (and potentially Michael Durr) are going to meet a challenge when trying to keep him from second-chance points.
For Indiana, the challenge is going to be figuring out ways to generate enough offense against a defense that will force its guards and wing players to make one-on-one plays. That's not a strong suit for players on Indiana's roster outside of Xavier Johnson. And Illinois is not going to send help and leave shooters open on the perimeter.
WHAT IT COMES DOWN TO
On paper, it isn't a great matchup as Jackson-Davis has struggled against physical frontcourt players that challenge him at the rim. This marks a perfect opportunity for Jackson-Davis to rewrite the narrative against Cockburn, who has dominated the previous three matchups.
Illinois is 3-0 against Indiana since both players joined the league in the 2019-20 season. Jackson-Davis, despite averaging 14 points, 11.3 rebounds and 2.3 blocks, is shooting just 14-of-40 (35 percent) from the field against the Illini. Cockburn, meanwhile, has averaged 15.3 points, 10 rebounds and 3.3 blocks against Indiana while shooting 17-of-33 (51.5 percent) against IU.
The KenPom projection is Indiana by one with a 53 percent chance of a Hoosier victory. The Sagarin numbers favor Illinois by less than a half of a point.
Indiana has been great at home this season other than the slip-up against Michigan. A win on Saturday would put the Hoosiers in an even more favorable position for a return to the NCAA tournament for the first time since 2016.
Filed to: Illinois Fighting Illini