Indiana beats itself in loss at Iowa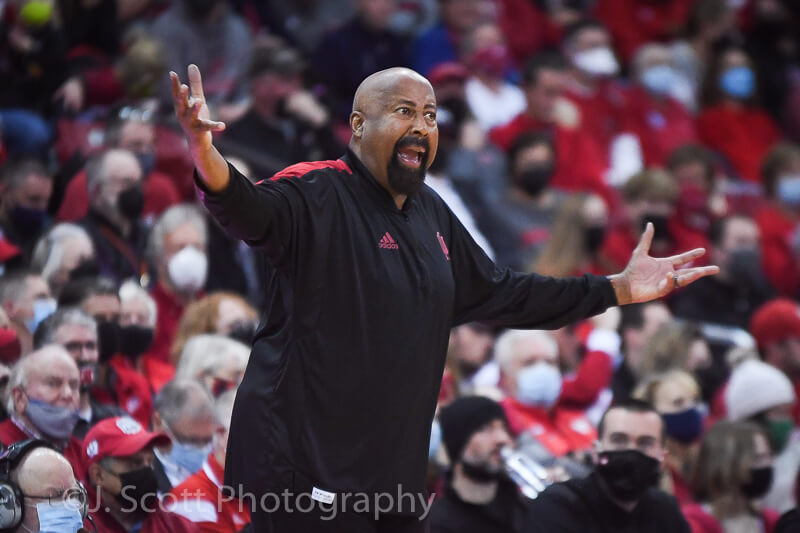 Fans pleaded with Mike Woodson to wear his suit ahead of Indiana's matchup at Iowa. Though the suit is a symbol of winning to them, it's really just a guise for Indiana's struggles on the road.
Woodson has said it's reserved for home games. So when Indiana couldn't win its first three away games, Hoosier fans wanted to see the suit travel.
Much to their disappointment, there was Woodson on the sidelines in Iowa City sporting his usual road quarter zip. In front of him, his team provided a now-expected second-half collapse on the road in the Big Ten — falling to Iowa 83-74.
"I've just got to get them to believe. I've got to get them over the hump," Woodson said. "We're playing well enough. Wisconsin was 38.5 minutes of good basketball. Tonight was just 20 minutes of good basketball, and we just can't do that."
The suit couldn't have stopped Indiana from beating itself thanks to a mixture of turnovers, weak rebounding and poor free throw shooting.
"We struck out on all three," Woodson said postgame.
The Hoosiers shot 51 percent from the field, but put up 10 fewer shots than the Hawkeyes as a result of their 23 turnovers.
Of those turnovers, 14 came in the second half. Iowa capitalized off Indiana's sloppy play scoring 34 points off turnovers — accounting for 41 percent of its total points.
Race Thompson, similar to his seven-turnover performance at Syracuse, turned the ball over five times against Iowa with three coming in a crucial stretch.
One came on a bad pass with Indiana trailing 70-66 with 5:35 to go. Another came a minute later, this time with Indiana down six. Seven seconds later came a third, now with Indiana down 74-66.
It wasn't just Thompson, though. Indiana's guards combined for more than half of its turnovers (13), with Xavier Johnson and Rob Phinisee owning eight of those.
As has been the theme for key stretches this season, the point guards struggled to break Iowa's press in the second half as momentum began to shift in favor of the home team.
"We just weren't playing our game," Trayce Jackson-Davis said. "The press, we should have broken it."
"I gotta get more leadership in terms of them being able to calm the storm and execute something to at least score the ball," Woodson said.
Indiana and Iowa matched each other's runs in the first half. When Indiana went on an 8-0 run, Iowa countered with a 12-0 run against Indiana's bench. To which the Hoosiers answered with a 20-4 run to give them their biggest lead of the game at 11 points with 2:25 to go in the first half.
"As good as we were in the first half, we were awful the second half," Woodson said.
Allowing second chances and missing free throws inhibited Indiana from stringing together any runs in the game's final 20 minutes.
With seven minutes to go in the game, Parker Stewart grabbed a rare defensive rebound and took it coast to coast for an and-one opportunity to tie the game. It bounced off the back of the rim for one of Indiana's eight free throw misses toward a 61.9 percent performance at the line.
Iowa took that rebound and turned it two points on the other end off a second chance layup by Keegan Murray — whose 12 points were outshined by a career-high 29 from his brother Kris Murray.
Iowa finished with 16 offensive boards. Iowa has only put those numbers up this against the likes of North Carolina Central and Alabama State, recording 18 offensive boards in each of those non-conference wins.
"They outhustled us, just across the board," Jackson-Davis said.
Filed to: Iowa Hawkeyes, Mike Woodson, Trayce Jackson-Davis