What to expect: Iowa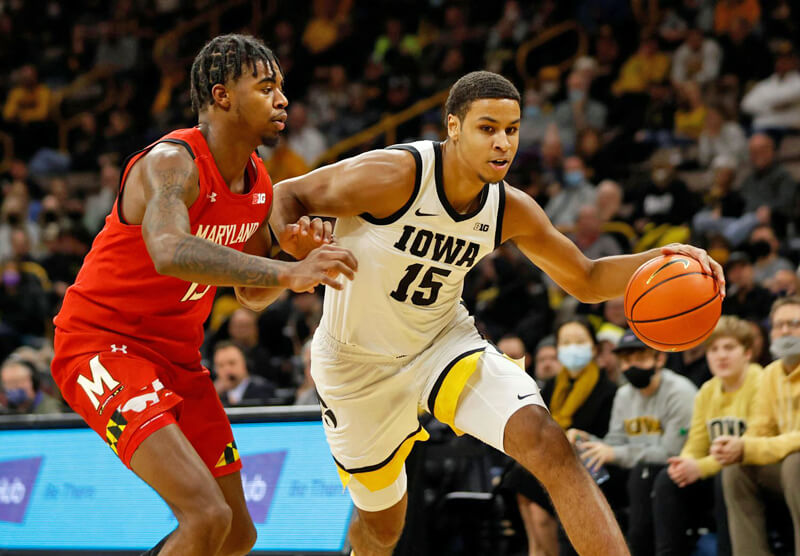 Indiana heads to Iowa City in search of its first road win of the season on Thursday. The Hoosiers are scheduled to take on Iowa at Carver-Hawkeye Arena.
The Hawkeyes are 11-4 overall, 1-3 in league play and are coming off of an 87-78 loss to Wisconsin at the Kohl Center.
Thursday's game is scheduled for a 9 p.m. ET tip on FS1 with Joe Davis and Bill Raftery on the call:
Indiana bounced back from a disappointing 61-58 loss at Penn State on Jan. 2 with a pair of home wins against Ohio State and Minnesota.
Now the Hoosiers hit the road for a pair of away games at Iowa and Nebraska. They're still in search of their first win away from Assembly Hall this season. Indiana is 0-3 on the road so far with its three losses coming by a combined 10 points.
MEET THE HAWKEYES
Iowa graduated national player of the year Luka Garza and lost wing Joe Wieskamp as an early entrant to the NBA draft following last season's 22-9 campaign.
Despite those significant losses, Fran McCaffery's ability to put an elite offense on the floor has Iowa as a formidable threat in the Big Ten.
The Hawkeyes are averaging 86.7 points per game this season and have a likely first-round NBA draft pick next June in sophomore Keegan Murray.
The 6-foot-8 forward is seventh in KenPom's national player of the year standings as of Wednesday morning and is averaging team-highs of 24.7 points and 7.9 rebounds per game. Murray's efficiency is elite for a player with such high usage. He's using 29.8 percent of Iowa's possessions – the 60th highest usage rate in the country – and has the 19th best offensive rating in the country per KenPom.
Murray is making 68.6 percent of his 2s and is also a capable 3-point shooter at 36.5 percent. Murray is shooting 75.4 percent at the rim, per Hoop-Math. This figures to be another formidable task for Indiana's Race Thompson, who guarded E.J. Liddell in the win against Ohio State and Jamison Battle in the victory against Minnesota.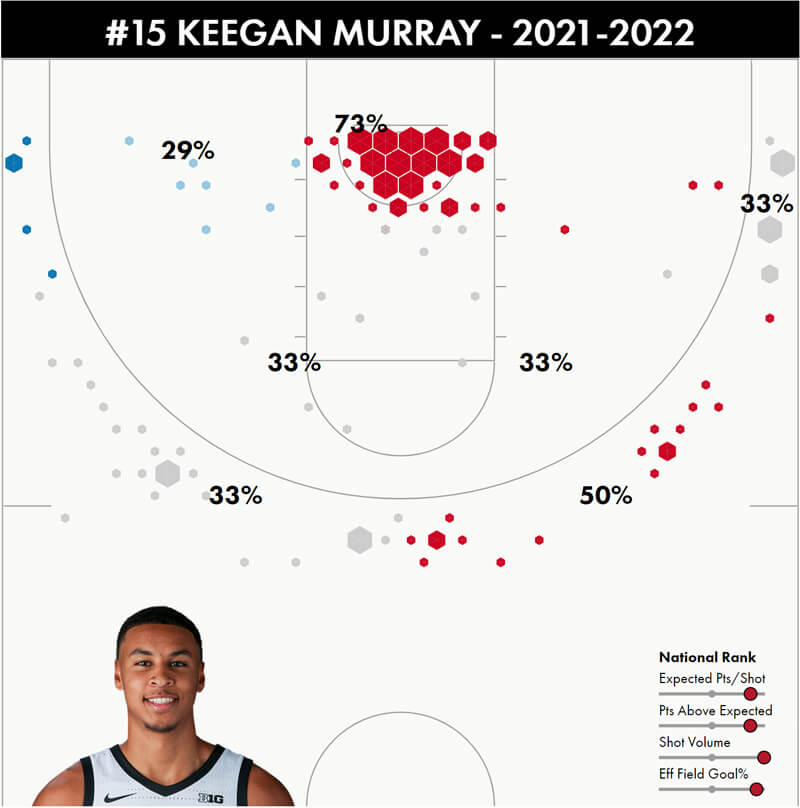 Iowa's two other double-figure scorers are 6-foot-9 sophomore Patrick McCaffery and 6-foot-1 senior Jordan Bohannon.
McCaffery had a limited role last season, but has started all 13 games he's appeared in this season. He has excellent size on the wing, is a very good free-throw shooter and rarely turns the ball over. He's yet to commit a turnover in league play. While he's not the most efficient player offensively – he's shooting only 37.5 percent on 2s and 30 percent on 3s in Big Ten games – he's second on the team in scoring at 11.2 points per game.
Bohannon, who turned 24 last summer, is in his sixth season in Iowa City. He's playing off the ball quite a bit this season as Joe Touissant is the team's point guard. A career 40.1 percent 3-point shooter, Bohannon is making 40.2 percent from distance this season. He's struggled from distance thus far in Big Ten play – 30.8 percent – but typically plays well against Indiana.
Touissant, a 6-foot guard in his third year from the Bronx, has the highest assist rate in the league through four games at 46.1 percent. He's backed up by 6-foot-3 guard Ahron Ulis, the younger brother of former Kentucky guard Tyler Ulis. Ulis has an assist-to-turnover ratio of 2.9-to-1 and averages 4.2 points in 17 minutes per game.
North Dakota transfer Filip Rebraca is a native of Serbia who is a low usage option in the post for McCaffery. Rebraca is taking just four shots per game and is shooting 58.3 percent from the field. He's second on the team in rebounding at 5.9 per game and averages 5.9 points as well.
The primary names to know off the Iowa bench are Kris Murray, Keegan's twin brother, Tony Perkins, Connor McCaffery and Payton Sandfort.
Kris Murray is fourth on the team in scoring at 9.4 points per game and is shooting 52.5 percent on 2s and 43.9 percent on 3s in 17 minutes per game.
Perkins, a native of Indianapolis in his second season in Iowa City, is a good athlete who can get to the rim. He's been excellent from the free-throw line this season – 90.6 percent in 32 attempts – but is just a career 31 percent 3-point shooter.
The older McCaffery started last season, but has come off the bench in 13 of the team's 15 games this season. He's scored just 17 points all season. McCaffery has dished out 30 assists and committed just five turnovers.
Sandfort is a freshman wing from Waukee, Iowa who operates primarily as a 3-point shooter. Nearly 70 percent of his field-goal attempts have been 3s. He's shooting 34 percent from distance.
TEMPO-FREE PREVIEW
(Stats are now for conference games only. Numbers are through Tuesday's games.)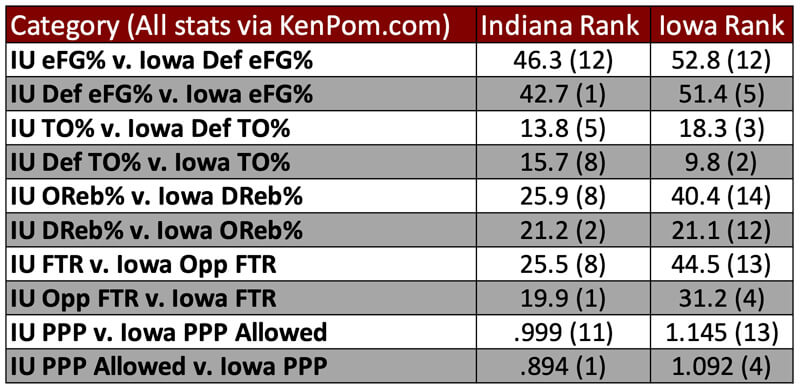 Iowa remains an elite offensive team with a below-average defense. The Hawkeyes have the fourth-best offense so far in the Big Ten and are 13th defensively in terms of points per possession allowed.
The Hawkeyes prefer to play at an up-tempo pace and can do so without turning the ball over. In Big Ten play, Iowa is playing the third-fastest pace in the league but is second in turnover percentage at 9.8.
The key areas for Indiana to try to exploit are offensive rebounds and getting to the foul line. Iowa is the Big Ten's worst defensive rebounding team. Its opponent are rebounding 40.4 percent of their missed shots in Big Ten play so far. And Iowa's opponents have a free throw rate (FTA/FGA) of 44.5 percent, which is second highest in the league.
WHAT IT COMES DOWN TO
The KenPom projection is Iowa by three with a 40 percent chance of an Indiana victory. The Sagarin ratings favor the Hawkeyes by 3.5 points.
Indiana has been successful against the Hawkeyes under Fran McCaffery. The Hawkeyes are just 6-12 against the Hoosiers under McCaffery and 3-11 since the 2012-13 season.
The Hoosiers, however, have yet to find success in a true road game as they've had three close losses in which they failed to make key plays down the stretch. At Syracuse, Indiana couldn't even get a shot off at the end of the first overtime and went on to lose in double overtime. At Wisconsin, the Hoosiers blew a 22-point first-half lead. And at Penn State, late-game execution failed IU in a three-point loss.
If Indiana wants to become more than a middle of the pack team in the league standings, that trend must reverse soon.
"We've got to break the ice on the road," Mike Woodson said Sunday. "I think once we break through, it'll open up a lot of these guys' hearts to know that we're here to play and compete in the Big Ten."
(Photo credit: Iowa Athletics)
Filed to: Iowa Hawkeyes