News and notes from Mike Woodson's radio show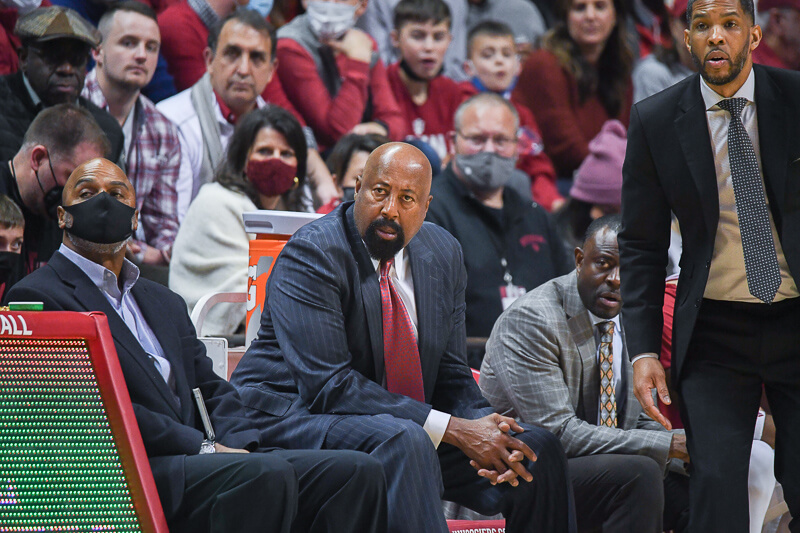 "Inside Indiana Basketball with Mike Woodson" returned Monday night as Woodson spoke with play-by-play announcer Don Fischer.
Woodson discussed Indiana's wins over Ohio State and Minnesota and previewed Thursday's game against at Iowa.
• Woodson on Indiana's two-win week: "It puts us back in the hunt in the Big Ten. That's where you want to be. Now we got to take our act on the road and see if we can break the ice in terms of winning on the road."
• Woodson said they put the defensive system in early on. "We've become a really good defensive team. They believe in each other on the defensive end." Says the offense has "always been a work in progress."
• Woodson said Minnesota "packed it in." Re-watching film, Woodson Minnesota coach Ben Johnson "clapped early when we made threes because that was the gameplan. If they make them, it's like 'God bless them. They made one.'" Indiana ended up making nine three-pointers. Woodson gave Trayce Jackson-Davis credit for being unselfish to shotmakers on the perimeter.
• Woodson on Rob Phinisee: "He's been playing really well the last 2-3 weeks for us. I think a lot of it had to do with injuries and his confidence. That was a big part of it. But we're going to need him to continue to play that way the rest of the way."
• Woodson on instilling confidence when he took over as head coach: "I didn't care what happened in the past. You can't go back and fix that. And the fact that I was new and they didn't know anything about me. So I had to sell myself and let them know that, hell, I'm in their corner and I want nothing but the best for them."
• On closing out both games Woodson said, "that's what we call winning basketball… We could've crumbled," against Minnesota, but "we just kept fighting."
• After the loss to Penn State, Woodson said he was "trying to figure out how you can get these guys to rebound from that loss because they were down, they really were. It was like a battle in practice because I couldn't get what I wanted the next day in practice because they were so down." Woodson says he told his team they had to put that game out of their mind and they needed to focus on Ohio State. Ultimately, it was "probably the best game we've played all season so far," Woodson said.
• Woodson said Race Thompson and Trayce Jackson-Davis are the two most prominent leaders. "Rob is starting to find his way in that category," Woodson said. "We're going to need Rob to step up and be more of a leader as well."
• Woodson on Trey Galloway: "He worked his butt off to get back and… we've benefited from the result the last two games. He's been spectacular, man, the way he's played, his energy. I'm talking about both ends of the floor. And that's why he's been in at the end of the game."
• Woodson on the Big Ten in general: "Anybody can beat anybody in the Big Ten," Woodson said. "You got to be ready to play each and every night… There's no gimmes." Woodson said he thinks it's as physical it was when he played. He called it "one of the best conferences in college basketball."
• Woodson said Iowa head coach Fran McCaffery "has been a great coach for years" and "has a great offensive mind." Woodson said they throw different presses and Indiana almost has to play a "perfect game" on the road to win.
• Woodson said Indiana has to key on Keegan Murray and they "have to know where he is at all times." Woodson said that Race Thompson will get the "first crack" at guarding Murray.
• Woodson said that he has graduate assistants bring their perspective to the table as a part of a collaborative effort on the coaching staff: "I'm an open book, man. I've always tried to share ideas with guys that work around me. I think that's important, it's healthy."
• Woodson said he's not superstitious pregame, but "I know this thing of wearing suits. I think we might need to go on the road with a suit." "…The suits don't have anything to do with it. But I'm telling you if we don't break this ice soon, I'm gonna be wearing a suit."
Filed to: Mike Woodson