Big Ten Power Rankings: January 10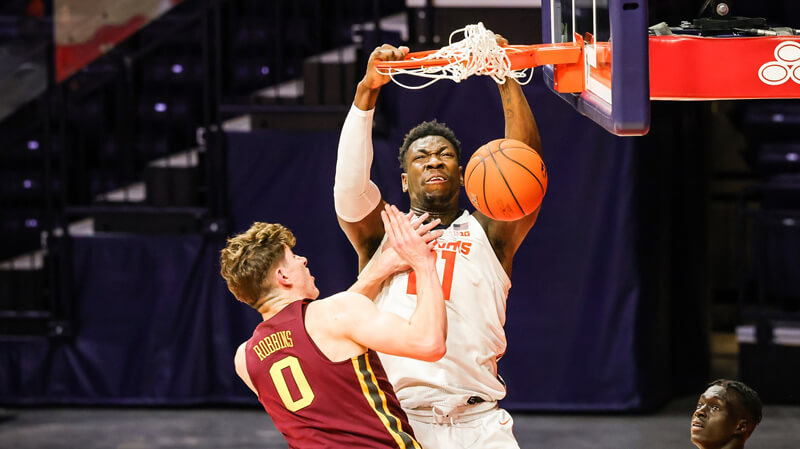 Five Big Ten teams have played a quarter of their league schedule which means it is a good time for our first conference power rankings of the 2021-22 season.
Here's how the conference stacks up through the first two weeks of league play:
14. Nebraska (0-5, .909 PPP, 1.172 PPP allowed)
It looked like this could be the year for a breakthrough in Lincoln, but it hasn't materialized so far. The Cornhuskers are 0-5 in league play and have the worst efficiency margin in the conference. Big Ten opponents are shooting 46.3 percent on 3s against Nebraska – which won't continue – but it's looking to be another long winter for Fred Hoiberg.
13. Maryland (0-4, .988 PPP, 1.076 PPP allowed)
The Terps are the worst 2-point shooting team in the Big Ten and one of the worst rebounding teams as well. Maryland is 0-4 in Big Ten play and its four losses have come by an average of just six points. There's enough talent on this roster to be dangerous, but it'll be a surprise if Danny Manning can lead Maryland to the NCAA tournament.
12. Minnesota (1-3, .978 PPP, 1.108 PPP allowed)
Ben Johnson has Minnesota at 10-3 overall with impressive road wins over Pittsburgh, Michigan and Mississippi State. However, the bottom could be close to falling out as the schedule toughens. The Gophers are the worst offensive rebounding team in the conference and they're also the worst at getting to the foul line. Those numbers don't bode well for success moving forward.
11. Northwestern (1-3, 1.020 PPP, 1.063 PPP allowed)
The Wildcats have now lost three straight games and have only beaten one team this season that is currently ranked in the top 100 of KenPom's ratings. Northwestern's defense was completely picked apart on Sunday in a 95-87 loss at Ohio State. The Buckeyes scored 1.34 points per possession in the game and made 11 of 25 from 3.
10. Penn State (2-3, 1.027 PPP, 1.114 PPP allowed)
Penn State has won two of its last three following a lengthy pause for COVID-19. The Nittany Lions knocked off Indiana 61-58 at the Bryce Jordan Center and then beat Northwestern 74-70 at Welsh Ryan Arena. Siena transfer Jalen Pickett has been terrific in recent weeks and is averaging 18 points over the team's last three games.
9. Iowa (1-3, 1.092 PPP, 1.145 PPP allowed)
The story with Iowa never changes. The Hawkeyes always have an elite offense and a mediocre defense. This season is no different. Iowa is fourth in points per possession in Big Ten play and 13th in points per possession allowed. Through four league games, Iowa is the worst defensive rebounding team in the conference and are second-worst in opponent free throw rate.
8. Michigan (1-2, 1.125 PPP, 1.043 PPP allowed)
The Wolverines are the Big Ten's biggest disappointment this season after winning the league last season. The losses of Franz Wagner and Isaiah Livers have hit hard as has the step down at point guard from Mike Smith to DeVante' Jones. Michigan is currently on a pause for COVID-19 and had to postpone games against Michigan State and Purdue. The current plan is a return to action on Friday at Illinois.
7. Rutgers (3-1, 1.067 PPP, 1.056 PPP allowed)
Rutgers was a mess in non-conference play, but has now won four straight overall. The Scarlet Knights beat Purdue at home in early December and are 3-1 in league play. Rutgers has road games this week at Penn State and Maryland and a pair of wins would put it right back in the mix for an NCAA tournament bid. Ron Harper Jr. has been terrific from distance in Big Ten play. He's shooting 14-of-22 (63.6 percent) in four games.
6. Indiana (3-2, .999 PPP, .894 PPP allowed)
Mike Woodson pledged a defense-first mentality in the offseason and through five league games, Indiana has the Big Ten's best defense. The Hoosiers rank second in the conference in defensive rebounding percentage and first in opponent free throw rate. They're also second in defensive 2-point field goal percentage. Trayce Jackson-Davis recorded his 28th career double-double as Indiana beat Minnesota 73-60 on Sunday in Bloomington.
5. Purdue (2-2, 1.067 PPP, 1.041 PPP allowed)
There's plenty to like about the long term potential of the Boilermakers, but the reality is Purdue has two surprising losses in conference play. The loss at Rutgers ended Purdue's run at No. 1 in the rankings after a week and this past week, the Boilermakers were torched by Johnny Davis (37 points, 14 rebounds) in a 74-69 loss to Wisconsin at Mackey Arena. Despite having Zach Edey and Trevion Williams holding down the post, Big Ten opponents are making 53.5 percent of their 2s against Purdue.
4. Wisconsin (4-1, 1.028 PPP, 1.022 PPP allowed)
Despite only returning one starter, Wisconsin is right back in the mix near the top of the Big Ten standings. The Badgers are 13-2 overall and Davis might be the current frontrunner for league and national player of the year. Wisconsin's current winning streak sits at five and two of its wins last week came on the road (Purdue, Maryland). This week brings a chance for Wisconsin to atone for its 18-point loss at Ohio State back on Dec. 11 as the Buckeyes travel to the Kohl Center on Thursday night.
3. Ohio State (4-1, 1.091 PPP, 1.006 PPP allowed)
Ohio State suffered its first conference loss on Thursday in Bloomington as Indiana's defense held the Buckeyes to just 51 points. The loss was Ohio State's first since November 24 against Florida. But this group is resilient and rebounded with a 95-point outburst on Sunday at home against Northwestern. EJ Liddell, who currently sits atop the KenPom national player of the year rankings, erupted for 31 points, five blocked shots, four rebounds and two assists in the win over the Wildcats.
2. Michigan State (4-0, 1.10 PPP, .95 PPP allowed)
The Spartans only have two losses all season and both came to teams currently ranked in the top four of KenPom (Kansas, Baylor). Michigan State, despite its turnover woes, is winning games with a stellar defense, solid rebounding on both ends and its ability to get to the free throw line. Michigan State's rivalry game over the weekend against Michigan was postponed due to COVID-19 issues with the Wolverines. This week looks like the perfect opportunity to move to 6-0 in Big Ten play as Minnesota and Northwestern travel to the Breslin Center.
1. Illinois (4-0, 1.18 PPP, .912 PPP allowed)
Illinois has been the best team in the Big Ten in league play and it hasn't been particularly close. The Fighting Illini have the best efficiency margin in the league by a wide margin and Kofi Cockburn looks unstoppable as of late. Over the last four games, Cockburn is averaging 24.5 points and 13.3 rebounds per game. Andre Curbelo remains sidelined, but the trio of Alfonso Plummer, Trent Frazier and Jacob Grandison has been terrific. Plummer is shooting 41.9 percent on 3s, Frazier is at 38 percent and Grandison is making 50 percent from distance.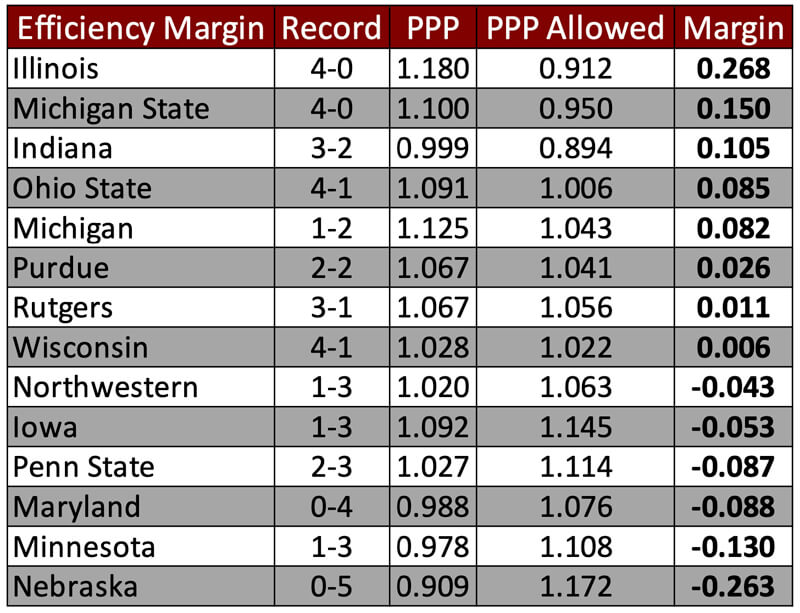 (Photo credit: Illinois Athletics)
Filed to: Big Ten Power Rankings