Rob Phinisee is starting to look like the player many once envisioned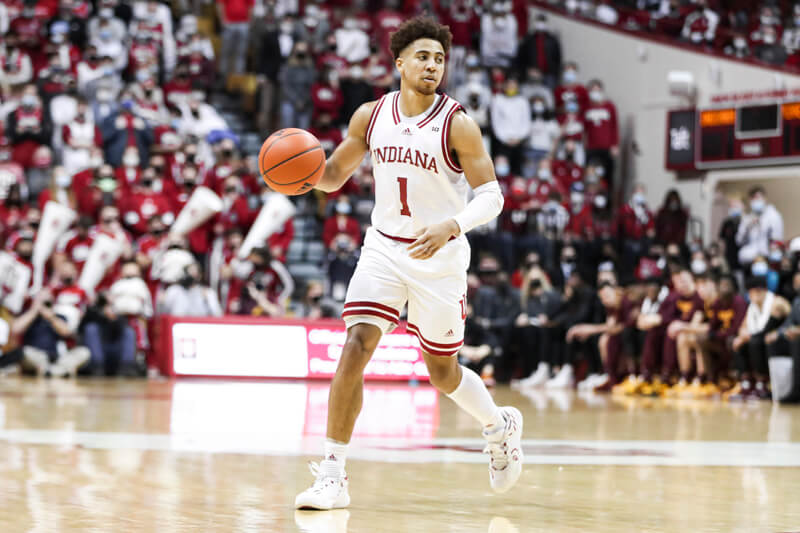 The outfit was bold, but stylish nonetheless. He wore a white jacket, white pants, white button down shirt. There was a red pocket square and red shoes topped with a silver buckle. People took notice. He was voted best dressed at Big Ten media day in October by national college basketball analyst Andy Katz. "He looks like he's about to go number one in the draft," Trayce Jackson-Davis said. "He's been pimpin'," Race Thompson said with a grin.
Shortly after the group interview session was over at Gainbridge Fieldhouse, another question was called out.
"West Lafayette style, right there?"
Rob Phinisee looked down at his dapper outfit for a second. Then back up.
"Nah," he said with a smile. "This is Rob's style."
Phinisee's outfit choice to Big Ten media day was an indication that maybe something was different. Some sort of swagger and aura. There was no basketball played at Big Ten Media Day, but what Phinisee wore was telling.
Some of that bravado is starting to show on the court. During Indiana's 73-60 win over Minnesota on Sunday, Phinisee scored 13 points, grabbed three rebounds, dished out four assists, committed zero turnovers and led the team in +/- at +22. Slowly but surely, the senior guard is stringing together solid performances and looking closer to the player that many once envisioned.
In many ways, Phinisee's career at Indiana has been somewhat of a mystery. He arrived in 2018 with the highly-touted recruited class headlined by Romeo Langford. In his freshman season, Phinisee flashed the potential that made many believe he'd develop into an All-Big Ten caliber guard, even earning the nickname "Big Shot Rob." But things didn't go exactly like that. His sophomore season was plagued with injuries: abdominal, strep throat, ankle. Last season, Phinisee fell out of the starting lineup at one point. His numbers were pedestrian and he was often unnoticeable on the court. Confidence was a consistent talking point. At the end of the season, Archie Miller, the coach that recruited him, was fired.
But Phinisee decided to stay at Indiana. This offseason, Phinisee focused on the mental side of the game. He read "Intentional Mindset – Developing Mental Toughness and a Killer Instinct" by Dave Anderson. In the morning, Phinisee said that he sets "his goals out for each day." He also said that he tries to use the Calm app every day.
Getting his confidence up is also a result of the relationship he's built with the new coaching staff. Assistant coach Dane Fife, who watched Phinisee during his time coaching at Michigan State and, has worked with the guard on his mindset. "I wouldn't call him a psychiatrist, but he's something like that," Phinisee said of Fife at Big Ten media day. Phinisee described Mike Woodson, his new head coach, as an "O.G.," an endearing term for someone who's authentic. During practices, Woodson constantly told Phinisee to shoot more. After one preseason scrimmage, Phinisee thought he'd shot a lot. Woodson still told him to shoot more.
The start to the season also came with another adjustment for Phinisee. Woodson recruited Xavier Johnson from Pittsburgh to be Indiana's starting point guard. Phinisee, who had been accustomed to starting for a majority of his career, would be coming off the bench.
"He never once complained that X was starting and going to be the starter," Woodson said. "… For me, being his coach, that means a lot, because again, it means you're buying into winning. You're all about team."
This season got off to a relatively underwhelming start for Phinisee. He scored just 12 points over the first three games. Then he missed three games with a calf injury, yet another setback. But recently, he's started to turn it around. He had six points, five rebounds and five assists against Notre Dame. He scored a combined 19 points in Indiana's two games against Northern Kentucky and Penn State.
Most importantly, he was playing with assertiveness. Growth, though, still takes time.
"It's kind of a challenge," Phinisee said recently of having to deal with injuries during his career. "I feel like that's kind of what delays me in games sometimes. I feel like I think more about the injury than just going out there and playing, playing free. I've gotten a lot better through the season. I just have to go out there and play with a free mind and just not think."
Sunday was yet another step toward Phinisee reaching his potential. Indiana was down by five when Phinisee entered the game. Phinisee hit a three. Then he got a steal and dished out an assist to Trayce Jackson-Davis. Later, another three. A few possessions after, back-to-back threes. Phinisee played the last 13 plus minutes of the half. Indiana went into the break leading by double digits.
"Coach really just builds our confidence, tells us to shoot it whenever we're open, so I made shots this game," Phinisee said.
It wasn't just the numbers but also how Phinisee carried himself. He had the confidence to take pull-up jumpers. If he missed, he had the confidence to keep taking shots with Minnesota's defense sagging off. He was a stopper on defense, finishing the game with one block and two steals. On one possession in the first half, a Minnesota ball handler put Phinisee on an island, isolating him all alone. But Phinisee held his ground and forced a missed shot.
Over the last four games, Phinisee is averaging 8.5 points. The performances seem to continue to keep building on themselves. Indiana likely wouldn't have won on Sunday if it wasn't for Phinisee. Still, though, there seems to be much further for him to go. But on a team whose fate could be determined by its point guards, Phinisee is starting to come into his own.
"He can't live in the past," Woodson said of Phinisee's career. "I'm just trying to break that past and say, 'hey, man, here's the ball. It's okay to go lead. It's okay to be good, it really is.'"
Phinisee isn't a freshman with boundless potential anymore. He isn't a senior that has fulfilled all of it. But Indiana didn't need either one of those against Minnesota. And on Sunday, that was good enough.
(Photo credit: IU Athletics)
Filed to: Robert Phinisee