Minnesota slows down Indiana's go-to game, but guards help lift Hoosiers to third Big Ten win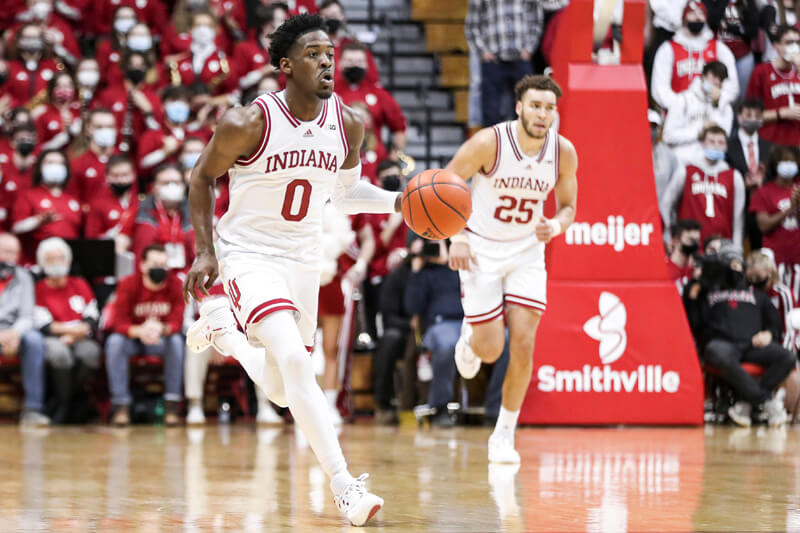 It's no secret Indiana's sweet spot on offense is in the paint.
The guards feed Trayce Jackson-Davis and Race Thompson to watch them make something out of nothing down low. It's what happened Thursday night against No. 13 Ohio State and the Hoosiers outscored the Buckeyes 38-10 in the paint.
But Minnesota head coach Ben Johnson opted for a different game plan Sunday against Indiana: attempt to eliminate Jackson-Davis and Thompson.
It's something that's worked in the past against the Hoosiers. It didn't work Sunday, however.
Mike Woodson needed his guards to step up, and they did. Indiana pulled out a 73-60 win over Minnesota behind a stand-out performance from its backcourt.
When Minnesota packed the paint, the Gophers left the perimeter so open they practically forced the Hoosiers to shoot 3-pointers.
The Hoosiers had only averaged 4.8 made 3-pointers a game through four conference games thus far, so it seemed like a reasonable plan for Minnesota. But Woodson has consistently shown his confidence in players to shoot the ball, and its payoff was on full display Sunday. He said he wasn't going to tell them to not shoot the ball.
"He tells us to shoot the ball if you're wide open," Phinisee said. "Coach really just builds our confidence, tells us to shoot it whenever we're open, so I made shots this game."
Xavier Johnson was the team's leading scorer with 14 points, Rob Phinisee had 13 and Parker Stewart added 12.
"When teams do that, our perimeter guys have got to be ready to step up and make their shots. Tonight, they did a great job in that area," Woodson said.
Indiana made nine 3-pointers, which isn't its high for the season, but seven of them came in the first half when it couldn't get anything going inside.
Jackson-Davis went scoreless for the first 10 minutes. But Johnson was there to get it going for the Hoosiers. And Stewart showed his same confidence from beyond the arc as always.
When Phinisee entered the game, he launched 3-pointers. With four minutes left to go in the first half, he missed one. Jackson-Davis was quick to high-five him after to instill confidence. Thirty-seven seconds later, he drained his third triple of the half.
The trio helped the Hoosiers jump out in front of the Gophers and step on the gas to give them a 10-point halftime lead. Indiana put up 39 points in the first 20 minutes with just four of them coming from Jackson-Davis.
"It's not going to be him every night when teams double-team him," Woodson said. "Sometimes he's beating double teams, and tonight they just packed it in."
It was a performance that showed the Hoosiers were comfortable taking the shots Minnesota handed them. It proved this team isn't one-dimensional.
On top of all of that, it was something Ben Johnson didn't expect from Indiana. When asked after the game if Indiana's shooting performance from outside surprised him, he laughed and said, "a little bit."
But Woodson doesn't blame his strategy. It's what makes sense against an All-American.
"If I'm playing us, hell, I'm going to double him, too, and get it out of his hands, so that's what teams are doing," Woodson said.
Jackson-Davis and Thompson found ways to pick apart the defense down low more in the second half, taking defenders one-on-one. But when the shots weren't there, they weren't going to force it.
"He [Jackson-Davis] was patient. When he had it, he made the play, and when he didn't have it, he sacrificed the ball, which we need," Woodson said.
The double teams and packed lane won't go away throughout the rest of Big Ten play. If the Hoosiers want to win, they have to be more than Jackson-Davis. Against Minnesota, they were.
(Photo credit: IU Athletics)
Filed to: Minnesota Golden Gophers, Parker Stewart, Robert Phinisee, Xavier Johnson