Five takeaways from Indiana's win over Minnesota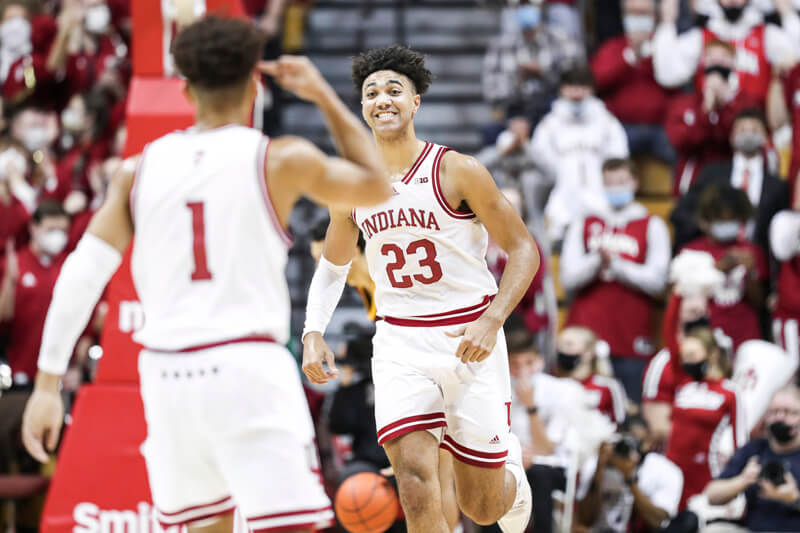 Indiana improved to 12-3 overall and 3-2 in Big Ten play with a 73-60 win over Minnesota on Sunday at Simon Skjodt Assembly Hall.
Here are five takeaways from the win over the Golden Gophers:
Defense continues to lead Indiana to wins
Indiana produced some of the best defensive numbers in the country against a lackluster non-conference schedule. That made it fair to wonder whether the Hoosiers would be able to continue to defend at a high level in Big Ten play.
Through five conference games, Indiana has the best defense in the Big Ten. As of Sunday afternoon, Indiana ranks in the top 10 nationally in Ken Pomeroy's adjusted defensive efficiency metric.
The Hoosiers held Minnesota to 60 points and only .95 points per possession in Sunday's win at Assembly Hall. Indiana is allowing just .894 points per possession in conference play, which leads the conference.
The defensive numbers in Big Ten play are strong across the board for Indiana. They're only allowing 58.2 points per game. They are second in the conference in defensive rebounding percentage and first in opponent free throw rate.
Against Minnesota, Indiana's defense held strong down the stretch as Minnesota scored just six points in the final 9:02. The Golden Gophers missed nine of their last 10 field goal attempts and didn't make a field goal over the final 2:59.
A balanced scoring effort fuels offense
Minnesota Ben Johnson admitted postgame that his game plan was to force someone other Trayce Jackson-Davis to beat his team.
In the first half, the Golden Gophers dared Indiana's guards to shoot from the perimeter and the trio of Rob Phinisee, Xavier Johnson and Parker Stewart combined to make seven 3-pointers as the Hoosiers led 39-29 at intermission.
In the second half, Indiana went cold from behind the 3-point line, but got three buckets from Race Thompson and a layup from Johnson in a decisive 8-0 spurt that stretched the lead from 57-54 to 65-54.
The well-rounded offensive effort – five Hoosiers scored in double figures – shows that Indiana is capable of winning games when opponents try to take away Jackson-Davis. Indiana's All-America candidate still managed to get into double figures with 13 points, but he took only 11 shots and two free throws.
"That's the gamble you have to play," Ben Johnson said. "It's like pick your poison with a guy that's as dominant as Trayce is inside."
Turnovers continue downward trend
Indiana's turnover woes, a frequent topic early in the season, have subsided in recent games.
In Sunday's win, Indiana only committed six turnovers. Over its last three games, Indiana is averaging just seven turnovers per game. And in Big Ten play, the Hoosiers are averaging nine turnovers per game.
As of Sunday afternoon, Indiana ranked sixth in the Big Ten in turnover percentage at 13.6.
A major reason for the improvement recently has been the play of Xavier Johnson.
Over Indiana's last three games, Johnson has committed just three turnovers in 75 minutes. In five Big Ten games, Johnson has committed only seven turnovers. His assist rate of 32.5 percent is seventh in the conference and his turnover percentage in league games is just 12.1 compared to 20.6 percent overall.
Phinisee carries offense in first half
Minnesota dared Indiana's Rob Phinisee to take 3-pointers in the first half of Sunday's game.
Phinisee found himself so wide open on several possessions that he had no choice but to square his shoulders and put the ball up.
Fortunately for Indiana, Phinisee delivered a 4-of-8 performance from distance to score a team-high 12 points in 14 first-half minutes. The Hoosiers were +15 with Phinisee on the floor in the half.
Confidence has been an issue for Phinisee throughout his career. As a freshman, he hit a huge 3-point shot to lift the Hoosiers to a win over Butler in the Crossroads Classic. At the time, it seemed like it could be a building block for the program's point guard of the future.
But Phinisee's career since that shot has been filled with injuries and up-and-down play. Woodson has continuously tried to instill confidence in Phinisee since taking over the program last March. On Sunday, Phinisee delivered a season-high 13 points. It was just the second time in Phinisee's career that he's made four 3-pointers in a game.
Indiana makes life difficult down the stretch for Battle, Willis
Jamison Battle nearly hit his season average with 19 points in Minnesota's loss to Indiana. And Payton Willis surpassed his with 18 points.
But Indiana forced both players to work for every point they scored.
Battle needed 17 field goal attempts and three free throw attempts to score his 19 points. Willis took 18 shots and missed both of his free throw attempts in his 18-point afternoon.
The duo played a combined 74 minutes and shot only 5-of-18 on 3s. Both players seemed to fatigue down the stretch.
Willis and Battle scored all 18 of Minnesota's points in an 18-7 run that gave Minnesota the lead at 47-46 with 12:25 to play. Over the final 12:25, Willis was 0-of-5 from the field (and 0-of-2 on free throws) and Battle was 2-of-4.
Woodson praised Indiana's defensive effort down the stretch.
"I call it winning basketball. When it's nut cutting time, you've got to step up and make plays," Woodson said. "They came back from being down as much as 10 and took the lead. Our defense really picked up after that."
(Photo credit: IU Athletics)
Filed to: Minnesota Golden Gophers